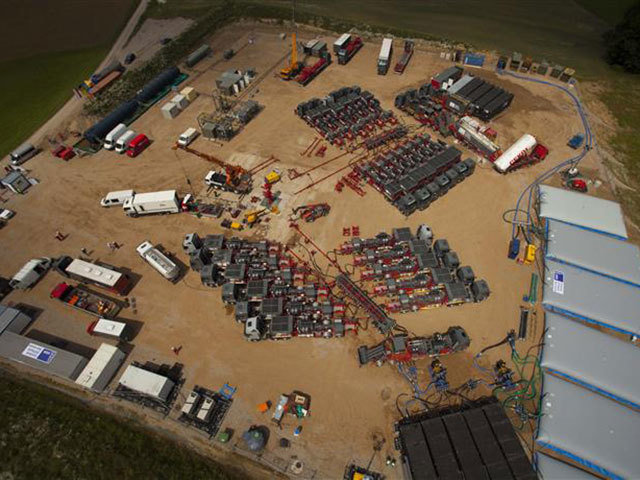 The era of the monster frack has arrived in North America, and Chesapeake Energy Corp. is singing its praises.
Chesapeake said Thursday at an analyst conference that it set a new record for fracking by pumping more than 25,000 tons of sand down one Louisiana natural gas well, a process the shale driller christened "propageddon." The super-sized dose of sand — known as "proppant" — is able to prop open bigger and more numerous cracks in the rock for oil and gas to flow. Output from the well increased 70 percent over traditional fracking techniques, Jason Pigott, vice president of operations, said during a presentation.
"What we're doing is unleashing hell on every gas molecule downhole," Pigott said.
Shale drillers aren't holding back in North American shale fields, where the average amount of sand used for each well has doubled since 2014, according to Evercore ISI. At the same time, the length that wells are drilled sideways underground has grown by 50 percent, and the number of zones for hydraulic fracking are also up by half. Each zone of the well isolated for each frack is also growing larger as service companies attempt to break down more of the oil-soaked rock into rubble and cram more sand into the crevices for the hydrocarbons to escape.
Monster-Sized
The more massive and complex wells are helping producers manage through the worst financial crisis in a generation by drawing more oil and gas at reduced costs. The price of West Texas Intermediate, the U.S. crude benchmark, cratered to a 12-year low in February and still trades at less than half the $100-plus prices of June 2014. To cope with the market crash companies slashed billions in spending and cut more than 350,000 workers around the globe.
The fracking process, which is part of completing a well after it's drilled, continued to get bigger even as the industry was strapped for cash, James West, an analyst at Evercore, said Thursday in a phone interview. "We expect as the recovery for commodity prices unfolds and people have more money to spend, completions will only rise further."
Explorers are taking advantage of the larger frack jobs while prices for oilfield work remains low. Halliburton Co. , the world's largest fracking provider, told analysts and investors Wednesday on a conference call that about 70 percent of the industry's fleet of frack pumps are being put to use. Halliburton confirmed it executed the record frack for Chesapeake.
Haynesville Well
The amount of proppant used in Chesapeake's record-setting well was more than twice the amount used on a per-foot basis in traditional frack jobs, according to a slide presentation that accompanied Pigott's remarks. The company used 50.185 million pounds (22.76 million kilograms) of sand in its Black 2&11-15-11 1H well in the Haynesville shale region of Louisiana earlier this month. The well had a lateral length of 9,764 feet.
"This Chesapeake well is further evidence that more proppant, more stages and longer laterals is the right way to go," West said. "Clearly it's increasing productivity per well substantially."
Recommended for you

Should the UK set an end date for North Sea licences?