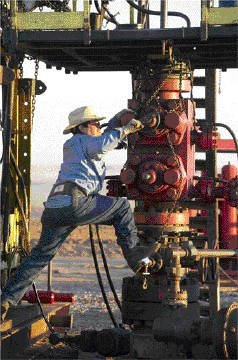 Donald Trump's U.S. presidential election victory came as a positive surprise for pipeline proponents.
Energy Transfer Partners LP's controversial Dakota Access Pipeline is likely to be the immediate beneficiary. TransCanada Corp.'s Keystone XL project, rejected by the Obama administration a year ago, could be resurrected. A Republican-controlled government would likely expedite project approvals and permitting by regulators.
Trump has said he would reduce the federal government's role in energy and environmental policy, while encouraging more infrastructure projects including pipelines to better connect production with markets and consumers. Energy Transfer shares jumped the most since February, and TransCanada's the most since March.
"Obama killed the deal. Hillary wasn't warm to it at all," Bart Melek, the head of commodity strategy at TD Securities in Toronto, said of Keystone XL. "This is something that's accretive."
A year after President Barack Obama's refusal to approve the $8 billion Keystone XL project to connect the Canadian oil sands with refineries on the Gulf of Mexico, the $3.8 billion Dakota Access line to ship crude from the Bakken shale hasn't fared very well either. The project is facing escalating opposition from environmental groups and has been stalled by the administration's pending review.
Profit Share
Trump has said he'd approve Keystone XL — for a share of the profits. TransCanada said it remains fully committed to building the line and is looking at ways to engage a Trump administration on the project's benefits, including a $3 billion boost to the U.S. economy, a total 42,000 jobs and tens of millions of dollars in property taxes, according to an e-mailed statement. The Calgary-based pipeline giant's shares rose as much as 3.3 percent in Toronto, the most intraday since March 10.
As for Dakota Access, if it hasn't received the go-ahead by the time Trump is sworn in, the new administration would be expected to grant it, said Christine Tezak, managing director of research at ClearView Energy Partners LLC in Washington.
The U.S. Army Corps of Engineers is unlikely to keep holding up the last leg of the project, said Ethan Bellamy, an analyst at Robert W. Baird & Co., in a note. Energy Transfer shares surged as much as 15 percent, the most intraday since Feb. 16.
Starting Soon
"We remain focused on completing construction of this important energy infrastructure project with the expectation it will be in service in the first quarter of 2017," Vicki Granado, a spokeswoman for Energy Transfer, said in an e-mailed statement.
The Army Corps hasn't made any changes to its review process and won't speculate on the effect of the election, Kamil Sztalkoper, a spokesman, said in a statement.
A revival of Keystone XL may help ease the pressure on Prime Minister Justin Trudeau's government to approve controversial pipelines projects to link the landlocked oil sands to the coast, such as TransCanada's proposed $13 billion Energy East line that has faced mounting opposition in Quebec. The Canadian Association of Petroleum Producers said it wouldn't comment on the politics of another country, but noted the U.S. is the industry's largest customer.
"Our challenge is getting that energy to the world and the only way we can do that is through more energy infrastructure, such as pipelines, which will enable us to deliver oil and natural gas to more customers at home and abroad," Tim McMillan, the association's president and chief executive officer, said in a statement.
Broadly speaking, a Trump administration will encourage oil and gas infrastructure, said Erika Coombs, an analyst at BTU Analytics LLC. The projects will continue to encounter obstacles and delays on the state and local levels, she said, but it'll be harder for opposition to get on the national stage.
"It's a step in the direction of more infrastructure getting built," Coombs said. "The opposition doesn't still have the same support from the government at the executive level."
Recommended for you

Pantheon plans out its next steps in Alaska