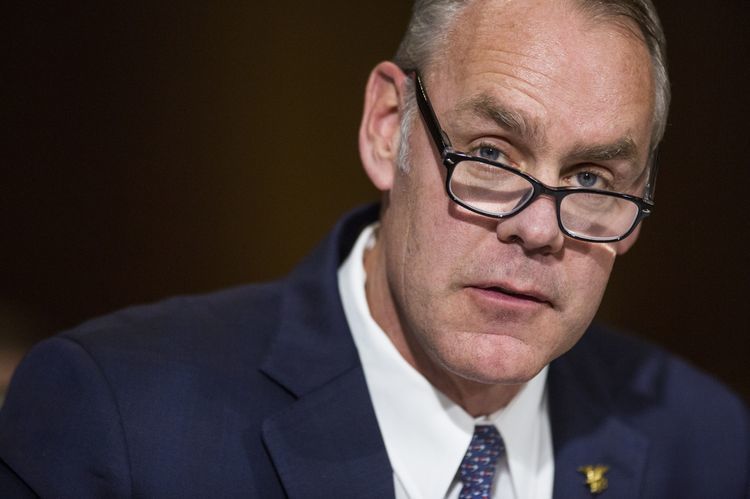 Donald Trump's nominee to lead the Interior Department broke with the president-elect's portrayal of climate change as a hoax, arguing that he has seen tangible evidence the world is warming.
"The climate is changing; that's indisputable," Representative Ryan Zinke, a Republican from Montana, told the Senate Energy and Natural Resources Committee. Zinke, who grew up near Glacier National Park, said he had watched the retreat of ice there during his lifetime.
Humans have influenced the climate, Zinke said. But, he said, there is debate about "what that influence is, and what can we do about it?"
Zinke's comments during a cordial confirmation hearing Tuesday come as Trump himself has distanced himself from his earlier tweets casting climate change as a hoax perpetrated by scientists and China. The president-elect told The New York Times he had an open mind on the issue during an interview in November, and he has signaled he may not make good on his campaign pledge to rip up the landmark Paris accord in which nearly 200 countries agreed to cut carbon dioxide emissions.
Still, Trump's transition teams are filled with activists who have argued that carbon dioxide is not affecting the Earth's temperature and advocated against taking any actions to curb greenhouse gases. Zinke appeared to support some steps to address climate change although it wasn't clear what that would entail: "I don't believe it's a hoax. I believe we should be prudent," he said.
During his hearing before the Senate Energy and Natural Resources Committee Tuesday, Zinke repeatedly evoked the example of President Teddy Roosevelt, saying he wanted to make decisions that would preserve public lands for generations to come. Those lands "are America's treasure," with some best treated as pristine wilderness, while others can be mined or logged in accordance with "best practices, sustainable policies and objective science," Zinke said.
In casting himself as "an unapologetic admirer" of Roosevelt, Zinke aligned himself with Trump, who has promised to honor the Republican conservationist's legacy by protecting natural resources for generations to come. Zinke espoused a balanced approach to public lands that he described as a destination for hiking and fishing as well as a source of timber and coal.
"I fully recognize and appreciate that there are lands that deserve special recognition and are better managed under the John Muir model of wilderness, where man has a light touch and is an observer," Zinke said. Nevertheless, he said, "the preponderance of our federal holdings are better suited" for multiple uses.
All-of-the-Above
Zinke also endorsed an "all-of-the-above" approach to energy, with fossil fuels and renewable electricity part of the nation's energy mix. Though President Barack Obama's administration used the motto, especially early in his tenure, the approach is anathema to environmentalists pushing to keep oil, gas and coal undeveloped, locked underground.
A fifth-generation Montanan and former commander of the Navy's elite SEAL Team Six, Zinke emphasized the importance of rebuilding trust with local communities and states angry with current federal management policies. He also pledged to prioritize some $12.5 billion in maintenance needs in national parks, possibly by seeking funding as part of any broad jobs and infrastructure bill.
Senators pressed Zinke, 55, to explain how he would handle a raft of thorny policy questions facing the agency, including whether he would review Obama administration decisions blocking oil and gas development in Alaska and Arctic waters north of the state. Oil industry leaders hope the Trump administration will open up new coastal waters for drilling.
Permanent Extension
In response, Zinke said periodic reviews of government policies are prudent. "I can guarantee you it is better to produce energy domestically under reasonable regulation than to watch it be produced overseas under no regulation," he said.
Zinke promised to support a permanent extension of the Land and Water Conservation Fund, which uses revenue from offshore oil and gas development to help states build outdoor recreational facilities and purchase new lands and waters for recreation. And he staked out a firm position opposing the sale or transfer of public land — casting some Westerners' zeal to reclaim control as evidence of distrust and downright hatred of federal management policies.
An avid hunter and angler, Zinke just won his second term as Montana's lone representative in the House of Representatives. Environmentalists have raised concerns about his nomination, describing fears that public land management will tilt in favor of oil, natural gas and coal extraction over conservation. But outdoor enthusiasts say Zinke's own appreciation for nature will inspire him to value recreation and protection of public lands.
Leasing Moratorium
If confirmed, Zinke would face pressing policy questions about energy development on public lands. Zinke called the Obama administration's coal leasing moratorium "an example of a one-size-fits-all," but he signaled a rewrite of royalty rates may be necessary. "Taxpayers should get a fair value on coal, wind, all-of-the-above," he said.
Although it has garnered oil industry ire and a legal challenge, Zinke did not heap criticism on the Interior Department's methane rule, a measure restricting the venting and flaring of natural gas from wells on public lands. Instead, he emphasized the waste when natural gas is released into the atmosphere or burned as an unwanted byproduct at oil wells.
"We're venting a lot, and we're wasting energy, and that is troubling me," Zinke said. "Let's build a system that recaptures what is being wasted."
Recommended for you
X

MDL sends pipelayer to Indian Ocean