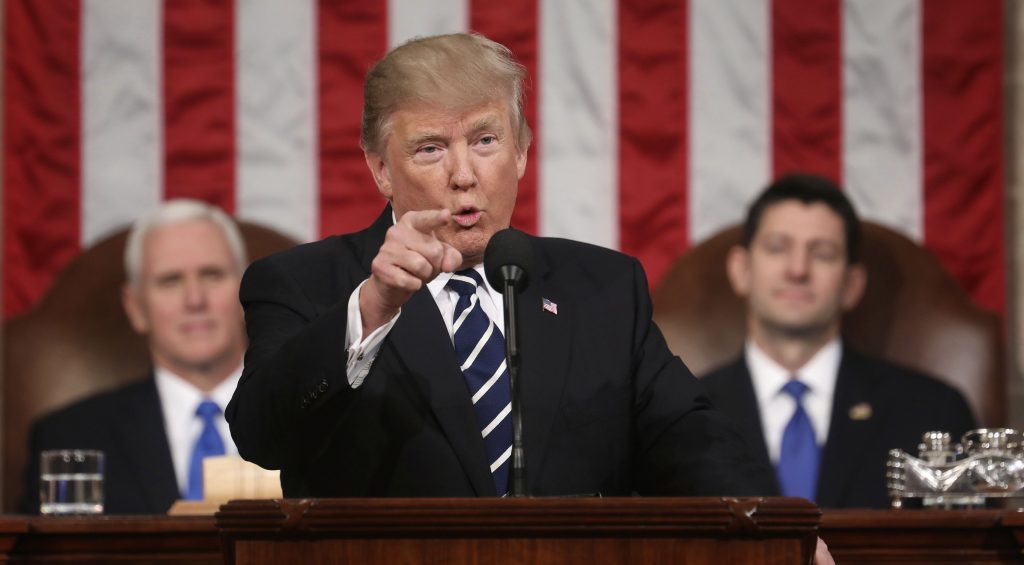 President Donald Trump's promise to increase U.S. fossil-fuel production will have many parlous consequences, not least by driving natural gas prices even lower.
The priority of Trump and his administration — to "unleash America's $50 trillion in untapped shale, oil, and natural gas reserves, plus hundreds of years in clean coal reserves" — aims to make the U.S. the global leader in fossil-fuel production.
Being No. 1 is a good thing, unless it compromises the environment, which hardly features in Trump's agenda. In fact, the administration plans to minimize the Environmental Protection Agency. The president has joined industry groups in criticizing a series of regulations set out by the Obama administration that they hold up as examples of the federal overreach and regard as curbs on economic growth.
Trump will succeed in cutting off the EPA's legs, given that the agency is now led by Scott Pruitt, who sued the EPA 14 times while attorney general of Oklahoma. Trump also has the support of former Texas governor Rick Perry, who now heads the U.S. Department of Energy, as well as Secretary of State Rex Tillerson, the former chief executive of Exxon Mobil Corp.
In addition, Trump has signed resolutions to abolish a federal rule requiring energy companies to disclose royalties and government payments, and protect waterways from coal mining waste. The House passed legislation that would eliminate a Bureau of Land Management rule curbing the release of methane, a potent greenhouse gas, from oil and gas operations on federal land.
And a new executive order instructs the EPA to rewrite the 2015 regulation dubbed the Clean Power Plan that limits greenhouse-gas emissions from existing electric utilities. It also steers the Interior Department's Bureau of Land Management to lift a moratorium on federal coal leasing.
But even that may not be enough to get to No. 1, and it may not be as easy as Trump thinks. Consider the competition: Russia is the world's largest oil and gas exporting nation, having topped Saudi Arabia in 2016. Trump has so far declined to say anything negative about President Vladimir Putin, even though U.S. intelligence agencies have concluded that Russia tried to influence the U.S. presidential election in Trump's favor by hacking into the Democratic National Committee.
Russia accounts for more 20 percent of the world's exported natural gas, which has gradually replaced coal in the developed world. Nations are paying attention to both the longer-term ramifications of climate change, as well as the more immediate issues of asthma and other respiratory and lung diseases brought on by air pollution. Gas emits 50 percent less carbon dioxide than coal, and 30 percent less than oil.
The next challenge is Iran, which is on a direct path to gaining a foothold in the global energy market. On Feb. 3, after Iran tested a ballistic missile, the Trump administration imposed additional sanctions on Iranian individuals and entities.
Trumps confrontational stance does not seem to be stifling Iran's ambitions to partner with Russia and Norway. Iran is sitting on approximately $7 trillion worth of gas reserves and is looking to export it to nations who just may turn a blind eye to sanctions, which have forced it to leave 40 of its 56 gas fields undeveloped. According to Deputy Oil Minister Amirhossein Zamaninia, half of the $70 billion needed to develop proposed oil and gas projects could come through in a "few short months."
Attempting to reverse regulation will spark new legal battles and entail work within the agencies, and may take time to implement — some say as long as a year and a half — but not long enough to discourage drilling. Encouraged by Trump's harsh tone even prior to the election, the industry ramped up rig activity, a trend that is likely to continue as operators focus on boosting production and call for increased capital expenditure.
Whiting Petroleum, Corp., one of the largest oil and gas producers in North Dakota's Bakken Shale, has nearly doubled its spending budget for 2017, to $1.1 billion in 2017, from $554 million in 2016.
Cabot Oil & Gas Corp. will increase spending this year in the Marcellus and Eagle Ford shales from $575 million to $650 million, compared with $325 million at this time last year.
And Apache Corp. is raising its capex in 2017 by more than 60 percent from 2016 to $3.1 billion, from $1.9 billion.
While non-weather factors continue to tilt bearish for the medium to long-term, weather tends to be the overriding driver of short-term price. Natural gas recently dropped to a six-month low because of lower-than-expected storage withdrawal and forecasts for continued mild weather for much of the rest of the month. Prices along the forward curve, representing expectations for future prices, barely surpass $3/million British Thermal Units out to 2029.
In the near term, lifting the moratorium on federal coal leasing could take immediate effect. Last month, the Interior Department proposed major changes to a program that guides coal exploration and production across 570 million publicly owned acres. And cheaper coal could also serve to weaken natural gas prices.
So with more drilling, competition from domestic coal and contentious competitor nations, don't expect any sustainable rallies in the natural gas market this year, or even 2018.
Shelley Goldberg is an investment adviser and environmental sustainability consultant.
Recommended for you

Australia CCS set for boost as gas players, including BP, eye major investments