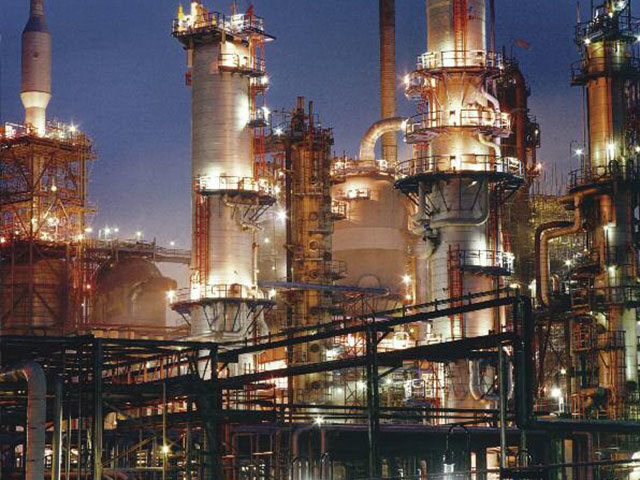 Exxon Mobil Corp. announced a $20 billion building spree in the heart of the U.S. chemical and refining industry, a program it said would create 45,000 jobs. President Donald Trump quickly tweeted his support, calling the oil producer a "special company."
The only problem? Monday's announcement just gave a name to a series of investments the company began making as far back as 2013, before the collapse in oil prices. Chief Executive Officer Darren Woods dubbed the program "Growing the Gulf," part of an effort to boost energy exports from abundant natural gas and oil supplies on the U.S. Gulf Coast.
It's the latest effort by a corporation to proactively present itself as a job creator to a president who has made the issue a centerpiece of his campaign and his less than two-month tenure in office. Trump described Exxon as a "true American success story" in a statement. The president followed up with a trademark tweet: "We are already winning again, America!" and a short video celebrating the announcement which he said was in part because of his administration's policies.
All the jobs will be located along the Gulf Coast, and many will pay an average of $100,000 a year, Woods said in a speech at CERAWeek, a huge annual industry conference in Houston. The investments will continue at least through 2022. Woods was making only his second public appearance as CEO since January, when he succeeded Rex Tillerson, who left the company to become Trump's secretary of state.
Exxon follows other U.S. giants such as Ford Motor Co., Intel Corp., General Motors Co. and Wal-Mart Stores Inc. responding to Trump's call to eschew overseas investments and focus on domestic developments. Like those other plans, Exxon didn't specify how much of the 10-year investment program was previously announced.
After decades of locating refineries and chemical plants close to raw materials and end markets in the Middle East and East Asia, Exxon is committed to steering construction dollars to its home country, Woods said. The plan involves 11 projects in the Gulf Coast region.
"These projects are export machines, generating products that high-growth nations need to support larger populations with higher standards of living," Woods said. "The supply is here; the demand is there. We want to keep connecting those dots."
Woods' comments followed Exxon's disclosure last week that it's shifting half its worldwide drilling budget to U.S. shale fields next year. The company's shares have dropped 8 percent this year as oil prices have stabilized between $50 and $55 a barrel, after falling from more than $100 in 2014.
One of the projects includes the construction of an ethane cracker at Exxon's Baytown, Texas, chemical complex that began in June 2014 and was projected to employ 10,000 construction workers and spur 4,000 additional full-time positions. Another was the expansion of Exxon's Mont Belvieu, Texas, polyethylene plant, where work began around the same time. The company didn't say how much the investments would cost.
"This is exactly the kind of investment, economic development and job creation that will help put Americans back to work," Trump said in a statement. "Many of the products that will be manufactured here in the United States by American workers will be exported to other countries, improving our balance of trade."
Free Trade
Like Exxon bosses before him, in his remarks Monday Woods championed "free and fair trade" as essential for economic growth and corporate profitability. That stance may veer from Trump's repeated criticisms of various international trade deals, including the North American Free Trade Agreement with Canada and Mexico, as unfair and disadvantageous to U.S. workers.
Woods, a 52-year-old Exxon lifer, inherited a company hobbled by the biggest reserves reduction in its modern history and the loss of the platinum credit rating it held for 85 years as a 2 1/2-year collapse in crude markets destroyed cash flow. The expansion program, dubbed "Growing the Gulf" by Exxon, hews close to Woods' pedigree as a quintessential downstream executive, or one who focused on refineries and chemicals for most of his career.
Woods' comments at CERAWeek may presage major themes up for debate at the oil industry's biggest annual conference. He was preceded at the conclave by Russian Energy Minister Alexander Novak; luminaries yet to appear during the week-long conference include Saudi Oil Minister Khalid Al-Falih, OPEC Secretary General Mohammad Barkindo, and the CEOs of Royal Dutch Shell Plc, Chevron Corp., Total SA and BP Plc.
For the latest on Exxon's seismic shift to shale drilling, click here
Woods, an electrical engineer by training who initially joined Exxon as an analyst, also touted the Irving, Texas-based company's research and investments in carbon capture, biofuels and other ventures meant to address climate change.
Market Interventions
He also panned government subsidies, trade restrictions and other market interventions intended to prop up green energy sources: "They are more expensive and lead to poor investment decisions, focused on the limitations imposed, not true innovation."
The tone of Woods address was in marked contrast to the bleak pronouncements that dominated CERAWeek gatherings in the previous two years as crude prices were in retreat and the industry retrenched, firing hundreds of thousands of workers and canceling billions of dollars in investments.
"The world's energy industry, represented here today, is the engine of the world's economy," Woods said. "As we look forward, our opportunity is to grow."
Recommended for you

Exxon's emissions-reduction pledge lags supermajor rivals'