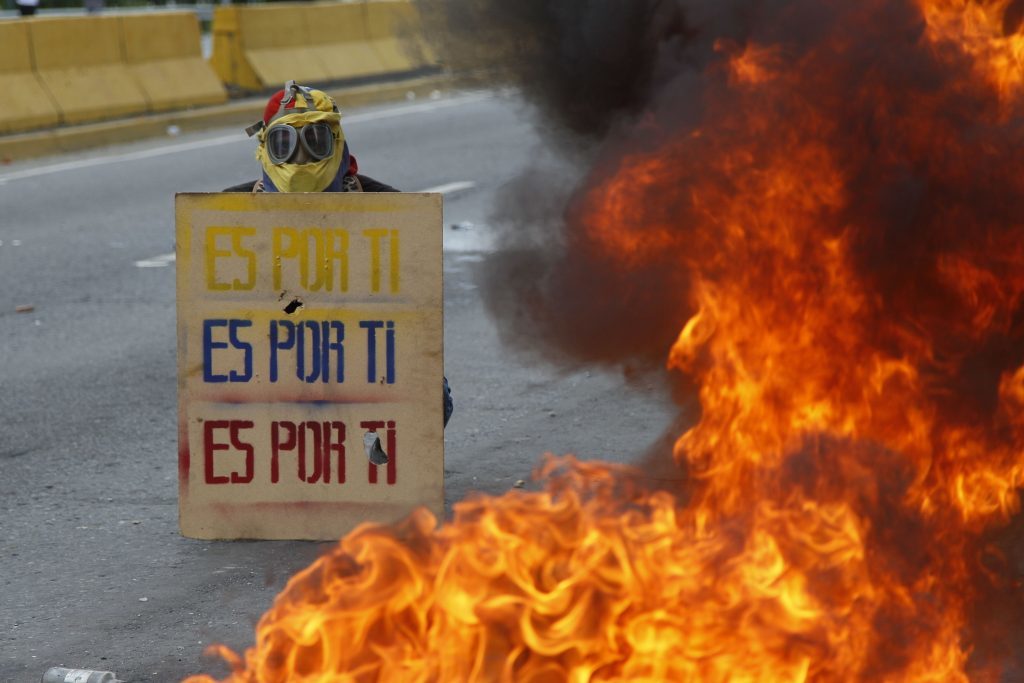 President Trump said he would not rule out military action against Venezuela in response to the country's descent into political chaos following President Nicolas Maduro's power grab.
Speaking on Friday at his Bedminster, New Jersey, golf club, Mr Trump bemoaned Venezuela's growing humanitarian crisis and said: "We have many options for Venezuela – and by the way, I'm not going to rule out a military option.
"A military operation and military option is certainly something that we could pursue."
Mr Trump's comment mark a serious escalation in rhetoric for the US, which has up until now stressed a regional approach that encourages Latin American allies to escalate pressure on the Maduro regime.
Hours before Mr Trump's comments, a senior administration official speaking on condition of anonymity stressed that approach while briefing reporters on Vice President Mike Pence's upcoming trip to the region.
On Friday, the White House said it had rejected a request from Mr Maduro to speak by phone with his US counterpart. The statement said: "Trump will gladly speak with the leader of Venezuela as soon as democracy is restored in that country."
The Trump administration has slapped a series of sanctions against Mr Maduro and more than two dozen current and former Venezuelan officials in response to a crackdown on opposition leaders and the recent election of a constitutional assembly charged with rewriting the country's constitution.
Even as the list of targeted individuals has grown longer, promised economic sanctions have yet to materialise amid an outcry by US oil companies over the likelihood that a potential ban on petroleum imports from Venezuela – the third-largest supplier to the US – would hurt US jobs and drive up fuel costs.
Mr Trump's comments are sure to focus new attention on Mr Pence's upcoming six-day tour of the region, which will include stops in Cartagena, Colombia; Buenos Aires, Argentina; Santiago, Chile; and Panama City.
Mr Pence is set to arrive in Colombia on Sunday and is expected to meet with each of the countries' leaders, deliver a major speech on US-Latin American relations and tour the newly expanded Panama Canal.