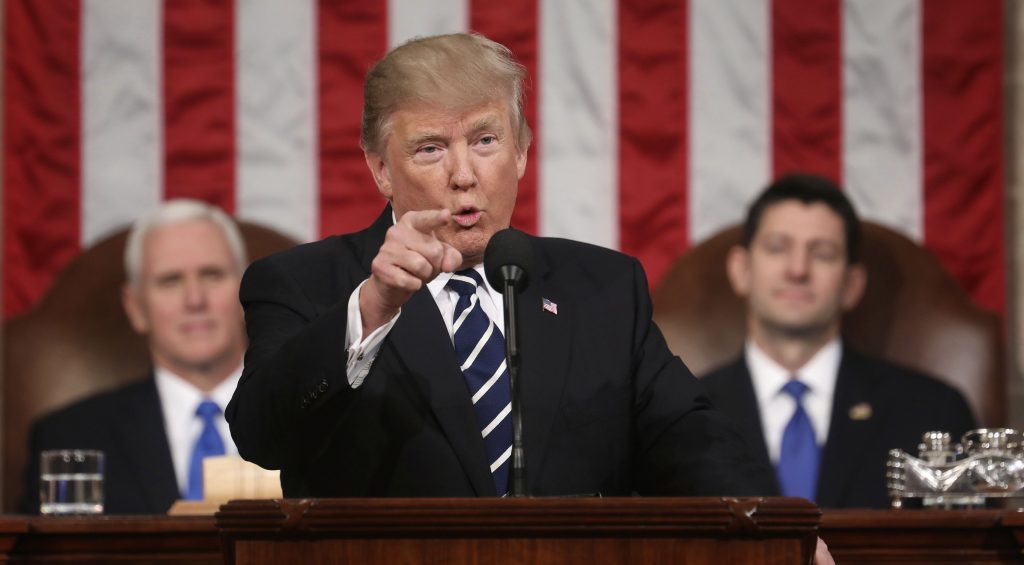 President Donald Trump's effort to boost US energy is facing push back from manufacturers who say exporting more natural gas may undercut his "America First" jobs focus.
The Industrial Energy Consumers of America asked the administration Wednesday for a moratorium on US approvals for liquefied natural gas projects. The trade association, which represents US manufacturers that depend on cheap energy to fuel their factories, sent a letter to Energy Secretary Rick Perry Wednesday.
It's "inconsistent with President Trump's fair trade and America-first policy," Paul N. Cicio, the group's president, said in a phone interview. "It's a stunningly breathtaking amount of natural gas that could be exported."
The dispute between oil and gas companies and manufacturers is but one among business groups over Trump's agenda. Oil companies oppose Trump's idea to require that pipelines be made in the US; agriculture producers oppose some of his trade policies; and refiners have pushed the White House to drop consideration of sanctions on Venezuelan oil imports.
In its letter, the energy consumers group say that exports could drain as much as two-thirds of US natural gas resources by 2050. The group doesn't disclose its members, but its 2015 tax filing says it represented The Dow Chemical Co., Corning Inc. and other factory owners. The chief executives of both companies, Andrew Liveris for Dow and Wendell Weeks for Corning, are members of the president's manufacturing council.
Neither Dow nor Corning responded to requests for comment.
More Approvals
"We remain alarmed at the volume of LNG exports that have been approved for periods of 20-30 years," the group says in its letter. "Of greatest concern, is that the administration has said publicly that it will approve more applications to export" to countries that don't have a free-trade agreement with the US.
The dispute shows how Trump's formulation of American energy dominance could have a downside for other US companies, said Kevin Book, managing director of Washington-based ClearView Energy Partners LLC.
"The question isn't about the next five years, it's about the next 20 years," Book said in an interview. "For anyone who is making an industrial investment in the US these days is thinking very much in that time frame."
US natural gas futures have risen since the first cargo of liquefied shale gas left Louisiana's shores last year — and more of the fuel is slated to set sail this year as Cheniere Energy Inc. starts up another LNG plant at its Sabine Pass terminal.
Meanwhile, the natural gas industry rejects the idea the US doesn't have enough natural gas supplies to do it all.
"It advances our national security interests by providing allies access to diverse sources of energy, improves the global environment and contributes to correcting the US trade deficit," said Charlie Riedl, executive director for the Center for LNG, which represents companies such as Golden Pass LNG, a Texas export terminal being developed by a joint venture of Qatar Petroleum, ExxonMobil Corp. and ConocoPhillips. "The US has a limited window to take advantage of new demand."
The number of countries seeking to import US liquefied natural gas has increased to 39 from 10 in 2000, according to the Washington-based trade group.
Recommended for you

Dutch operators granted first certificates for North Sea hydrogen pipelines