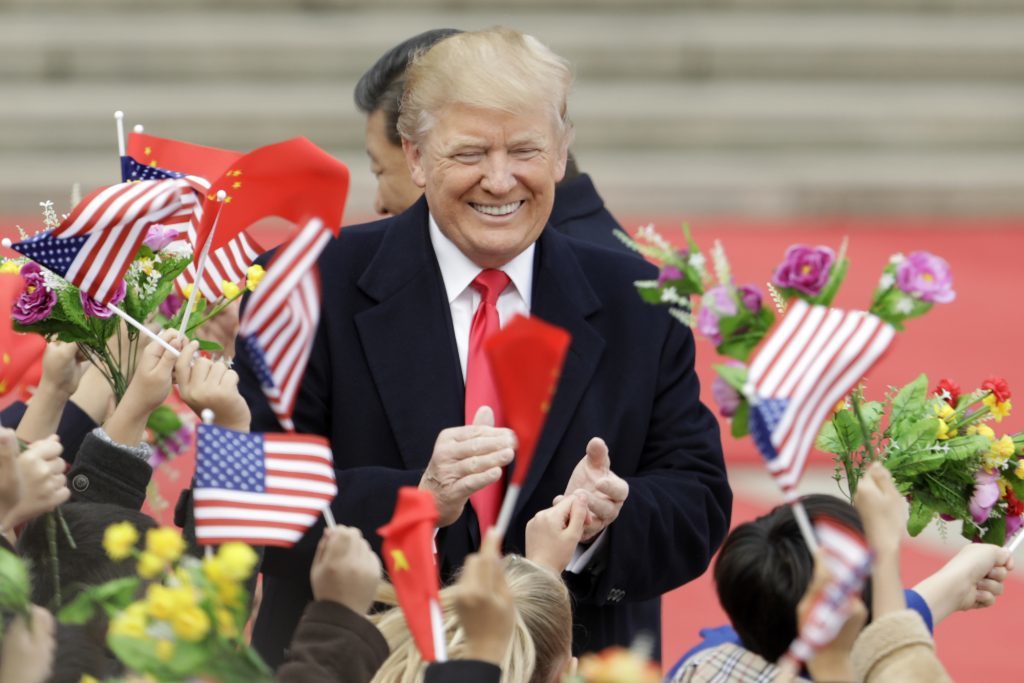 The headline number is impressive: A quarter-trillion dollars worth of deals from China that President Donald Trump can use to show he's creating opportunities for U.S. businesses and jobs for his base.
The reality, however, is that the roughly 15 agreements set to be unveiled on Thursday are mostly non-binding memorandums of understanding and could take years to materialize — if they do at all. A day earlier, Commerce Secretary Wilbur Ross announced $9 billion of deals, many also MOUs with few details, rather than contracts.
The U.S. is announcing one larger deal on Thursday: a joint development agreement to advance a liquefied natural gas project in Alaska, involving the state-run Alaska Gasline Development Corp., Sinopec, the China Investment Corp and the Bank of China. The project would involve total investment of up to $43 billion.
But one Chinese official said that senior executives of Sinopec weren't aware of the deal set to be announced on Thursday. A separate Chinese official said the MOUs merely show China's goodwill toward Trump, and would take years of negotiations to become real contracts.
Alaska officials have been trying to pursue this project for years, but have run into difficulties because of the price-tag of the project and the stiff competition from cheaper and more accessible shale gas in Texas and elsewhere.
Read More: Details on the Deals Trump's Team Plans to Unveil in China
The non-committal nature of many of the deals reflects a lack of planning or advance work ahead of Trump's visit to pin down significant agreements or concessions from China, according to two administration officials who asked not to be identified to speak about private deliberations.
The officials pointed to the fact that there were no agreements on giving U.S. companies more access to Chinese markets, or opening up Chinese financial markets — something investors have been demanding for years.
And the agreements reflect China's desire to send Trump home with some tweetable "deliverables" from his Asia jaunt, in part to keep him from pressing for more concrete steps that would be harder for China to deliver, such as true changes to its trade policy or to its stance on North Korea, several observers said.
'Seems Naive'
"To me this is an old-style visit when you pile up all the deals so you can get to a big number," said James McGregor, China chairman of the consultancy APCO worldwide. "This was normal when the U.S. and China were just building ties, but now China is a global business power and has very damaging industrial policies and this seems naive. This is all for show for President Trump to demonstrate his deal-making prowess."
Max Baucus, a former U.S. ambassador to China, told Bloomberg Television, "This is classic Chinese. They have been doing this for thousands of years."
"It's their technique to try to suck you in," Baucus said. "I think all this ceremony here is designed by the Chinese in part to prevent any serious conversation. The more there is pomp and circumstance, the less there is time to talk."
After his meeting with Xi this morning in Beijing, Trump said there was no more important subject to his administration than U.S.-China ties. "The United States really has to change its policies because they've gotten so far behind on trade with China, and frankly with many other countries. And I have great respect for you for that, because you're representing China," Trump said.
"But it's too bad that past administrations allowed it to get so far out of kilter. But we'll make it fair and it'll be tremendous for both of us. My feeling toward you is an incredibly warm one," Trump said.
Still, the business community in Beijing is abuzz with talk that Trump may announce very tough trade policies against China when he gets back to Washington, said McGregor, who attended the signing ceremony with Ross on Wednesday.
Trump is scheduled to giving joint statements with Xi to reporters later. The U.S. leader then heads on Friday to two regional summits to round out his 11-day swing through Asia.
The lack of substance risks undercutting one main objective of Trump's trip: to cut deals that effectively narrow the U.S.'s trade deficits with some of Asia's biggest economies. Trump walked away from Japan and South Korea largely empty-handed from visits that focused mostly on solidifying security ties.
Higher Stakes
In China, the stakes were higher: Trump regularly accused Beijing of stealing American manufacturing jobs on the campaign trail, and portrayed himself as uniquely qualified to fix the problem. Since taking office, he's backed down on campaign pledges to label China a currency manipulator and slap high tariffs on the nation's goods, but he still rails against the trade imbalance with China, the U.S.'s largest.
"We have trade deficits with China that are through the roof. They're so big and so bad that it's embarrassing saying what the number is, but you know what the number is. And I don't want to embarrass anybody four days before I land in China, but it's horrible," Trump said on Nov. 1.
"And you look all over the world, no matter where we do trade, we have bad trade deals. We're renegotiating those deals, as I said I would during the campaign. And that's going to be a big factor in our growth."
One of the biggest deals the Trump administration is currently negotiating is a multibillion-dollar energy investment from Chinese oil and gas giant China Petroleum & Chemical Corp., known as Sinopec, that would bring thousands of new jobs to hurricane-ravaged areas in Texas and the U.S. Virgin Islands. This deal, too, would be a non-binding MOU.
Jacob Parker, a vice president at the U.S.-China Business Council in Beijing, said that while one-off deals are fine, it'd be even better to eliminate China's structural market access barriers. Many companies are forced to transfer technology for market access, and cannot own 100 percent of their operations.
"What the business community wants most is results-driven, solutions-focused engagement that will provide greater access to — and a more level playing field with — the world's second-largest economy," Parker said.
Recommended for you

China in advanced talks with Qatar for gas stakes worth billions