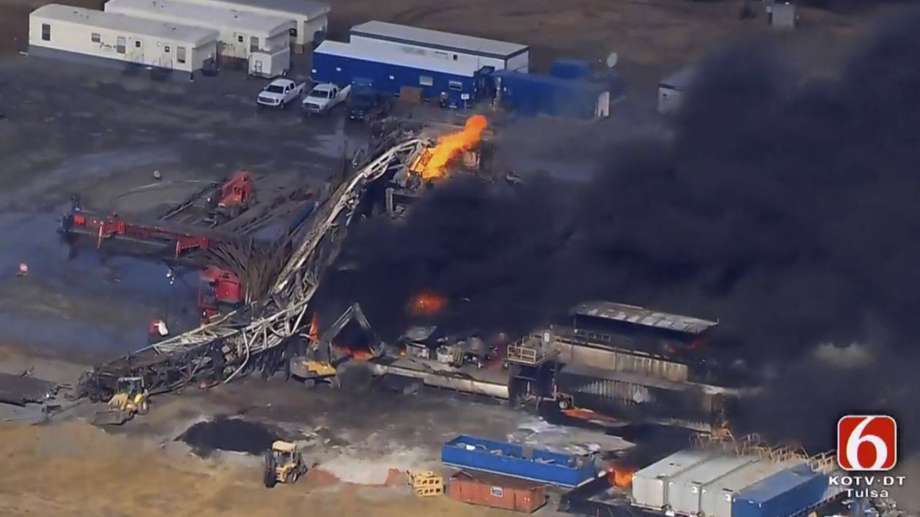 Five workers are presumed dead, including one Texan, after an explosion ripped through a drilling rig in Oklahoma, triggering the nation's deadliest oil and gas incident in several years.
The drilling rig is owned by Houston-based Patterson-UTI Energy, which employed three of the deceased. Patterson-UTI has grown into one of the nation's largest onshore drilling and hydraulic fracturing, or fracking, companies.
"At this time we have moved from a rescue mission to a recovery mission," said Pittsburg County sheriff Chris Morris at a Tuesday press conference. "They are waiting on the scene to cool down and be stabilized before we can go in."
The deceased include one from Forth Worth, three from Oklahoma and one from Colorado. They are Josh Ray, 35, of Fort Worth; Cody Risk, of Wellington, Colo.; and Matt Smith, Parker Waldridge and Roger Cunningham, all of Oklahoma. Ray, Smith and Risk were Patterson-UTI employees.
"Five people were tragically lost in the event," said Patterson-UTI Chief Executive Andy Hendricks. "Our focus right now is supporting the families. This has been a terrible tragedy and a terrible loss."
Patterson-UTI and the natural gas well operator, Oklahoma's Red Mountain, said they are working with local authorities and the U.S. Occupational Safety and Health Administration to investigate the accident.
"We want to know what caused this horrible event, but today is not the time for those questions," said Red Mountain spokesman Tony Say.
While Hendricks acknowledged Patterson-UTI has had other safety incidents in the past, he argued his company has ranked among the safest drillers in recent years.
The explosion cut through the Patterson-UTI rig just before 9 a.m. Monday. More than 20 people were working at the well site when the explosion occurred west of Quinton, about 100 miles southeast of Tulsa, authorities said.
Authorities said 16 people escaped the explosion without major injuries. One person was airlifted to a hospital. The fire was extinguished Monday night.
The intense fire had prevented investigators from getting to the scene to confirm any fatalities. Authorities earlier searched the surrounding woods to see if anyone had fled into the area. Aerial footage showed several fires were still burning by midday Monday on the rig and much of the equipment had collapsed to the ground.
Patterson-UTI has about 25 drilling rigs active in Oklahoma, second only to Texas, where it has nearly 60 rigs in operation.
The incident occurred at the site of one of Patterson-UTI's more modern APEX 1500 rigs, described as a "light, safe, and efficient rapid deployment rig."
This article first appeared on the Houston Chronicle – an Energy Voice content partner. For more from the Houston Chronicle click here.
Recommended for you

Piper Alpha oil rig disaster was the most difficult job of career for Red Adair