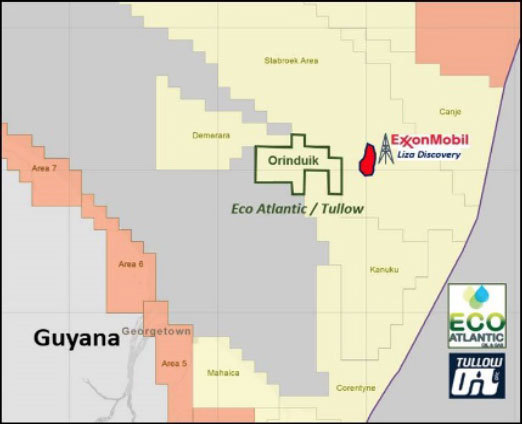 Eco Atlantic Oil & Gas said today that the Orinduik block offshore Guyana could contain more than 1billion barrels of oil.
London and Toronto listed Eco holds a 40% stake in the block, while operator Tullow Oil has 60%.
Total, which has an option to buy 25% of Orinduik for $12.5million, is interpreting the first batch of 3D survey data.
Oinduik is in the same area as the Liza discoveries on the Stabroek Block, estimated by ExxonMobil to contain more than 3.2billion barrels.
Eco Atlantis director Colin Kinley said: "This is an exciting time for Eco, and we are being careful to ensure a comprehensive and conservative interpretation of the Orinduik data as it is being delivered.
"We have a great deal of faith in the quality of seismic data processing by PGS, whom we have used many times in the past.
"Tullow also has a team of leading industry experts who understand the play and are providing an excellent paced and thorough oversite of the data.
"We are sharing the data with Total now, who have worked on projects with Tullow in the past, as they have significant experience in this stage of the processing and interpretation. This will help the group define drilling targets."
Recommended for you

Africa Oil sees progress looming in Nigeria, Kenya