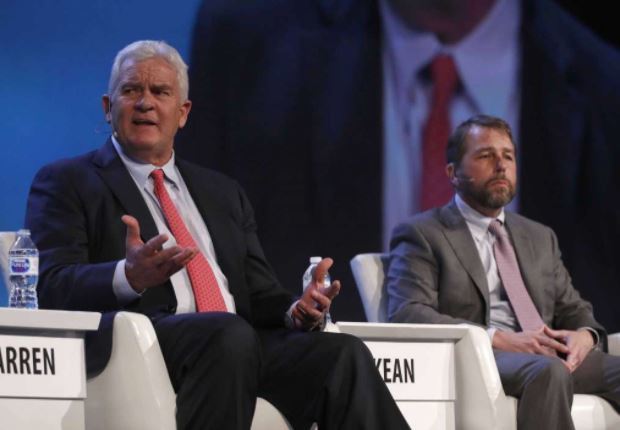 For more than a century oil and gas pipelines were built beneath the United States with nary any notice from the public.
But pipelines executives lamented Wednesday that since the rise of the "Keep it in the Ground" movement, projects were being delayed by a rising tide of protests, litigation and vandalism.
"The level of intensity has ramped up," Kinder Morgan CEO Steven Kean said Thursday at the CERAWeek energy conference hosted by IHS Markit. "There's more opponents, and it's more organized."
Speaking onstage with fellow pipeline CEOs Kelcy Warren, of Energy Transfer Partners, and Russ Girling, of TransCanada, Kean recounted how a group of environmentalists closed the valves on their pipeline network in the western United States in what appeared to be a coordinated effort across multiple states.
 "Talk about someone that needs to be removed from the gene pool," he said.
In a move to shore up public opinion, the typically media-shy Warren said he had increased Energy Transfer's presence on social media platforms.
"There's lies being told about our company that we have to police," Warren said. "All of us have to bear that cost."
The anti-oil movement is already having an impact on development in the United States, Girling said. But he argued it had done little to slow construction on a global level.
"As we have stalled development, others have taken up the slack," he said. And in other countries, "we're seeing less care to the environment and human rights."
This first appeared on the Houston Chronicle – an Energy Voice content partner. For more click here. 
Recommended for you

Ghana nearing construction on new Takoradi-Tema link