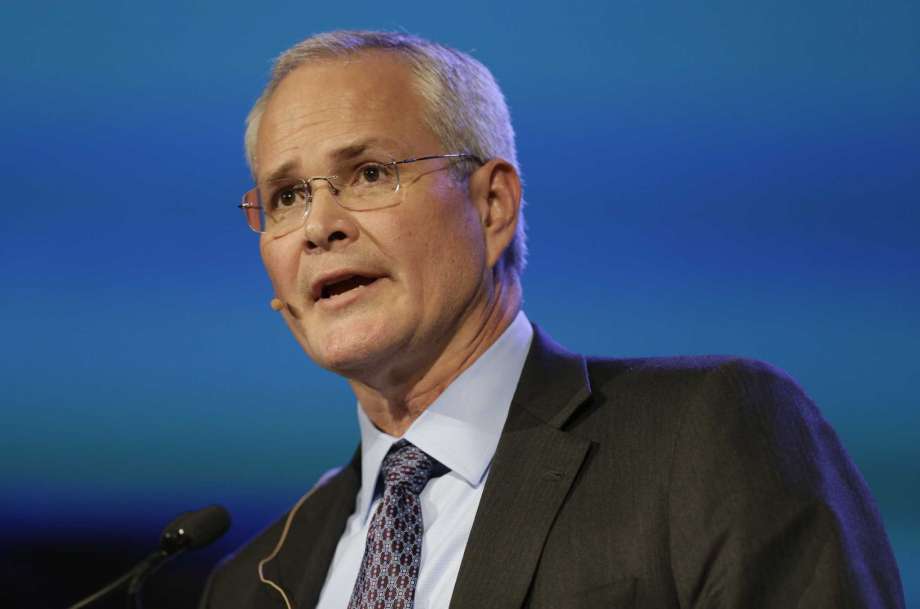 Exxon Mobil's chairman and chief executive steadfastly argued the nation's largest energy company can continue to grow its global oil and gas operations while reducing carbon emissions and helping to combat climate change.
CEO Darren Woods led Exxon Mobil's annual meeting Wednesday in Dallas for the first time since shareholders approved a resolution last year asking for an explanation of the impact of climate change on the company's business. Exxon Mobil released an energy and carbon report earlier this year that contended the globe's environmental goals still allow the company to produce energy from its oil and gas reserves.
"We've always adapted to society's changing needs and evolving technologies," Woods said, noting that the company started out making kerosene for lamps. "We're also committed to being part of the solution to climate change"
By 2040, oil and natural gas will still meet about 55 percent of world's energy needs, Woods said. That equates to the equivalent of about about 200 million barrels a day worldwide, up from about 160 barrels now. All energy sources will rise, including wind and solar, except for coal, he said.
He emphasized that Exxon Mobil supports the Paris climate accord, including the goals to keep temperatures from rising more than 2 degrees Celsius above pre-industrial levels by the year 2100. Recent studies have shown the world is not on track to achieve those goals.
However, environmentalists have viewed Exxon Mobil skeptically because of allegations – which Exxon Mobil denies – that the company's research found a link between fossil fuels and global warming decades ago, but it withheld the evidence.
Last week though, Exxon Mobil said it is commiting to new targets to reduce its methane emissions by 15 percent worldwide by 2020. Exxon said its goals include reducing its natural gas flaring – the burning off of excess gas and its components – by 25 percent during the same timeframe.
Methane, the main component of natural gas, is released into the atmosphere during oil and gas production, as well as from pipeline leaks. Cutting methane emissions could be critical to the energy sector, which is betting big on cleaner-burning natural gas as a more climate friendly fuel.
Exxon Mobil is working to reduce emissions from its refineries, invest in more biofuels and develop more environmentally friendly plastics, Woods said.
He touted Exxon Mobil's oil and gas growth in areas like West Texas' booming Permian, Papa New Guinea, Guyana, Mozambique and Brazil, as well as refining in petrochemical growth from the Houston area to Singapore.
As for the meeting, Exxon Mobil investors rejected shareholder proposals for a separate chairman and CEO, for board diversity standards, and for greater corporate lobbying disclosures.
Ricky Brooks, a labor union representative who works at Exxon's Baytown refinery, said lobbying sources like the conservative American Legislative Exchange Council, which has received funding from Exxon, pushes for weaker worker safety and health standards.
"Our reputation could be at stake," Brooks said, including the safety of his coworkers.
Woods argued that Baytown is one of the safest complexes and that Exxon Mobil fully embraces accountability and already follows all of the necessary legal lobbying disclosures.
He said Exxon Mobil is improving its safety record and he said negotiations are ongoing with Australian labor union workers, some on whom protested outside the meeting regarding wage and benefits cuts and more.
There also was some grousing Wednesday about Exxon's stock performance, which has been relatively flat for roughly a decade. Many investors and energy analysts have complained of late about Exxon's lack of progress on growing its oil and gas production volumes worldwide.
Hunter Martin, of Houston, expressed similar concerns that he said he and his wife share as longtime shareholders.
"Wall Street is virtually negative about today's performance and it's embarrassing to me," Martin said. "We love this company. I do not mean to be impolite or cranky."
Woods acknowledged the concerns and emphasized that Exxon Mobil has strong growth plans now for everything from oil and gas production to fuel refining to plastics manufacturing on a global basis.
"We're very focused and working on it," Woods said of the stock price, which closed Tuesday at $78.42 a share and jumped Wednesday morning by nearly 4 percent.
This article first appeared on the Houston Chronicle – an Energy Voice content partner. For more from the Houston Chronicle click here.
Recommended for you
X

As energy companies look ahead, some owe debt to the oil bust