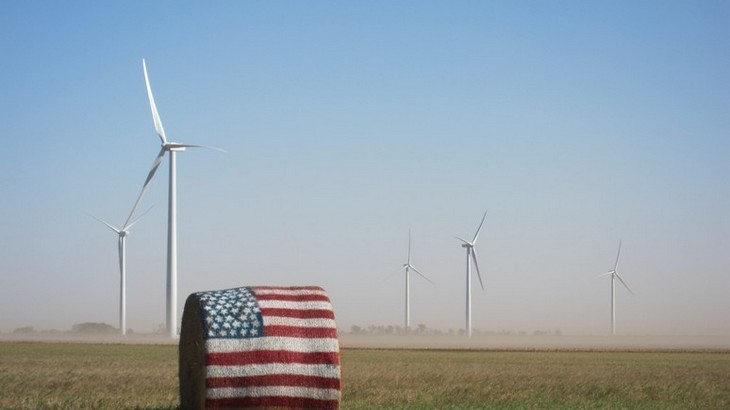 U.S. fossil fuel consumption last year reached the lowest share in more than a century as use of renewable energy continued to climb and petroleum use remained well below its 2005 peak.
The U.S. Energy Department reported Tuesday that fossil fuels accounted for just over 80 percent of domestic energy consumption in 2017, the lowest share since 1902. Renewables, meanwhile, accounted for just over 11 percent, the highest share in roughly the same time period.
The drop in fossil fuel consumption — the third consecutive annual decline — was driven in part by a 2.5 percent decline in the use of coal, following a decade-long trend. U.S. coal consumption has fallen about 40 percent since 2005 despite the Trump administration's efforts to prop up the industry.
U.S. natural gas consumption dropped 1.4 percent despite a surge in domestic production and a steady uptick in global demand. In the U.S., the ongoing shift away from coal for electric power generation has boosted consumption of natural gas by 24 percent since 2005.
Petroleum consumption remained the largest driver of demand for U.S. fossil fuels and increased slightly last year. But its usage, driven mostly by demand for gasoline, remained 10 percent below the 2005 peak, aligning with recent predictions gasoline will soon be displaced as a main driver of crude demand worldwide.
In its most recent outlook, the International Energy Agency projected that global gasoline demand will grow only 0.2 percent a year through 2023 as 10 of the world's largest vehicle markets, including the U.S., implement stricter fuel efficiency standards and develop more electric models.
That anticipated shift has spurred energy companies in the U.S. and elsewhere to invest more heavily in petrochemicals as emerging markets worldwide consume more plastics and consumer goods. The IEA anticipates that petrochemicals will account for a quarter of the growth in global oil consumption during the next five years, replacing gasoline as the driver of crude demand.
Much of the recent growth has occurred along the U.S. Gulf Coast, which has emerged as the locus of global petrochemical production thanks to a steady supply of low-cost natural gas feedstocks from West Texas and elsewhere.
This article first appeared on the Houston Chronicle – an Energy Voice content partner. For more from the Houston Chronicle click here.
Recommended for you

Sorry, but for you, oil trades at $250 a barrel