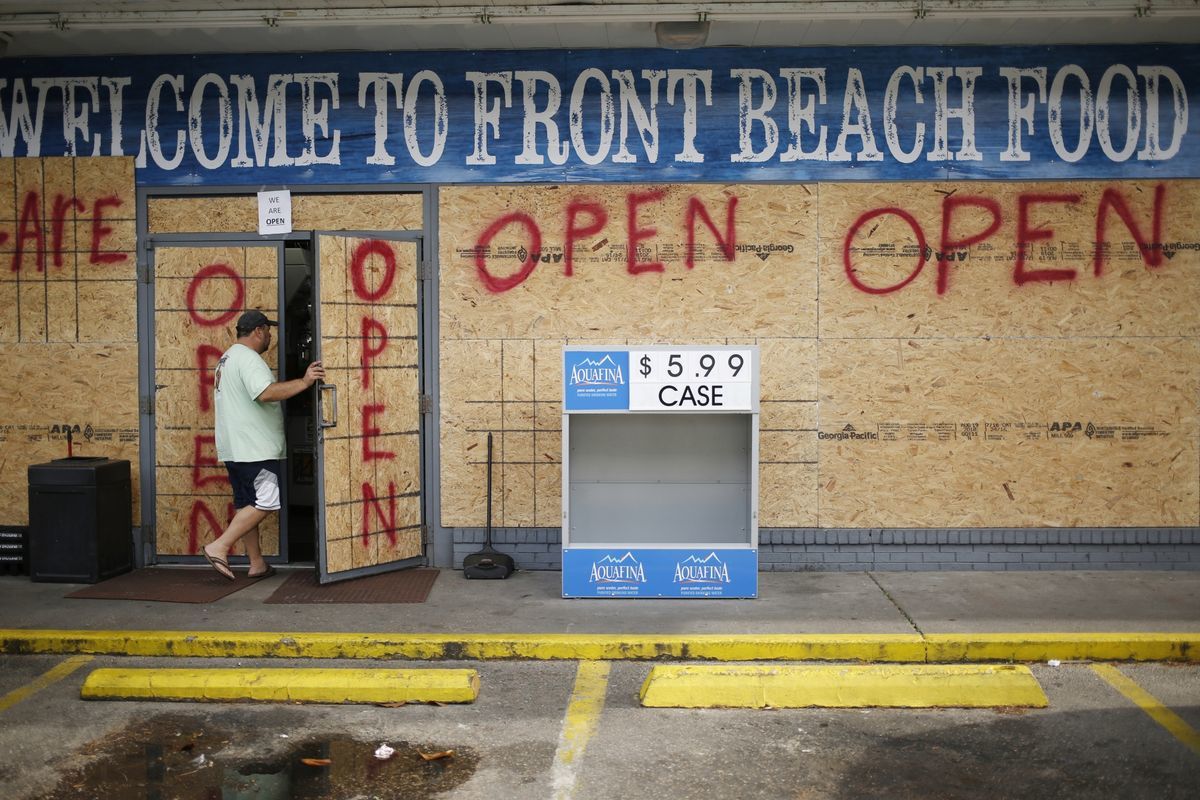 Hurricane Michael's winds strengthened further to 140 miles an hour as the Category 4 storm approaches Florida, bringing a life-threatening storm surge that could cause $15 billion in damage.
Residents in Michael's path were urged to evacuate by Tuesday night, before the storm moves onshore near Panama City in Florida on Wednesday.
The swift-moving monster has already cut Gulf of Mexico oil production by 40 percent and natural gas output by 28 percent. Storm warnings and watches have also been issued for the Atlantic coast as far north as the Carolinas.
The storm's center was about 140 miles (225 kilometers) south-southwest of Panama City as of 5 a.m. New York time. It was moving at about 13 miles per hour and reports from a Hurricane Hunter aircraft show its maximum sustained winds rose to 140 mph, with higher gusts.
"Some additional strengthening before landfall" over the Florida Panhandle later today, the National Hurricane Center said in its latest advisory.
Following on the heels of Hurricane Florence's September landfall, Michael is forecast to drop 4 to 8 inches of rain, with some isolated areas getting as much as 12 inches, according to the NHC.
"It will be a different monster than Florence," said Brett Rathbun, a meteorologist at AccuWeather Inc. in State College, Pennsylvania.
Rather than lingering in one region as Florence did, inundating the Carolinas with rain, Michael is expected to race north to Georgia by Thursday, and eventually settle off the coast of Massachusetts by the weekend, Rathbun said.
The storm is expected to weaken after landfall as it moves across the southeastern U.S. before reemerging over the Atlantic, the NHC said in its advisory.
Florence hit North Carolina on Sept. 14, causing devastating floods, killing at least 39 and causing about $45 billion in estimated damages.
Duke Energy Corp., which saw about 1.5 million customers in the Carolinas lose power from Florence, is warning people in both Florida and the Carolinas to prepare for extended power outages. As many as 200,000 Floridians could be in the dark, some for more than a week, it said. The company is moving utility crews and resources into the Florida region, and plans to begin restoring power as soon as it's safe to do so.
Dozens of flights are canceled into or out of regional airports such as Pensacola and Atlanta, according to FlightAware data.
Read more: The Gathering Storm Over How Hurricanes Are Measured
The impending storm also drew multiple tweets from President Donald Trump on Tuesday. "Good news is, the folks in the Pan Handle can take care of anything," one of the tweets noted "@FEMA and First Responders are ready – be prepared!"
Damages from the storm could reach between $5 billion and $15 billion, depending on its intensity after landfall and how quickly it moves through the region, analysts said. AccuWeather forecasts the total damage and economic impact will be close to $15 billion, while Chuck Watson, of Enki Research in Savannah, Georgia, estimates it will cause $7 billion to $10 billion in damage, with Panama City taking the hardest hit.
"Michael is definitely shaping up to be a classic hurricane," Watson said by email. "So the estimates are a bit more stable since you don't have the stall and wander problem" that made Hurricane Florence hard to calculate.
To see a map of active storms and hurricanes, click HURR <GO>
While the panhandle is more sparsely populated than many other areas of Florida, it includes the capital city of Tallahassee, Pensacola and Panama City.
Michael may damage agricultural crops across the southeast, such as the cotton harvest in Georgia. Still, supplies are forecast to be large enough to provide ample cushion, with nationwide corn and soybean production already forecast to be huge. The U.S. Department of Agriculture will update its output estimates on Thursday.
Recommended for you
X

One dead, nine injured in Bosnia oil refinery blast