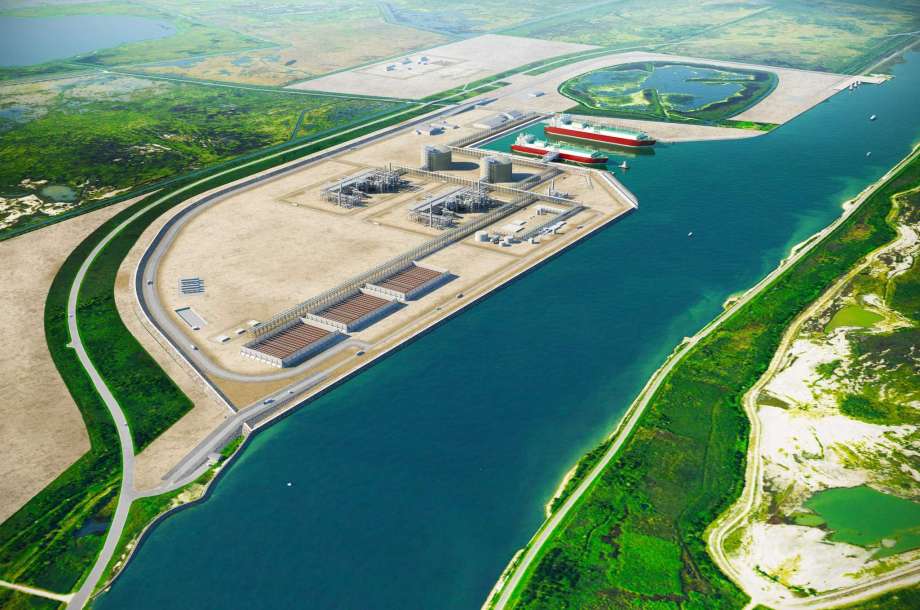 The growth of the Gulf Coast's liquefied natural gas industry is set to accelerate in 2019 as at least three major projects are expected to get the go-ahead from developers.
Those projects include a sixth processing unit, called Train 6, at Cheniere Energy's Sabine Pass complex in Louisiana; Golden Pass LNG, a joint venture of Exxon Mobil, ConocoPhillips and Qatar Petroleum, on the Texas side of Sabine Pass; and Calescieu Pass LNG in southwestern Louisiana, developed by Venture Global of Arlington, Va.
Within the next six months, developers behind each project are expected to make final investment decisions that would inject a combined $20 billion into the region over the next four years, according to the energy research firm Wood Mackenzie.
At least two other Gulf Coast projects could receive final investment decisions later in 2019, according to Wood Mackenzie.
They are Driftwood LNG, a project south of Lake Charles being developed by the Houston company Tellurian, and a fourth natural gas liquefaction plant at the Quintana Island project of Freeport LNG of Houston.
"North America is set to lead an expected record year for LNG project sanctions," said Alex Munton, principal analyst, Americas LNG, at Wood Mackenzie in a statement. "The first half of 2019 will be an especially busy one for the U.S."
And more are coming. Other projects that recently won federal approval and are likely to get final investment decisions in the coming months include Houston-based Delfin LNG's terminal in the Gulf of Mexico, and two separate projects in Lake Charles, La., from Energy Transfer of Dallas and Canadian company LNG Limited.
Developers are racing to build LNG export terminals to capture growing demand from Asian countries shifting from coal to cleaner-burning natural gas.
In North America, the Gulf Coast is at the center of the action as companies tap into vast natural gas supplies in Texas.
Houston's Cheniere Energy became the first company to export LNG from the United States in 2016 from its Sabine Pass complex. It recently began shipping LNG from its terminal near Corpus Christi.
Dominion Energy of Richmond, Va., began exporting LNG from Maryland last year. The Houston pipeline company Kinder Morgan, which is completing a terminal in Georgia, and Freeport LNG are expected to start exporting LNG this year.
The flurry of activity has the United States on track to become the third largest exporter of LNG in the world, behind Australia and Qatar, according to the Energy Department.
LNG investment has "sprung back to life" after a lull in 2018, due to increased activity from buyers willing to sign long-term contracts, Wood Mackenzie's report found.
Since September, Cheniere, Venture Global, Tellurian, Freeport and Sempra Energy of San Diego, which is developing an LNG project in Port Arthur, all announced long-term agreements with buyers. Between September and late December, 13 million metric tons per a year in sales were announced, Wood Mackenzie said.
Even with all those projects coming online, supplies of LNG might still tighten in the coming years as Asian countries reduce their reliance on coal, according to another report from the Norwegian research firm Rystad Energy. That could be why buyers are increasingly signing longer contracts, Rystad said.
Rystad analyzed long-term contracts signed in 2018 and found that the average duration of the contracts has increased, suggesting that LNG buyers are less confident they can secure all the LNG they need in the spot market.
"The large established Asian buyers — such as Japan, South Korea, Taiwan and China — will continue to rely on long-term contracts to ensure security of supply," said Sindre Knutsson, senior analyst on Rystad Energy's Markets team.
Rystad forecasts that the market will tighten significantly in 2022 or 2023 and suggests a "heightened risk" of LNG shortages after then.
Wood Mackenzie estimates that spot market demand for LNG among the top buyers of LNG globally could quadruple by 2030.
And in the race to capture that new demand, the Gulf Coast is likely to emerge as a top contender.
This article first appeared on the Houston Chronicle – an Energy Voice content partner. For more from the Houston Chronicle click here.
Recommended for you

How Asia changed the global LNG market in one year