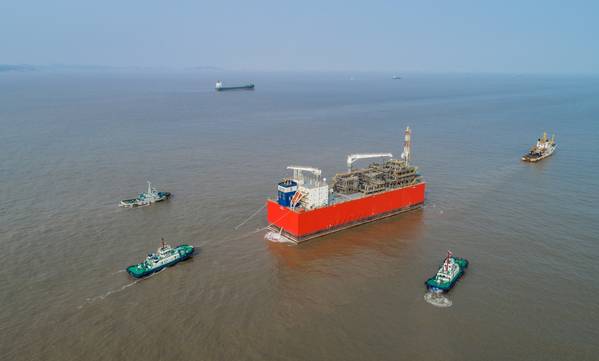 The commissioning of Exmar's Tango floating LNG (FLNG) vessel on June 6 marked the first stage in Argentina's emergence as a global gas exporter.
The Belgium-based company said testing of the facility in the port of Bahia Blanca was completed successfully and that the first cargo of 25,000 cubic metres of gas had been offloaded and was ready for export.
Exmar aims to ship up to eight cargoes per year via the facility, with capacity contracted by state-run oil company YPF for a 10-year period.
Argentina has for years been an LNG importer, buying cargoes of the liquefied fuel on the international spot market to supplement its own gas production and piped supplies from Bolivia.
But the recent rapid ramp-up in gas output from the Vaca Muerta shale play has altered the landscape and created the need for export capacity so that shale developers can monetise their production.
Shale gas output in the country was up 169% year on year at 31 mcm per day (11 bcm per year) in February 2019.
This pushed up total gas production by 8% to 135 mcm per day (49 bcm), which is close to the country's average demand of around 140 mcm per day (51 bcm per year).
With supply poised to overtake demand, Argentina's Energy Secretariat has forecast that the shale boom could push up overall gas output to around 270 mcm per day (99 bcm per year) by 2023.
This would enable LNG exports of 29 bcm per annum, which could scale up even further with the secretariat estimating the Vaca Muerta could drive gas output as high as 146 bcm per year by 2030.
At such a level, and with costs in the country's shale patch falling each year, Argentina should be able to compete with established LNG exporters such as Australia and Qatar.
To do so, however, the country must build up far more substantial export infrastructure than that afforded by small-scale facilities such as Tango FLNG.
YPF and the government are working on a plan to build a US$10 billion liquefaction plant in Bahia Blanca that will be fed by a pipeline connected to shale pads in the Vaca Muerta, with a final decision on the project thought to be imminent.
There are a number of risks facing that potential investors – the poor state of the economy and the impending presidential election being the most notable.
Argentina required a US$57 billion credit line from the IMF to stabilise its economy last year and there is no guarantee that business-friendly President Mauricio Macri will be re-elected in October.
That said, the Vaca Muerta is one of Argentina's few recent economic success stories, so whether Macri regains office or a new president takes over, Tango FLNG's launch will probably pave the way for a bigger onshore liquefaction plant to be built.
Its construction and commissioning will be the next step in Argentina's development as an LNG exporter that could be shipping as much as 29 bcm per year by 2023.
Recommended for you

Eni keeps its eyes on LNG growth with Indonesia deal