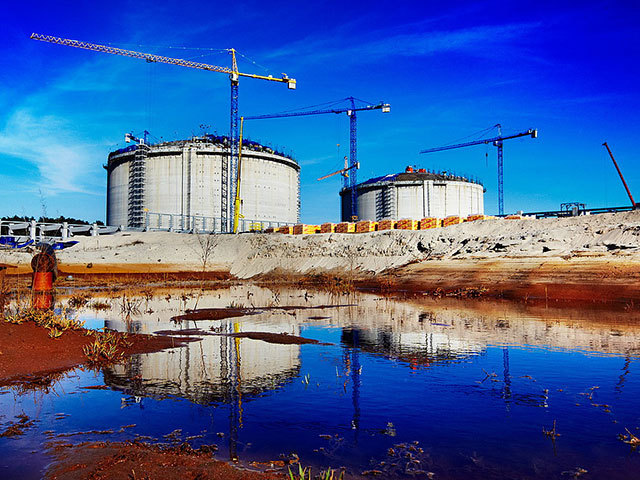 The US has set out charges against two men, Lev Parnas and Igor Fruman. The two men, who were involved in schemes for LNG imports into Ukraine, are accused of violating campaign finance laws.
The men were arrested at Dulles Airport on October 9, as they were preparing to fly to Frankfurt with one-way tickets.
Around the same time, investigators in the US House of Representatives issued a subpoena for US Energy Secretary Rick Perry over activity in Ukraine. In particular, the House has sought answers about reported attempts to pressure Kiev into opening corruption investigations into the US' former vice president Joe Biden and his son, Hunter.
The House also sent subpoenas to Parnas and Fruman's lawyer demanding documents be provided by October 16. The House committee is investigating US President Donald Trump and the accusations of jeopardising national security. There have been allegations that Trump sought the investigation into the Bidens in exchange for providing security aid. Hunter Biden was employed by Ukraine's Burisma, a major gas producer in the country, a role for which he was handsomely rewarded.
Energy angle
A letter from the House cited reports that Perry had asked for the board of state-owned Naftohaz Ukrainy to be overhauled. Parnas and Fruman were said to be involved in these efforts to change the board of the state-owned company.
The US president has implicated Perry. A report in Axios, quoting anonymous sources, reported Trump had made a July telephone call to Ukrainian President Volodymyr Zelenskiy at the energy secretary's request. "I didn't even want to make the call. The only reason I made the call was because Rick asked me to. Something about an LNG plant," he was quoted as saying.
LNG imports to be delivered to Ukraine must come via Poland, given Turkey's refusal to allow LNG carriers into the Black Sea. A memorandum of understanding (MoU) was signed in early September by Perry and officials from Poland and Ukraine on expanding existing infrastructure and building new capacity.
Perry met Ukrainian Energy Minister Oleksiy Orzhel on October 7, and his Polish counterpart Tomasz Dąbrowski.
Zelenskiy has talked of the importance of gas supply diversification and LNG, citing work with Poland and the US as a means of securing this objective.
At the end of August, Poland's PGNiG reported it had purchased a cargo of US LNG and sold the regasified gas to Energy Resources of Ukraine (ERU). The cargo will arrive at the Świnoujście terminal in early November.
The allegations about Parnas and Fruman, and their Global Energy Producers (GEP) vehicle, clearly ties into the US' desire to export increased amounts of energy around the world, in particular LNG to Eastern Europe. The US Department of Energy (DoE) has referred to LNG exports as "molecules of US freedom".
GEP plans
According to the unsealed indictment from the Southern District of New York (SDNY), Parnas and Fruman created GEP "in order to conceal from third parties, including creditors, their sources of funding and capital". Contributions were then made by GEP. Payments of $325,000 and $15,000 were made in May 2018 to two independent expenditure committees.
GEP was a "purported [LNG] import-export business that was incorporated by Fruman and Parnas around the time the contributions were made". While various statements have surfaced from GEP that it was working with major industry leaders, no details have been provided of concrete plans.
Actually, the cash did not come from GEP, although it was made in the name of the company. Instead, a third party provided funds to Fruman. "At that time, GEP had not engaged in the LNG business and had no income or significant assets."
Fruman also provided funds that were paid under Parnas' name, in order to evade federal contribution limits. The payments were made in order to gain influence from politicians in order to "advance their own personal financial interests and the political interests of Ukrainian government officials".
The indictment identified a US congressman who had met the two men. During one such meeting, Parnas pushed for the congressman to support efforts to make the US government "remove or recall" the country's ambassador to Ukraine. This came, at least in part, the indictment said, at the behest of one or more Ukrainian government officials who were keen on the removal of Marie Yovanovitch.
The ambassador was removed from her post after expressing concerns that Rudy Giuliani was operating outside official channels in his discussions with the Ukrainian government over an investigation into Joe Biden's son.
Two other men, alongside Parnas and Fruman, were also named in the US filing. David Correia and Andrey Kukushkin were also said to have conspired to gain influence in order to benefit a future business venture – a "recreational marijuana business".