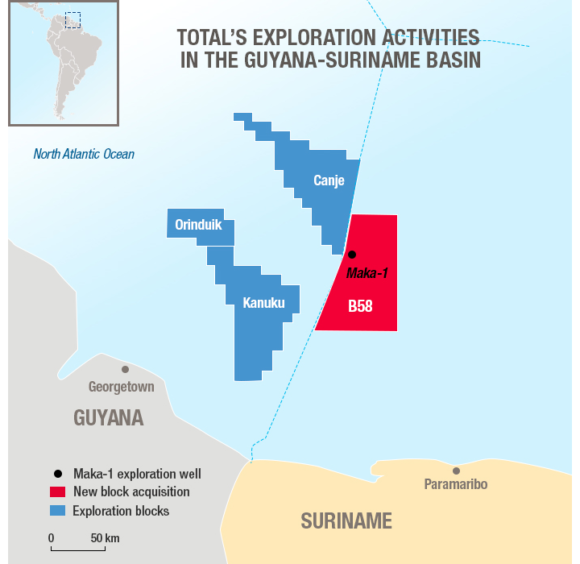 Total announced its entry into Suriname with a 50% interest in a block held by Apache off the Southern American nation's coast.
Block 58 is adjacent to the prolific Stabroek block in neighbouring Guyana.
Under terms of the agreement, Apache will operate the first three exploration wells then transfer operatorship to Total.
Both firms said the first well – Maka-1 – is being drilled and confirms the prospectivity of the block.
If development goes ahead, Total will reimburse Apache 50% for costs to date and pay $5bn of cash carry on Apache's first $7.5bn of appraisal and development costs.
It will also pay 25% carry on all costs beyond the first $7.5bn.
Apache will also get a $100m bonus if the development goes ahead. The pair will also split costs on future exploration wells based on their percentage interests.
Patrick Pouyanné, CEO of Total, said: "We are very pleased to team up with Apache and Staatsolie, and to become operator of this promising license where we will bring our deepwater expertise. It is indeed a unique exploration opportunity in a prolific basin."
It comes after first oil was achieved at the Liza field in Guyana's Stabroek block this weekend.
Apache CEO John Christmann said: "Suriname Block 58 presents a unique, large-scale oil resource opportunity, and we are very pleased to welcome Total to our existing partnership with Staatsolie, the national oil company of Suriname. Total's extensive offshore operational experience and global footprint make it an ideal partner for a block of this size and potential."
"Upon meeting certain drilling commitments, the partnership has the rights to explore the entire block through mid-2026 without acreage relinquishments. This provides for a thorough evaluation of the multiple play types we have identified in this emerging oil-prone basin."
Recommended for you

Westwood tips Africa, Latin America for high-impact hopes in 2023