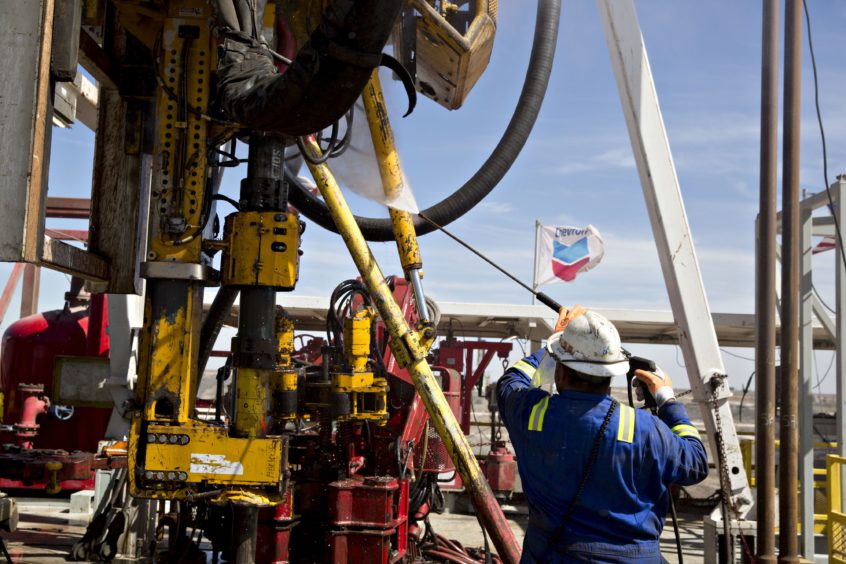 Chevron generated the most free cash flow since the pandemic emerged as economies clawing their way out of more than a year of lockdowns and paralysis burn more fuel.
The oil, natural gas and refining titan posted $3.4 billion in first-quarter cash flow on Friday, more than enough to cover its recently increased dividend, which is a closely watched metric for the oil supermajors. A key driver of the bonanza was a 43% spending cut as Chevron retreats from costly mega-projects to focus on less-risky endeavors such as shale drilling.
The shares dropped 2% in pre-market trading. Despite the cash-flow increase, the company said it's waiting for market conditions to improve before reinstating share buybacks.
Chevron disclosed adjusted per-share profit of 90 cents, according to a statement, matching the average of analysts' forecasts compiled by Bloomberg. Chevron followed European peers Royal Dutch Shell and BP in signaling the worst may be over from the dual menace of a worldwide glut and demand-killing Covid-19 lockdowns.
Amid the brightening outlook, significant challenges remain. Chevron's U.S. refining network lost money for the third time in four quarters, while its overseas fuel-making plants slashed crude-processing by 16% to cope with anemic demand for transportation fuels. The company also cited the negative impacts of the deadly winter storm that afflicted Texas in mid-February.
Chevron flexed its financial might earlier this week by becoming the first Western supermajor to raise dividends above pre-pandemic levels. BP, Shell and Total SE all posted better-than-expected results in recent days, largely on the back of the crude-market rebound.
Combined cash flow of the European giants exceeded $25 billion for the first time since late 2019. BP said it would begin buying back shares while Shell flagged a dividend increase.
In March, Chevron Chief Executive Officer Mike Wirth spoke of his desire to begin buying back shares but declined to provide a time line. Friday's statement made no mention of share repurchases and Wirth is expected to face questions on the issue from analysts during a conference call later in the morning.
Chevron's produced the daily equivalent of 3.12 million barrels of oil during quarter, down 4% from a year earlier. Despite the takeover of Noble Energy Inc. last autumn, Chevron's output slipped as the Texas disaster froze wells and equipment glitches plagued an Australian gas-export facility, among other things.
Recommended for you

Exxon and Chevron ride plastics boom to cash-flow bonanzas