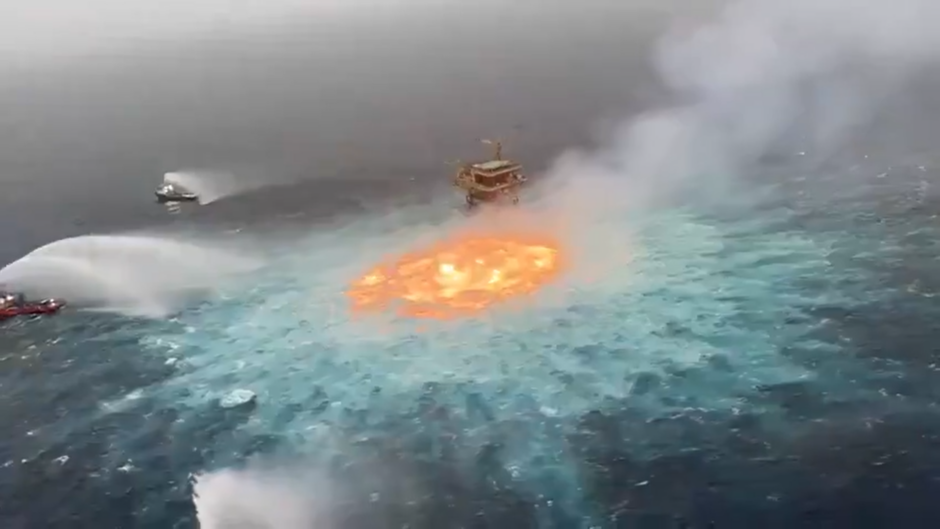 A fire near the Pemex Ku-Maloob-Zaap oil platform complex in the Gulf of Mexico has been controlled following a gas leak.
Pemex said the gas leak occurred at 5:15am local time in the submarine pipeline near Ku-Maloob-Zaap's Ku-C satellite platform in the Campeche Sound causing a fire 150 meters from the platform, according to a statement from the company. By 10:45am local time normal operating conditions were restored, and no injuries or evacuations were reported, it said.
A video posted on social media showed three ships trying to suffocate a fire emerging from the sea, very close to an offshore platform in the Gulf of Mexico.
Pemex said interconnection valves in the pipeline were closed to control the gas leak and nearby firefighting vessels helped put out the blaze. The company will investigate the cause of the incident, it said.
#ULTIMAHORA | Explota línea submarina de #Pemex en la Plataforma KuSierra de 78 metros de profundidad. El accidente mantiene un incendio sobre la superficie, no se reportan lesionados. Tres barcos han apoyado para sofocar las llamas. Pemex no ha emitido ningún tipo de comunicado. pic.twitter.com/Yt5KRlo4o9

— Televisa Veracruz (@televertv) July 2, 2021
Ku-Maloob-Zaap is one of Pemex's most productive cluster of oil fields, accounting for over 700,000 barrels of oil equivalent a day, or roughly 40% of the company's total output, according to data from the Energy Ministry.
Production has been declining at Ku-Maloob-Zaap as fields mature and Pemex lacks resources to invest in new extraction technologies. Pemex has seen output fall every year for a decade and a half and has the largest debt of any oil major, at almost $114 billion.
Recommended for you

Large oil spill reported near site of Pemex platform blast in Gulf of Mexico