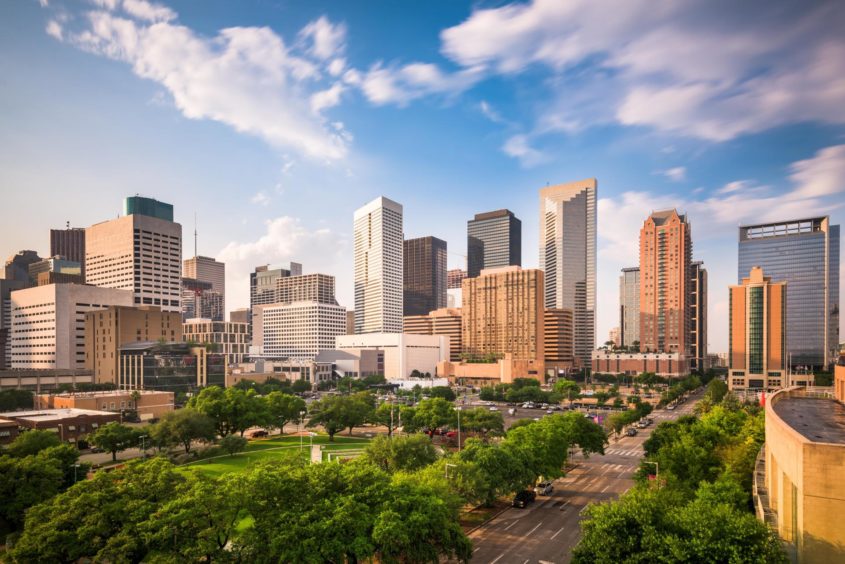 Supply chain companies working to shape the energy transition would be "welcomed with open arms" in Houston, according to a leading economist.
Patrick Jankowski, senior vice president of research at the Greater Houston Partnership, says there has been a "shift in the energy discussion" in the world's oil and gas capital.
Although hydrocarbons will be a major play for "some time", there is an acknowledgement of the need to "leverage assets" to embrace "new energy mandates".
But for a city that has built its reputation on oil and gas, changing will be an uphill struggle.
"In Houston, everything is concentrated for traditional energy. A buck spent on finding oil and gas here goes a long way because everything you need, you can find in Houston," Jankowski said.
"A buck spent building a solar panel in Houston doesn't go as far because there isn't the same supply chain developed. There isn't the same concentration.
"There's this acknowledgement that the world will eventually move away from traditional hydrocarbons so we need to make sure that we don't get left behind.
"There's a lot of engineering that goes into finding oil and gas and we're trying to find ways to leverage those skills to help us as we make this transition. There's an opportunity and a responsibility to get involved."
Recognising the need to move quickly, big players like ExxonMobil, Chevron and Shell are making moves into carbon capture and storage, hydrogen and solar.
But with so much of the city "geared to manufacturing oilfield equipment", that precedent is yet to trickle down.
Moreover, companies that have to answer to shareholders are still predominantly involved in traditional energy activities, Jankowski said.
Consequently, it would appear that Houston finds itself in the rare position of looking to the energy industry in other parts of the world for leadership.
And that could open doors for companies, particularly in Europe, to export their expertise across the pond.
Jankowski said: "If firms in the UK had something that they could bring to Houston that would help us with energy transition, they'd be welcomed with open arms.
"Two years ago we wouldn't have been talking about this. The focus would have been on the oil price. Now, it's all about how we manage this transition.
"So yes, if someone on your side of the pond wants to come to Houston and set up shop and work with us on the energy transition, they would be most welcome."
If Houston needed more persuasion to embrace decarbonisation, industry heavyweight Bobby Tudor, chair of the investment bank Tudor, Pickering, Holt & Co, recently urged the city to embrace the transition.
"He's one of the one of the people leading the energy transition. The fact that he recognises this and he's getting behind it just shows you how much things have changed," said Jankowski.
Importantly for Houston, low carbon technology, such as offshore wind, biomass and geothermal, offers a "growth industry", something it has been missing in recent times.
The oil and gas industry in the city has been struggling "off and on" for a number of years.
Between December 2014 and June 2021, Houston has shed an eye watering 108,200 energy jobs.
Initially driven by a drop in commodity prices, the situation was compounded, more recently, by less favourable financial markets, meaning investors have been reluctant to part with their money.
That lack of available capital meant that 2020 was already shaping up to be a rough year for the industry, before Covid rubbed salt into the wound.
Since March last year, the axe has fallen on one in seven oil and gas jobs in Houston and there are currently about 300 fewer rigs in operation in North American than there were before the pandemic.
And while Jankowski said the decline appears to have "bottomed out", much of the city is still involved in areas that aren't growing.
He said: "So much of our manufacturing industry is geared towards making oilfield equipment like compressors, valves and things you need for pumping stations.
"We will always need those, but it's not a growth industry anymore and that's why we're trying to find a new growth industry to drive the city forwards."