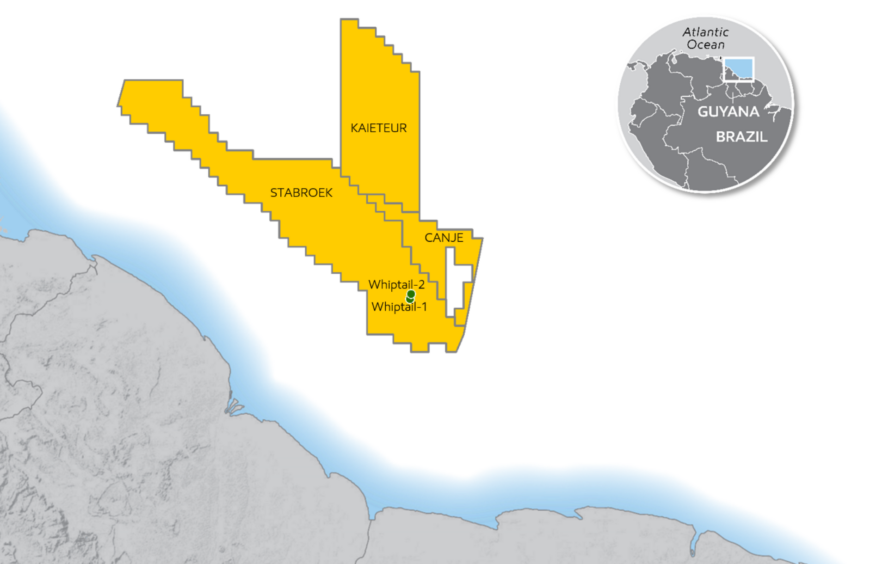 ExxonMobil has announced a "significant" oil discovery at the Whiptail field off Guyana.
The new find, around four miles southeast of the Uaru-1 discovery made in January 2020, adds to previous recoverable resource estimates of around nine billion barrels of oil equivalent within the Stabroek Block.
ExxonMobil encountered 246 feet of net pay in high-quality oil bearing sanstaone reservoirs in the Whiptail-1 well, and 167 feet in the nearby Whiptail-2 off Guyana.
Drilling, which is being carried out using the Stena DrillMAX at Whiptail-1 and the Noble Don Taylor at Whiptail-2, continues to test the depth of both wells.
Mike Cousins, senior vice president of exploration and new ventures at ExxonMobil, said: "This discovery increases our confidence in the resource size and quality in the southeast area of the Stabroek Block and could form the basis for a future development as we continue to evaluate the best sequence of development opportunities within the block."
The operator envisions at least six FPSO projects online by 2027, with potential for up to 10 in total based on its current resources.
The Liza destiny is currently producing 120,000 barrels per day, while the Liza Phase 2 startup is on target for early next year.
ExxonMobil said more than 2,600 Guyanese people are now supporting project activities offshore, with $388m spent by the company and its key contractors with 800 local firms since 2015.
The US operator holds a 45% stake in the 6.6million-acre Staboek Block, partnered with Hess (30%) and CNOOC (25%).
Recommended for you

PNG scrutinises Santos-Oil Search merger