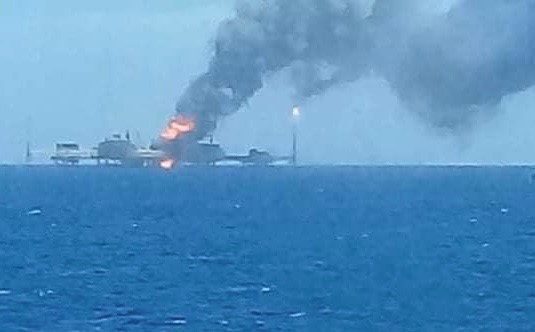 Five people have been killed and several others are injured or missing following an explosion at a Pemex oil platform in the Gulf of Mexico.
An explosion and fire broke out at around 3.10pm on Sunday at the E-Ku-A2 compression and electricity generation platform, which is part of the Ku-Maloob-Zaap production hub in the Campeche Sound in the Gulf of Mexico.
State-owned operator Petroleos Mexicanos (Pemex) released a statement confirming that five people, one of its own workers and four from contractor firm COTEMAR, had died in the incident.
Meanwhile six others are injured, one of whom is in critical condition, who are being treated in hospital.
Two others are still missing who work for the company Bufete de Monitoreo de Conditions e Integridad (BMCI).
Luego de lo ocurrido en #KUAlfa, @Pemex indicó que ya realizan una investigación para determinar la causa de la explosión https://t.co/LQLxjOy3Fp pic.twitter.com/3ZZJpVQng7

— Reporte Índigo (@Reporte_Indigo) August 23, 2021
By 4.30pm the fire has been brought under control, the operator said, and an "exhaustive search" for the missing personnel is ongoing.
Pemex underscored that the incident did not occur due to lack of investment in maintenance as the company has increased the budget for this area.
It added the safety of workers and its facilities is a top priority for the company.
The company said that CEO Octavio Romero Oropeza has visited the damaged platform, as well as victims and families at Ciudad del Carmen in Campeche.
An inspection of the facilities is being carried out to assess the damage and establish the root cause of the incident.
22/08/21 -Explosión en plataforma petrolera Ku- Alfa en la Sonda de Campeche, heridos son trasladados vía helicópteros a #CiudadDelCarmen, ambulancias a la espera en el helipuerto. pic.twitter.com/DF5N4BUs1K

— Alertas #CiudadDelCarmen (@SocorrosCarmen) August 22, 2021
Pemex said earlier that it expresses its "sincere condolences to the relatives of the deceased person and provides support to the workers affected by this incident, as well as their families".
The incident comes just a month after a dramatic "ring of fire" was seen near the Ku-Maloob-Zaap production asset after a gas leak from a nearby pipeline.
No injuries were reported for that incident and Pemex said no environmental damage had occurred.
However the clip was shared widely on social media with climate groups demanding a full investigation into the cause of the fire.
Recommended for you

Is the Pemex fire highlighting a profit over people culture?