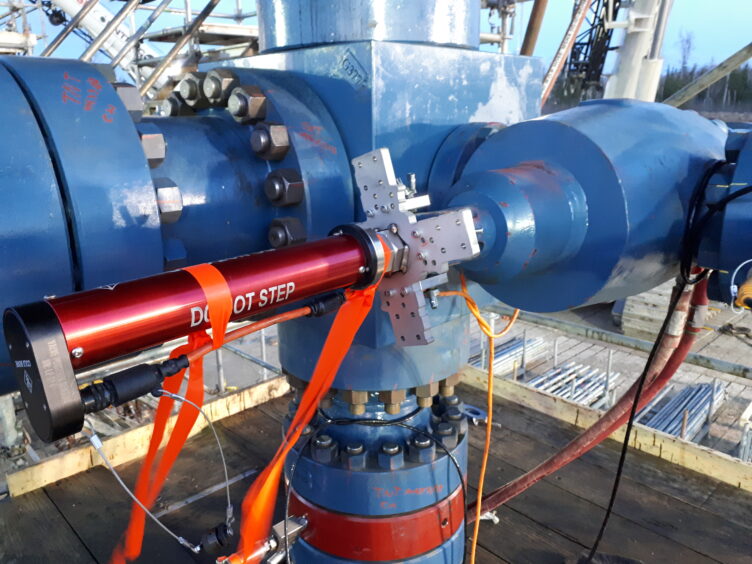 The hydrocarbon industry was one sceptical of change but a trio of price crashes, a pandemic and a swing from negative oil prices to positive has made companies more open to change.
"The industry has gone from a minority of forward thinking to a majority. Oil and gas was one of the last industries to adopt technology – with people too scared to push changes when there were no benefits," said Cold Bore president and CEO Brett Chell. "That change is done."
Now, though, companies are seeking any advantage to cut costs.
Cold Bore provides the SmartPAD. Using this technology, companies can scrutinise work during completions in ways that had never previously been realised.
"Completions account for 60% of the total spend. Up until now, companies had been doing the best they can in remote locations," Chell said, speaking over the phone from his truck in Alberta, as he drove from one meeting to the next.
Cold Bore offers the installation of sensors in wellheads. As a result, companies "can tell who is doing what and when, with timestamps".
Two-way talk
Sensors in the wellheads send data to the cloud and then to a remote operating centre (ROC). The next step is then to establish bidirectional communication, Chell said. "This removes the communication between people and just lets the systems communicate," he said.
"That's our only job. To connect you up and bring you full autonomy. That decreases the number of people you need and will revolutionise the way you frack," he continued.
Cold Bore has seen support from operators and completion companies alike.
The company man on site spends too much on site doing data entry, Chell said. Cutting out that step, by providing data direct from the wellhead to the company office, removes that "waste of time and effort", he noted. "No one likes doing it. Those people doing that task would prefer to be out there, with their boots on – and that has a knock on impact of making the site more efficient."
Meanwhile, the larger service companies are the ones with the ability to automate processes so that an operator can gain the most from Cold Bore's remote operating offering.
"Once they adapt, it's all connected. The large frack companies are realising the advantage of the 'plug and play frack', where they had been apprehensive. These large companies are the ones that have the budget for autonomous control systems. This can make an autonomous location 20-30% more efficient," Chell said.
The result will be that larger companies can offer lower costs to operators for completion work.
Laser focused
For Cold Bore, the company is "laser focused" on saying in its lane. "We're out in front and we're alone." Initially, Cold Bore had been working on developing drilling technology, but when the 2015 oil price crash came, it was time to rethink.
The company abandoned its telemetry focus, when drilling work ceased up, pivoting into fracking. "We had a downhole tool that was generating a lot of data but people didn't have a central control system," Chell said.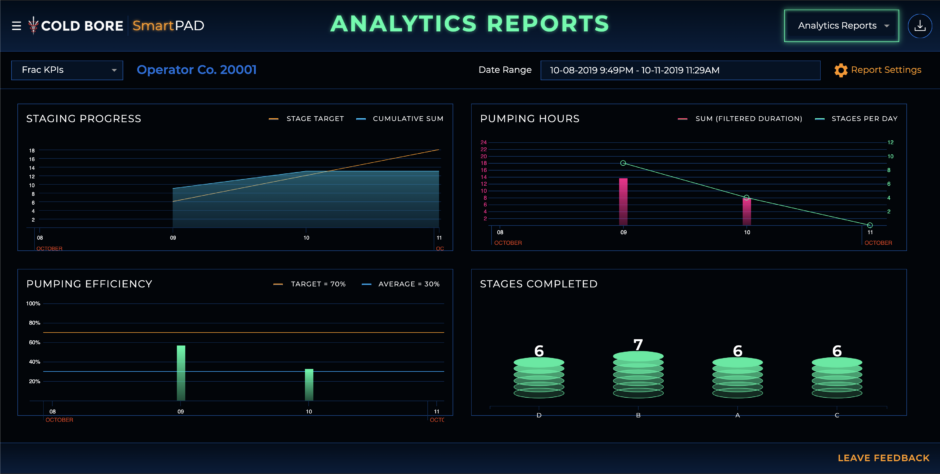 As the industry becomes more engaged with greenhouse gas auditing and transparency, Cold Bore's offering is becoming more attractive.
"Connecting data increases efficiency and reduces the time on the pad. That reduces the amount of energy you're using on operations," he said. Furthermore, Cold Bore can offer a holistic take on the pad in a single timeline, a substantial improvement over different companies providing different readings for their respective parts.
"Manually collected data has low resolution. We provide a single audited line. You want to see fuel usage? We've got the data for the whole pad and that data can be audited," he said.
Chell resisted the idea of going to public. "It's an option if you suddenly need a large cash influx – or if you're really struggling. Going public can be a double-edged sword," he said, given higher running costs.
"Right now, we're staying private. We're working on a partnership with some big players. At some point there may be a case for going public, but not right now," he said.