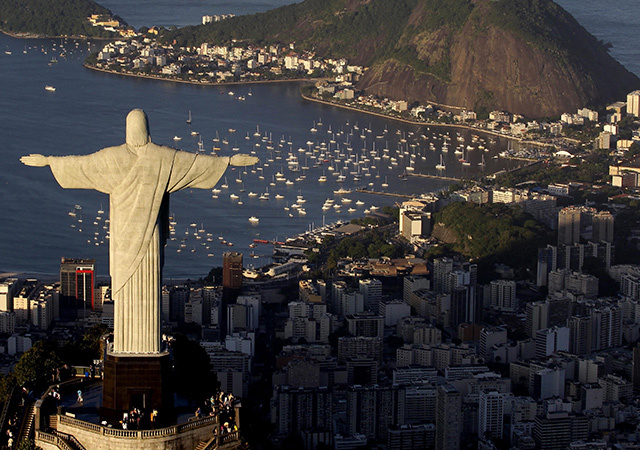 Brazil President Dilma Rousseff and Aecio Neves, her challenger in a tight election contest, have clashed in a feisty debate.
It saw the pair trade accusations of corruption and fiercely argue over who could rekindle Brazil's economy.
The debate was the first in the run-off round that culminates on October 26 when more than 140 million Brazilians are expected to go to the polls.
They will decide who will be the next leader of the globe's fifth most populous nation and Latin America's biggest economy.
Opinion polls say voters are evenly split and the election is expected to be close to the end.
Ms Rousseff is looking to expand her strong lead among Brazil's poorest voters, while Mr Neves hopes to tap into widespread voter discontent and demands for change seen during huge anti-government protests across the country last year.
Mr Neves, a centre-right, business-friendly candidate, attacked Ms Rousseff's economic record and focused on a growing kickback scandal at the state-run oil company Petrobras.
Brazil's growth has slowed since 2010 and the economy went into recession earlier this year, while there are near-daily revelations about the alleged multimillion-pound corruption scandal involving senior figures at Petrobras, one of whom has said Ms Rousseff's Workers' Party benefited from the scheme.
"I've spent my entire life combating corruption," Ms Rousseff shot back after Mr Neves read off a litany of accusations.
The leader noted that she has gone after those accused of corruption in her own government, forcing out several Cabinet ministers at the beginning of her term after they faced accusations of wrongdoing.
Ms Rousseff then aired her own list of accusations against her challenger and his Social Democracy Party.
She cited cases in which Mr Neves favoured family members in airport projects while he was governor in Minas Gerais, and a 16-year-old allegation of a money-laundering scheme that benefited the then head of Mr Neves' party.
In the nearly 12 years the Workers' Party has been in power, Brazil has seen transformative growth and created immense and widely applauded social programmes that have lifted millions from poverty and pushed even more into a numerous, if modest, middle class.
Mr Neves argues it was his party that laid the basis for Brazil's advances, implementing the Real Plan that created a new currency, ended years of hyperinflation and sold off money-losing state enterprises, helping modernise Brazil's economy.
He made a surprising comeback in the October 5 first-round election, surpassing former environment minister Marina Silva to win the second-highest number of votes.
That put him into the run-off with Ms Rousseff, who did not get the outright majority needed to avoid a second ballot.
In the first round, Ms Rousseff won 42% of the vote against Mr Neves' 34%.
Ms Rousseff's ad campaign is warning lower middle class and poor Brazilians that the tenuous economic gains they have made in recent years would disappear under a Neves government.
Mr Neves, a former two-term governor in Brazil's second-biggest state who left office in 2010 with a 92% approval rating, strongly denies he would cut the popular social welfare programmes.
Recommended for you

Is the SNP shifting on the future of oil and gas?