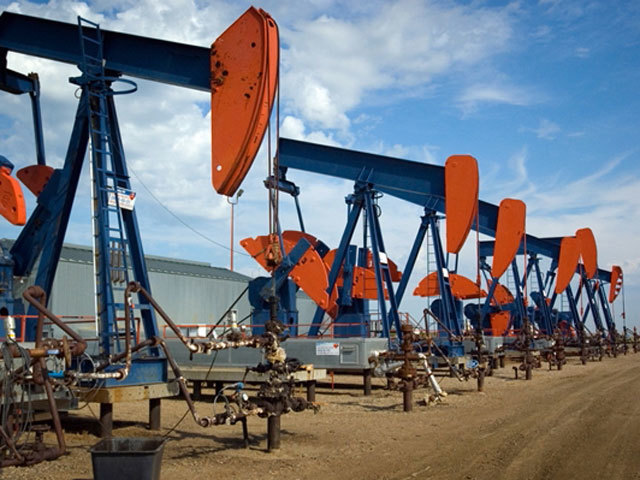 Some US oil producers are trying to sell parts of their lucrative saltwater disposal businesses in a sign that cheap crude is already forcing cash-starved companies to sell assets so oil can keep flowing.
Many oil companies rely on outside contractors, which tend to be small, privately-held companies, to inject the briny byproduct of crude production hundreds or thousands feet deep into the earth, well below the water table.
But for producers which own such facilities, the high-margin business has served as a source of cost savings and steady revenue, factors that also make them appealing to yield-seeking investors in master limited partnerships (MLPs) and private equity funds.
Oasis Petroleum and SandRidge Energy are two publicly traded oil producers openly marketing their saltwater divisions.
SandRidge is planning to raise cash by listing it as an MLP and Oasis is seeking at least a partial sale.
"The psychology of the market is pretty bad right now," said Andrew Coleman, an energy analyst at Raymond James.
"Any sale of these assets gives financial visibility without having to carry the cost of the asset on their books in what could be a rocky next few months."
Putting even a part of such businesses on the block suggests some energy executives are coming under increasing pressure to part ways with good, albeit non-core, assets to ride out the crude market slump and finance core oil operations.
The SandRidge and Oasis transactions could bring each company $100million or more at a time when capital market funding is drying up and cash is tight as crude oil trades at less than half mid-2014 levels, analysts say.
Other publicly held energy companies with notable saltwater units include Devon Energy, MidStates Petroleum and Ferrellgas Partners.
So far only SandRidge and Oasis have publicly discussed their spin-off plans.
One of the largest privately held saltwater disposal companies is 1804 Operating, which operates primarily in North Dakota's Bakken shale formation.
Oasis chief executive Tommy Nusz laid out a scenario for investors last month in which the saltwater disposal business could be priced at 16-20 times its projected earnings before interest, tax, depreciation and amortization(EBITDA).
That would value the whole business at $880million or more, though it is not clear how much of the disposal operation Oasis wants to sell.
Neither Oasis nor SandRidge report the breakdown between the units' in-house services and those provided to other companies.
SandRidge has said it has spent $600million building the largest number of saltwater disposal wells in the country, which processed 1.2 million barrels of wastewater per day last quarter.
SandRidge Chief Executive James Bennett told investors last month he felt no pressure to sell "anything at firesale prices" and would not discuss the timing of a possible MLP initial public offering.
Yet with SandRidge shares down 90% over the past year and debt at nearly 20 times the company's market value, the saltwater unit spin-off appears its best chance to raise cash.
Moody's, which downgraded SandRidge's credit rating further into junk status in May, cited an "elevated risk" the company would not be able to grow out from its debt while crude prices stay low and producers slash spending.
Possible regulatory changes pose the biggest risk for would be investors.
Oklahoma has slapped limits on disposal wells in nearly a third of its counties, curbing the amount of water each well can take, in response to an increased incidence of earthquakes in the state since the start of the shale boom.
SandRidge says it has no operations in the affected counties and has downplayed its exposure to any liability suits and regulatory changes.
But other states, including Texas, are also studying possible links between earthquakes and saltwater disposal.
Still, potential rewards for would-be buyers are considerable.
The US Environmental Protection Agency figures show more than 9.5 million barrels of brine and other liquid byproducts gets pumped into some 28,000 saltwater disposal wells around the country.
With disposal fees ranging from 25 cents to $1 per barrel, large wastewater operations can generate hundreds of millions of dollars in annual revenues for investors.
And given that the volumes of water extracted alongside oil tends to increase as wells age, in some cases reaching as much as five barrels for every barrel of crude produced, rates have held steady even as crude prices tumbled and production tapered off.