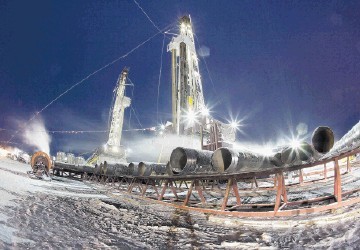 Canadian Oil Sands Ltd set a capital expenditure target of C$295 million ($221 million) for 2016, down about 35% from the estimated budget for 2015, saying the Syncrude oil sands project would help raise output at lower costs.
The company, which is facing a hostile bid from Suncor Energy, set a capital budget of C$451 million for 2015 in January.
Canadian Oil Sands owns 37% in the Syncrude project, while Suncor holds 12%.
"Syncrude's ability to reduce costs and respond to the lower oil price environment is exceeding market expectations," Canadian Oil Sands Chief Executive Ryan Kubik said in a statement on Tuesday.
He said gross cost savings from Syncrude were C$1.3 billion in 2015. Kubik said the execution of major projects "were completed in 2015 under budget and on schedule."
Canadian Oil Sands said it expected to generate C$338 million of free cash flow, based on the 2016 budget and even if West Texas Intermediate prices remained under $45 per barrel, the company could "fully fund all costs, including capital expenditures and the current dividend."
Suncor launched a hostile bid for Canadian Oil Sands in October. If the bid succeeds, Suncor would gain control of nearly half of the Syncrude project, Canada's largest single-source producer of synthetic oil.
Recommended for you

BP exits Canadian oil sands, doubles down offshore