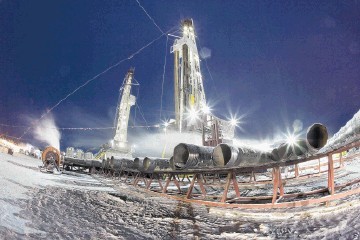 Suncor Energy's hostile takeover of Canadian Oil Sands shareholders remains on track after it extended its offer to COS shareholders until January 8.
Its chief executive Steve Williams said: "Our offer is full and fair and in the best interests of COS shareholders"
He added: "This process has always been about allowing COS shareholders to decide for themselves on the merits of our offer. The good news is that they will finally have their say.
"Since Suncor first expressed interest in acquiring COS, the oil market outlook has worsened, COS has reported negative free cash flow for the first nine months of 2015 and most recently announced an optimistic production outlook for 2016 that seems destined to continue COS' track record of overpromising and under-delivering."
"Despite continuous claims and promises to the contrary, COS has failed to produce any viable alternative for its shareholders."
'The pressure is clearly on COS' board and management to prove they are acting in someone's interest other than their own,' said Williams.
Canadian Oil Sands adopted a new shareholder rights plan, also known as a poison pill, two days after Suncor made its unsolicited all-stock offer in early October.
The plan was seen as a stalling tactic to enable other bids to be assessed in the hope that a "white knight" bidder emerged.
COS has said around 25 other parties have shown interest, although no other offers have emerged.
Canadian Oil Sands is the largest-interest owner in the Syncrude oil sands mining and upgrading project, which has averaged 242,000 barrels per day of crude so far this year, although total capacity is around 350,000 bpd.
Suncor currently owns 12 percent of the joint venture project. The other partners are Imperial Oil, Mocal Energy, Murphy Oil, CNOOC subsidiary Nexen and Sinopec.
Recommended for you

Chevron CEO warns of high energy prices and supply crunches