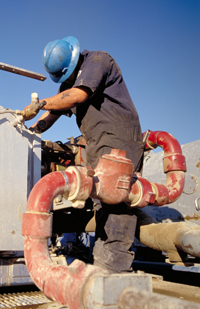 The collapse in the oil price claimed its latest shale drilling victim when Swift Energy filed for Chapter 11 bankruptcy in the United States.
Houston-based Swift, which has assets in Texas and Louisiana, had already cut its workforce and reduced its capital budget as it attempted to adapt to an oil markets that have slipped by almost 70% since 2014.
Chief executive Terry Swift said: "The company had to take action in response to the significant reduction in oil and gas prices that the entire industry has been facing.
"We expect that Swift will exit bankruptcy with a greatly improved balance sheet and additional liquidity to realize the full potential of our assets for all stakeholders, while having sufficient funding to maintain, if not improve our asset base during the Chapter 11 process."
As many as 40 US shale drilling companies have filed for Chapter 11 since the oil price crashed under pressure from continued production from Saudi Arabia and Russia which has created global oil glut.
Swift has agreed a restructuring deal with its creditors to convert its senior debt to equity, subject to bankruptcy court approval.
The company expects to restructure, amend or refinance its pre-petition $330 million secured revolving credit facility as part of its plan of reorganisation.
Swift has also arranged up to $75 million of debtor-in-possession (DIP) financing from a group of senior noteholders to provide additional liquidity to fund the business through the Chapter 11 process.