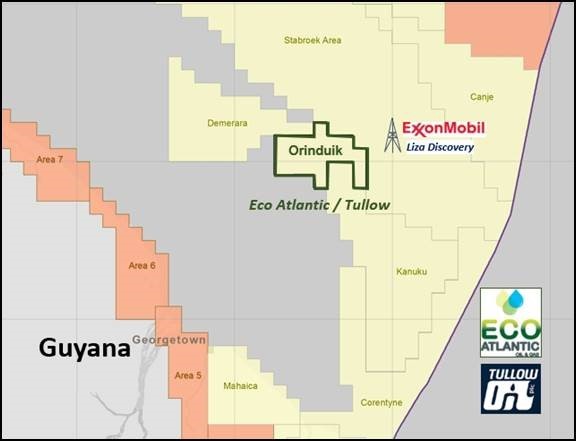 Tullow and Eco Atlantic will develop the Orinduik block, offshore South America after agreeing a deal with the Guyanan government.
Eco has entered into a Petroleum Agreement through which it will hold a 40% working interest in the block with Tullow, as operator, holding 60%.
Tullow will reimburse Eco Atlantic for part of its costs in relation to the application of the Block license and will partially carry Eco Guyana for the future 3D program.
The license exploration period is for 10 years. The decision to drill and to complete the first exploration well must occur within the first renewal period in years five and six.
The block is located in the Suriname Guyana basin in shallow waters and is located close to Exxon Mobil's recently announced Liza which has more than 90 meters of high-quality oil-bearing sandstone reservoirs.
The well was safely drilled to 5,433 meters in 1,743 meters of water.
In July 2015, Bloomberg published an article quoting a Guyana minister as saying the discovery probably holds the equivalent of more than 700 million barrels of oil.
Wood MacKenzie has called this discovery one of Latin America's most exciting exploration developments.
Recommended for you

Africa Oil sees progress looming in Nigeria, Kenya