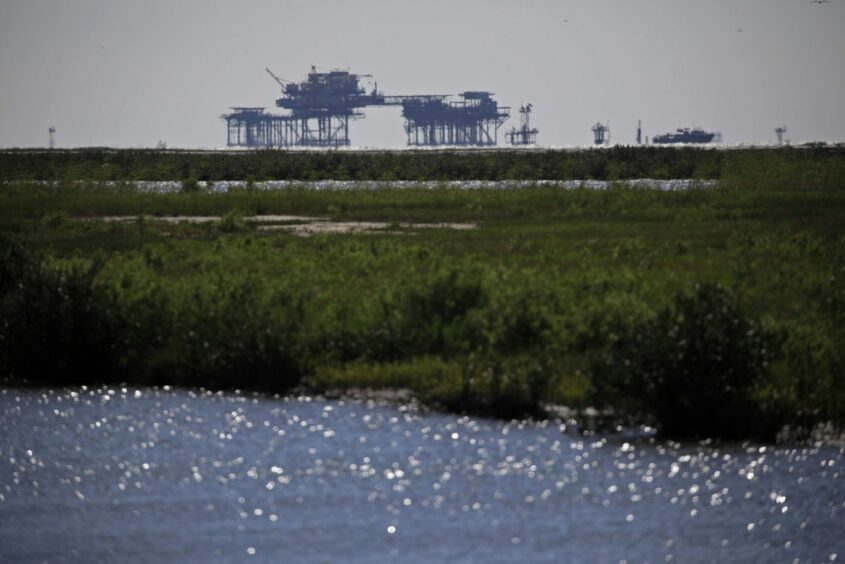 In the roughly 160 years since Edwin Drake drilled the first US oil well in the hills of northwestern Pennsylvania, more than 4.5 million oil and gas wells have followed.
When active, these wells are known to create environmental hazards that include methane emissions, air pollution and cancer risks for nearby humans. Many of those risks remain even after the drilling stops, which makes the fate of spent wells critically important.
But the most common solution — capping, or decommissioning, oil wells, a process also known as plugging and abandoning — is also an expensive one. In the US waters of the Gulf of Mexico alone, there are 14,000 unplugged, non-producing offshore and coastal wells, according to a study conducted by researchers at the University of California at Davis and Louisiana State University and published this week in the journal Nature Energy. The study estimates that capping just those wells would cost more than $30 billion.
Left unplugged, non-producing wells can continue to release "things that in large quantities are not good for ecosystems or human health," says Mark Agerton, an assistant professor of agricultural and resource economics at the University of California at Davis and co-author of the study. "We don't want those things in our drinking water or on the ground next to us or in our food."
Decommissioning 'orphaned wells' in the Gulf of Mexico
Companies that own oil and gas wells are supposed to plug them at the end of their useful life, though exact rules vary depending on which state a well is in and whether it's under federal or state control. In practice, though, plugging often doesn't happen. Some companies leave inactive wells idle in the hopes of recommissioning them later; others transfer ownership or simply walk away.
When a well no longer has an owner or entity legally responsible for its care, it becomes "orphaned." For offshore wells in federal waters, that means the responsibility for plugging and abandoning can fall to the states. Agerton and his colleagues focused on coastal and offshore wells because the cost of plugging them is also less understood than for their counterparts on land.
Across the region studied, the researchers found far more unplugged inactive wells than active and producing wells, particularly off the coasts of Louisiana and Texas. Earlier research led by Mary Kang at McGill University found that three in five wells ever drilled in the US (both on land and offshore) are now inactive, but only a third have been permanently plugged and abandoned.
Many states have programs designed to tackle orphaned wells, but "when you look at the amount of funding available relative to the amount of orphan wells, what you see is historically, it hasn't been enough to keep up," says Gregory Upton Jr., an associate research professor at Louisiana State University and a co-author on the Nature Energy study.
Biden's plan
Last year, the Biden administration set aside $4.7 billion for a new federal program to address orphan wells, including $1.8 billion earmarked for states. But the researchers' findings make clear how much more money will be needed, particularly if the US continues a transition away from fossil fuels.
The "underlying big-picture question is, in an energy transition, you have all these old assets that you're supposed to clean up," Agerton says. "How are you going to pay for that?" The Nature Energy study suggests prioritizing shallower wells closer to shore, where plugging and abandoning is cheaper and has greater environmental payoff.
Offshore wells in federal waters do have one important regulatory backstop: If the owner of a well in those waters goes bankrupt, the responsibility for plugging and abandoning the well reverts to the previous owner. To that end, the study found that almost 90% of the offshore wells it identified in federal waters in the US Gulf of Mexico currently or previously belonged to oil giants including Chevron Corp., Shell Plc, Exxon Mobil Corp., ConocoPhillips, BP Plc, TotalEnergies SE, and Eni SpA.
Agerton points to the 2020 bankruptcy of Fieldwood Energy, one-time owner of many Gulf of Mexico wells, to show how this liability can play out. "[Fieldwood] took all of the old crappy wells, put them in a bad company that went bankrupt and then created a new company with better assets," he says. "They sort of offloaded all this plugging and abandoning liability onto the bad company."
In 2021, a federal judge ruled that Exxon Mobil Corp., BP Plc, Hess Corp. and Royal Dutch Shell Plc — previous owners of Fieldwood's Gulf of Mexico wells — would have to pay some of the cost of plugging them, estimated at $7.2 billion.
Recommended for you

Oil and gas projects: Down at the foot of the Atlantic league table