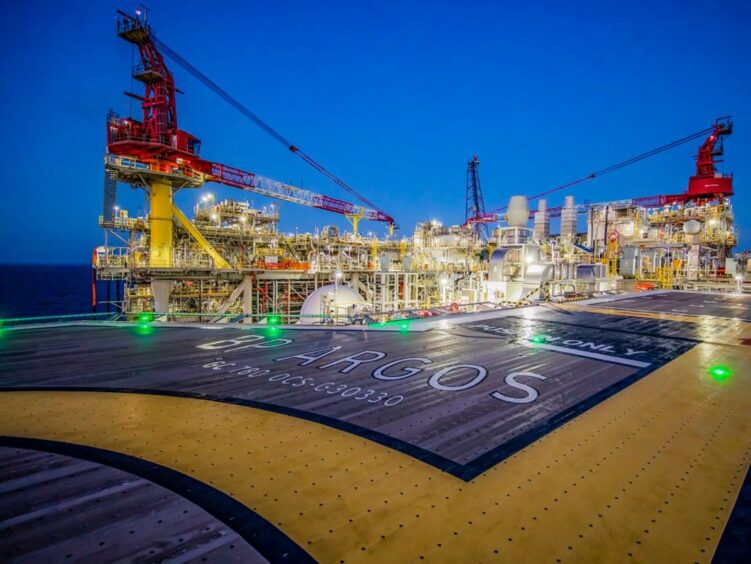 Oil production has successfully got begun at BP's (LON: BP) Argos platform, the oil giant's fifth in the Gulf of Mexico.
It is also the supermajor's first new operated production facility in the basin since 2008, strengthening the group's position in the regiom.
Argos has a gross production capacity of up to 140,000 barrels of oil per day, and will deliver more energy at a "critical time".
Ultimately, the semi-submersible platform will increase BP's gross operated production capacity in the Gulf of Mexico by an estimated 20%.
The oil giant expects to safely and systematically ramp up production from Argos through 2023.
Bernard Looney, BP chief executive, said: "The start-up of Argos is a fantastic achievement that helps deliver our integrated energy strategy – investing in today's energy system and, at the same time, investing in the energy transition. As BP's most digital facility worldwide, applying our latest technologies, Argos will strengthen our key position in the Gulf of Mexico for years to come."
Argos is the cornerstone of BP's Mad Dog Phase 2 project, which extends the life of the super-giant oil field discovered in 1998 – it is one of nine, global high-margin major projects the group plans start up by the end of 2025.
Starlee Sykes, BP senior vice president, Gulf of Mexico and Canada, said: "Safely starting up the Argos platform is an incredible milestone for bp and a proud moment for our team who delivered the project with an impeccable safety record. Producing some of bp's highest value, lowest operational emissions barrels, our Gulf of Mexico business has an important role to play in delivering the energy the world needs. I am grateful to everyone who worked on Argos over the years – from discovery to start-up."
David Lawler, chairman and president BP America: "Argos demonstrates bp's continued commitment to investing in the US. We're one of the largest energy producers in the country and are adding more resilient hydrocarbons at a critical moment."
Operating in 4,500 feet of water about 190 miles south of New Orleans, Argos will support 250 permanent jobs.
Standing 27 stories tall, the platform has a deck the length and width of an American football field, and weighs more than 60,000 tons.
Ewan Drummond, BP senior vice president, projects, production and operations, said: "Projects like Argos don't just happen. They take years of careful planning, execution excellence, and brilliant teamwork. Argos is key to our strategy of increasing our Gulf of Mexico production to around 400,000 barrels of oil equivalent per day by the middle of this decade."
Argos is BP's "most digitally advanced platform" operating in the Gulf of Mexico, featuring enhanced oil recovery and digital twin technologies.
It also has a waterflood injection capacity of more than 140,000 barrels of low-salinity water per day, to help increase oil recovery from the Mad Dog field.
BP is the operator of the facility with 60.5% working interest – Woodside Energy (23.9%) and Union Oil Company of California, an affiliate of Chevron (15.6%), hold the remaining stakes.