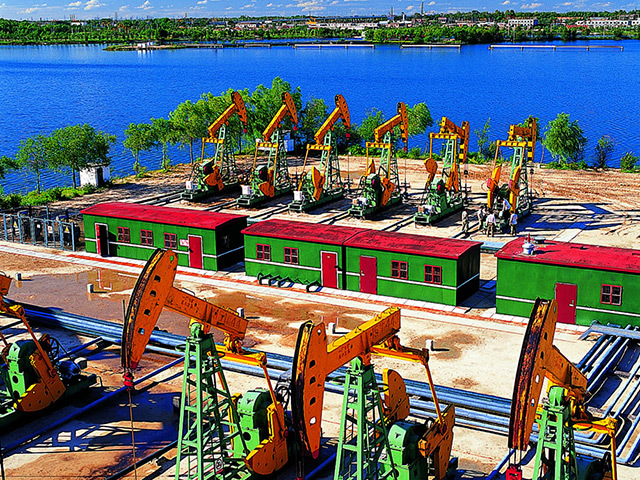 PetroChina, the country's biggest oil and gas producer, and China's largest offshore explorer Cnooc, may write down assets following crude's plunge, analysts say.
Analysts from Macquarie Capital Securities Ltd. to Jefferies Group LLC are predicting impairments when the companies report 2015 earnings this week. PetroChina may take a charge of about 28 billion yuan ($4.3 billion), which may push it to its first ever quarterly loss, according to Gordon Kwan, head of Asia oil and gas research at Nomura Holdings Inc. in Hong Hong. Cnooc, which undertook some asset impairments in 2014, may write down more for 2015, according to Lu Wang, an analyst at Bloomberg Intelligence.
PetroChina, Cnooc and China Petroleum & Chemical Corp., Asia's biggest refiner "will unveil sizable impairment writedowns for 2015," Nomura's Kwan said by phone. "These impairment charges are non-cash in nature and there could be write-backs if oil prices surge in the coming years. "
Brent crude's 35 percent plunge last year prompted global oil energy companies from Chevron Corp. to Chesapeake Energy Corp. to write down assets, and slash earnings and capital expenditure plans. PetroChina, Cnooc and Sinopec, as China Petroleum & Chemical Corp. is known, have weathered the storm by cutting operational costs and trimming production at home.
Brent dropped to an average of about $54 per barrel in 2015 from about $99 the year before. The grade fell 0.2 percent percent to $41.45 a barrel on the London-based ICE Futures Europe exchange at 12:04 p.m. Singapore time Tuesday, and has clawed back nearly 50 percent from a 12-year low in January.
Kunlun Energy Co., the gas distribution arm of PetroChina's parent China National Petroleum Corp., took a HK$1.7 billion ($219 million) impairment loss to write down the value of two oil operations in China on March 18.
PetroChina's 2015 profit may drop 65 percent to 37.73 billion yuan, according to the average estimate of 21 analysts surveyed by Bloomberg. Cnooc's net income may slide 70 percent to 18.3 billion yuan, according to the average of 18 analyst estimates compiled by Bloomberg.
PetroChina in January said it expects profit last year to have fallen 60 percent to 70 percent from a year earlier because of slump in energy prices, while Sinopec reported an oil and gas output decline for 2015, the first time in 16 years. Cnooc, a pure oil producer, in January announced a cut in output for the first time in more than a decade to deal with low oil prices.
Amid all the bad news, PetroChina and Cnooc shares may present an investment opportunity, according to James Hubbard, a Hong Kong-based analyst at Macquarie Capital Securities Ltd.
Stock values of Cnooc and PetroChina don't reflect the drop in production costs that has accompanied the oil crash and underestimate the companies profit-making abilities going forward, he said. Hubbard rates both PetroChina and Cnooc outperform.
Cnooc lost 0.1 percent to HK$8.96 and PetroChina added 0.2 percent to HK$5.32 at 12:09 p.m. Hong Kong time on Tuesday. That compared with a 0.4 percent decline in the city's benchmark Hang Seng Index.
PetroChina and Cnooc didn't respond to requests for comment.
Recommended for you

Cnooc lifts spending to raise energy supply as China reopens