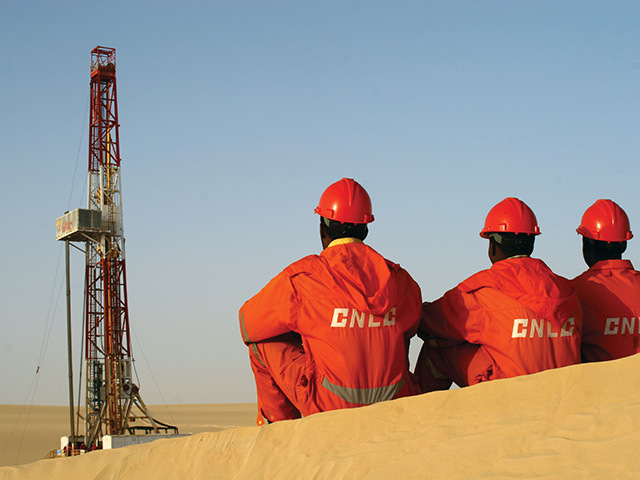 The head of China's largest natural gas importer believes the country's energy ties with the U.S. are set to deepen, despite trade conflict between the world's two largest economies that has roiled financial markets.
"There is more room for cooperation than confrontation between China and the U.S.," China National Petroleum Corp. Chairman Wang Yilin said Monday in an interview with Bloomberg TV on the tropical island of Hainan, where he was attending the Boao Forum for Asia. "I hope our cooperation with U.S. partners won't be negatively affected by the trade disputes, I'm confident our cooperation will only get better and closer."
China last week proposed slapping tariffs on liquefied propane and petrochemicals from America, signaling it can strike the country's energy industry if the dispute intensifies. Both the U.S. and China proposed tariffs on $50 billion of goods and President Donald Trump instructed his administration to consider levies on an additional $100 billion of Chinese products.
CNPC signed the first long-term deal to import liquefied natural gas from the U.S. in February in a deal that commits Cheniere Energy Inc. to sending 1.2 million metrics tons a year of the fuel to China through 2043. The contract helps underpin an expansion of the gas export terminals in the Texas port city of Corpus Christi, the first phase of which may start later this year or 2019.
"We currently have great cooperation with many U.S.-based companies such as Exxon Mobil Corp., Chevron Corp. and ConocoPhillips," said Wang. "Economic globalization is an irreversible historical trend."
China, the world's biggest energy user, is growing more reliant on overseas crude as its domestic reserves dwindle and economic growth spurs higher demand. CNPC and the country's sovereign wealth fund, China Investment Corp., were said to be in talks to invest in the initial public offering of Saudi Arabian Oil Co., Bloomberg News reported in March last year.
CNPC is closely following preparation for a listing by the Middle East nation's state oil producer and "evaluating how to deepen our cooperation through the process," Wang said.
Other details from the interview:
A pipeline that will bring Russian natural gas into China is on schedule to start in 2019 as planned and both sides are accelerating construction, Wang said. Russian gas prices should be competitive with other suppliers that send gas to China, said Wang, who didn't provide details on the pipeline pricing formula. Settling oil trades in China's currency is gradually receiving recognition by CNPC's trading partners and has the company's full support, Wang said.
Recommended for you
X

Shell's climate push fails to cut emissions as US plants added