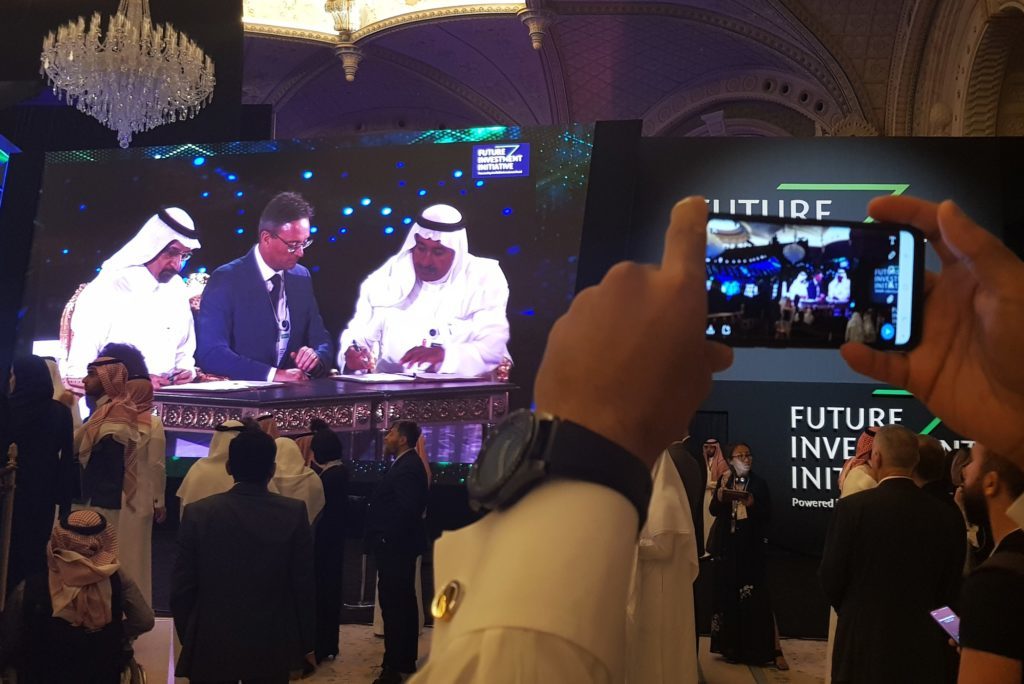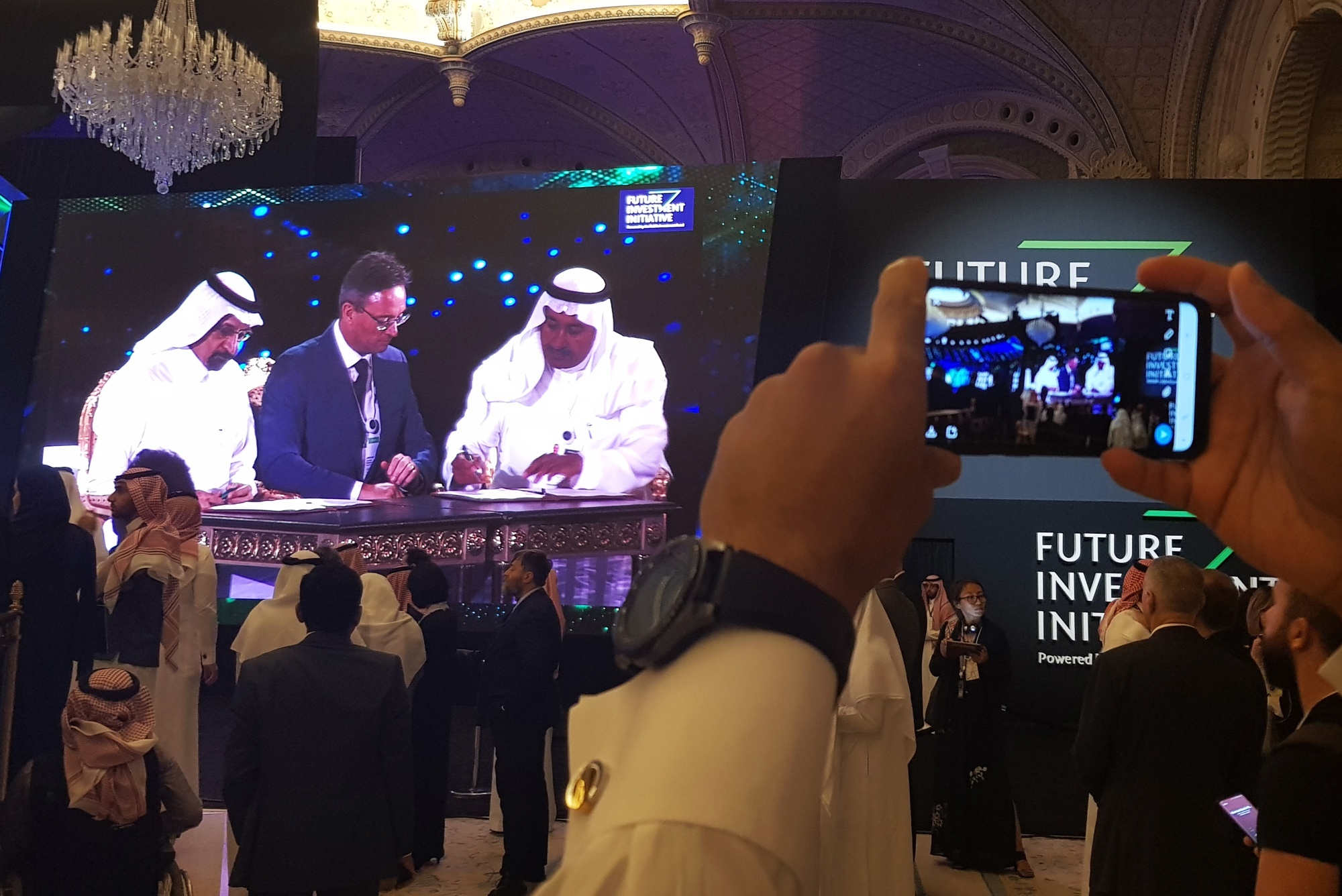 Saudi Arabia showcased international deals worth about $50 billion as the kingdom tried to put the best possible gloss on a flagship investment summit shunned by global business leaders after the killing of Jamal Khashoggi.
While some of the deals were new, others had been made public previously or were merely incremental. Among genuinely fresh commitments, commodities trading house Trafigura Group signed a venture to develop a smelter and refining complex. State oil giant Saudi Aramco accounted for more than half of the 25 agreements.
But away from the carefully managed announcements, the cost of the crisis that's engulfed the Saudi regime was demonstrated by German industrial heavyweight Siemens AG. Chief Executive Officer Joe Kaeser's decision to stay away delayed the signing of a $20 billion power plant contract, according to people familiar with the matter.
Saudi Arabia, the world's biggest oil exporter, is trying to show it's business as usual after dozens of top bankers, chief executives, and foreign dignitaries canceled plans to attend the summit. The event, first held last year, is the brainchild of Saudi Crown Prince Mohammed bin Salman, who runs day-to-day business in the kingdom, and was envisaged as a forum for international investors to engage with his ambitious economic agenda.
But the 33-year-old prince has come under extreme pressure since the Saudi government acknowledged that a group of his own intelligence officers had killed Khashoggi, a Washington Post contributor, at the country's consulate in Istanbul.
As the summit opened, Turkish President Recep Tayyip Erdogan addressed parliament in Ankara to say the killing was the result of a meticulously planned plot, rejecting Saudi claims that it was an accident and calling on the king to hold all culprits to account.
The first session of the forum was standing room only with some people turned away at the door, but attendance fell away as the day wore on. During a panel featuring the Aramco CEO, fewer than 150 people sat in a venue able to hold several times as many.
The subdued atmosphere contrasted with last year when visitors queued to take selfies with the crown prince. He's yet to make an appearance at this year's event, held in a glitzy convention center next to the Ritz-Carlton hotel where dozens of Saudi billionaires were detained last year in a purported crackdown against corruption.
Many of the agreements signed Tuesday were memorandums of understanding rather than final investment decisions, in what appears to be an effort to shore up confidence among international business leaders.
Aramco inked $34 billion of agreements with companies ranging from French oil giant Total SA to South Korea's Hyundai Heavy Industries Co. and Chinese conglomerate Norinco.
Top oil industry officials were still participating, including Total CEO Patrick Pouyanne and executives of Schlumberger Ltd. and Baker Hughes, two of the world's top oil services groups.
In his welcoming remarks, Yasir Al Rumayyan, managing director of the Saudi sovereign wealth fund and host of the conference, made no reference to Khashoggi. Minutes later, Lubna Olayan, billionaire head of one of the largest Saudi conglomerates, used the start of a panel discussion on investment to mourn the columnist's death, saying his killing was "alien" to Saudi values.
"We are very grateful that the terrible acts reported in recent weeks are alien to our culture and our DNA," Olayan, CEO of Olayan Financing Co., said in her address. "I am confident that with the support of the government, concerned authorities and leadership, the truth will emerge."
While financial titans such as BlackRock Inc. Chief Executive Officer Larry Fink and JPMorgan Chase & Co. CEO Jamie Dimon stayed away, several big banks sent regional executives to the conference, walking a fine line between the risks of stoking the outcry over Khashoggi's killing and losing future business in Saudi Arabia. Ken Moelis of investment bank Moelis & Co. was due to speak at the event, according to the event's app.
Other speakers included Kirill Dmitriev, CEO of the Russian Direct Investment Fund, and Mubadala Investment Co. CEO Khaldoon Al Mubarak.
Recommended for you

Adnoc L&S snaps up Zakher Marine International