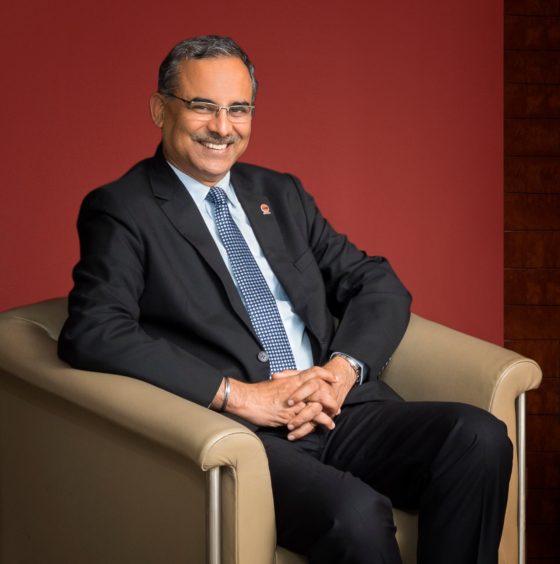 When Indian Oil Corp. (IOC) was launched it focused on the downstream and has subsequently expanded into the upstream, while also moving into petrochemicals.
The company operates 11 of India's 43 refineries, giving it around 36% of the country's refining capacity, and 28,000 fuel stations, with a market share of around 44%. State-owned, IOC is vertically integrated with 15,000 km of pipelines and more investment is going into a gas network. The energy sector was largely protected until 1998.
"Issues like climate change are extremely important, not only for the company, but also for society and the country," IOC's chairman Sanjiv Singh told Energy Voice. "We are a responsible corporate, beyond profit making, we also understand social responsibility that the sector carries. We buy a million tonnes and we sell litre by litre."
Downstream
IOC's previous refinery construction programme has led it to hold more capacity than is needed to meet domestic demand, near the fourth largest refining capacity in the world today, Singh said. As a result, the company exports all products. "We have extra capacity and we are building more capacity because there are a lot of advantages in terms of location, in terms of skilled manpower and capability, manufacturing capacity." This allows IOC to refine crude competitively.
Fuel pricing in India moves in line with global prices so the "sector is already competing globally". The company is also improving fuel standards, having switched to Euro 4 in 2017 and to Euro 6 in 2020. "In the span of three years, the whole country, the whole sector, is moving to Euro 6 – I don't think any other country has attempted this."
Helping drive all these advances are the company's support for research and development. "We have nearly 400 scientists, which we are doubling over the next four years. We have a lot of our own developed technologies, which are tailor made for Indian refinery requirements."
Innovation plays an important role for IOC, with Singh explaining that in the shift from Euro 4 to Euro 6 the company had initially licensed technologies but that over time it had developed its own knowledge and understanding of the challenges. "We allowed our scientists and engineers to revamp facilities based on in-house technology. We didn't go back to licensing, it was a very big call. But it worked."
The refining industry has undergone a transformation over the last 12 months as it works to secure sufficient supplies to meet new requirements for ships, as set out by the International Maritime Organisation (IMO) 2020 standards. Historically, IOC has not been a large supplier of fuel to this market, but there is an opportunity for the company.
"My opinion is that, for at least a couple of years, there will be good margins for this low sulphur bunker fuel, which will probably also provide some margin for heavy gasoils," Singh said. The company loaded its first parcel of such fuel was loaded in November. "Our capacity will be to supply more than 1 million tonnes per year. I'm sure that whatever is required, the refining industry will always find a solution."
Gas
India is increasing its gas consumption, hence IOC's investment in the area, with the country importing around 50% of its needs currently. "There are a lot of policy changes that are happening to increase gas production but we are also building a lot of capacity to import more LNG and transport it around the country. Moving into gas is an obvious interest for a company like us and we also see a lot of opportunity in biofuels."
Infrastructure is crucial to developing India's capacity to absorb gas. Customers and suppliers are unwilling to commit before this is in place. The government has stepped in, Singh said, to provide funding. IOC has recently completed a 5 million tonne per year LNG import terminal at Ennore.
IOC owns a stake in Petronet LNG, along with three other large Indian companies, which secures gas supplies for the country. In addition to playing a part in bringing in gas and distributing it, IOC is also a large consumer, which allow it to absorb fluctuations.
"The next five years will see tremendous growth" in India's gas demand, he said, but the cost of importing it remains high so the government is working to encourage domestic production. "A lot of freedom is being given to the producers and I'm sure that in the next three years there will be a substantial jump in gas production."
There is substantial scope for producing biogas from biomass, predominantly from agricultural waste, Singh said, saying there was the potential to produce 100 million tonnes. "Even if we were just to tap 10% of that, it would cover India's growth." The company has offered to buy biogas from anyone in the country at a fixed price. IOC has authorised the construction of 500 biogas plants and has two up and running. "I can see gas consumption going up in a big way and biogas also coming in to support this initiative."
IOC is also working on biodiesel and moving towards renewable energy, particularly around concentrated solar power.
India offers a "unique opportunity" of a substantial market, he continued, "if a company is able to see beyond the conventional way of doing business, there is a tremendous opportunity to move ahead for collaborative success.
Strategic ties
While India is keen to boost its domestic resources, the country is increasingly reliant on supplies from abroad, for both oil and LNG. Around 85% of the country's crude comes from other countries, Singh said, with 60% of its oil coming from the Middle East. There are opportunities for IOC to move beyond simply acting as an offtaker, though, with the executive noting that it had recently invested in the upstream of the United Arab Emirates.
"We've taken an interest in the Lower Zakum and we have some interests in exploration blocks also. We are open for any such opportunities. Saudi Aramco and [Abu Dhabi's] ADNOC have also shown an interest in India's downstream sector, we are planning a large refinery [with them] in one of our states," Singh said. "The association with these countries is going beyond the conventional crude trade."
Moving into the upstream was a shift away from the company's historic focus but it does have operations in a number of areas, including Russia. "Our strategy has been to join hands with [some other Indian companies] and go in collectively for such opportunities. This allows us to take advantage of our individual strengths and also the risk is minimised."
Recommended for you

Transition needs set to energise China's nuclear power sector