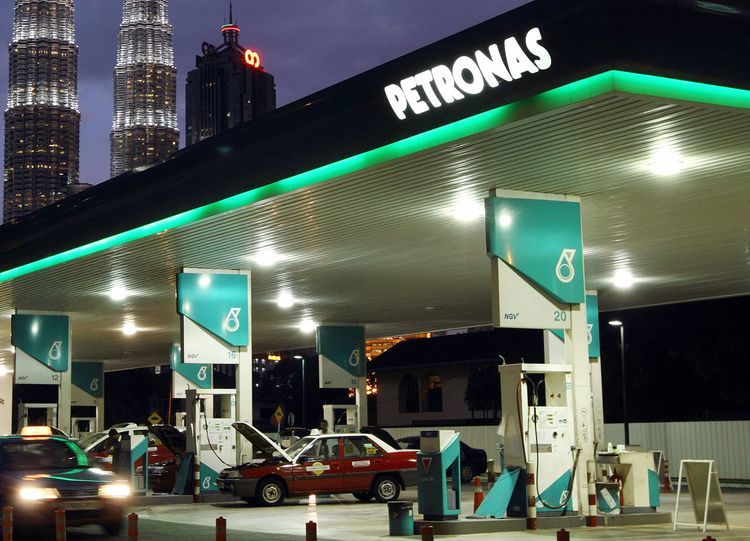 Malaysia's Petronas has delivered Myanmar's first ever LNG cargoes. This marks the emergence of a new consumer for the fuel in the Asia region.
Significantly, Petronas has stolen a march on rival LNG exporters as it hopes to establish a foothold in Myanmar's expanding gas industry.
Petronas delivered two LNG cargoes, totalling 190,000 cubic metres, in May and June as part of a sales agreement signed with CNTIC VPower in early 2020.
Petronas said it was working for further deliveries with CNTIC VPower, which is a joint venture of Chinese state-owned engineering, procurement and construction company China National Technical Import and Export Corporation and Hong Kong-listed VPower Group.
Last October, Myanmar awarded three fast-track LNG-to-power projects with a total capacity of 900MW to VPower Group in a desperate attempt to avert a power supply crunch before elections in late 2020. VPower is building a 400MW plant at Thaketa and a 350MW plant at Thanlyin, both in the Yangon region. The third 150MW plant will be built at Kyaukphyu in Rakhine State.
However, the government stipulated seven-month timeline to finish the schemes. This was widely viewed as overly ambitious, especially for a relatively unknown developer with no previous LNG experience. While the aim of the emergency tender was to ensure that Myanmar, and particularly its commercial capital of Yangon, avoided crippling power shortages during the hot season – which runs from March to April – before the nation heads to the polls.
However, after months of delays, largely blamed on the coronavirus, none of the power plants are operational yet. Fortunately, for the government, the weather was not so hot this year and power demand was also reduced due to the COVID-19 pandemic. The government "now faces the usual prospect of a surplus of power – power that it will have to pay for, regardless of whether it is really needed," reported local media Frontier Myanmar.
Myanmar relies mostly on hydropower to meet its electricity demand, but production starts to fall at the end of the hot season – just when demand hits its peak. Last year, Yangon started to experience blackouts by late April. The outages, which also affected other cities, continued for several months until the monsoon rains started to refill the hydro dams.
The plants were supposed to start coming online by the end of May. But Thanlyin and Thaketa are only expected to partly come online by the end of June, Jordon Zele, country director of consultancy Frontier Myanmar Research, told Energy Voice.
Indeed, both projects could be several months away from full operations due to delays in building a permanent jetty at the Thilawa site that will allow a large floating storage unit to be permanently docked.
The initial LNG cargoes have been unloaded using a temporary jetty and test runs on the Thaketa plant are expected to start by mid-June, according to the Ministry of Electricity and Energy.
Zele said that Myanmar is in desperate need of power, however the LNG-to-power projects are extremely expensive and will not be sustainable in the long-term.
"The design and timeline of the emergency tender discouraged the majority of major players from bidding," added Zele.
Most established companies declined to participate in the tender because of the tight timeline involved. Realistically, these kinds of projects would normally take 18-24 months. The commercial terms also scared off potential bidders. Despite the significant capital investment needed, the contracts run for only five years, which will force investors to charge consumers very high prices to make a profit.
"Many in the industry are frustrated that these projects are proceeding, while numerous other more cost-effective and sustainable projects remain stalled. Interestingly, these emergency power projects (in other countries) are most commonly pushed through in election years, suggesting they are often more politically motivated," said Zele.
Crucially, VPower must have access to extremely competitive finance to execute these projects. The company, which has strong links to Chinese state-owned companies, historically operates in mainland China. China's state-owned CITIC – the developer of Myanmar's Kyaukphyu deepwater port – holds an 8% stake in VPower. Some observers believe the deal could be strategically motivated and backed by Beijing.
Indeed, trusting a single developer with the bulk of the tendered generating capacity creates severe execution risks, especially given this is VPower's first foray into LNG-to-power.
Still, Myanmar's generation capacity stood at 3.54GW in 2018. If VPower successfully develops 900MW of new gas-fired power, it will become a significant player in a market that is expected to rapidly expand over the next decade. Given Petronas now has its foot in the door too with CNTIC VPower, the Malaysian NOC looks well positioned to supply LNG in this emerging market.
However, challenges remain. No power purchase agreements have been signed yet. The government claims they have been approved and will be signed within days. Although it is not clear if Vpower has agreed to the strict terms the government had been pushing for in its PPAs. But if the Chinese companies bids were motivated more by a desire to increase Beijing's political capital in Myanmar, then these commercial hurdles might be less of a challenge.
Recommended for you

Petronas and PTTEP exit Myanmar's Yetagun project