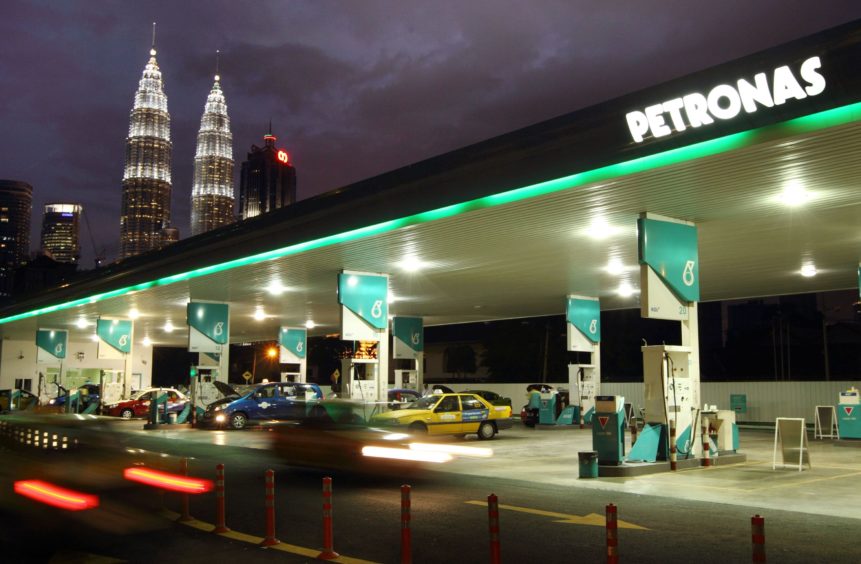 After reporting a $5 billion loss, Malaysian national oil company (NOC) Petronas is eager to see new money flow into its domestic upstream sector, especially as the majors, such as ExxonMobil, seek to exit the Southeast Asian nation.
Industry sources told Energy Voice that Petronas – the sole manager of Malaysia's oil and gas reserves – is exploring ways to open up its upstream sector to mid and late-life operators. Traditionally, the NOC, has been very particular about who can operate the country's upstream assets, preferring giant players, such as Shell, ExxonMobil and ConocoPhillips.
But this mindset is changing as most of the major foreign companies have put their Malaysian assets up for sale. Petronas now needs to find new investors, especially companies with experience squeezing more oil and gas from ageing and marginal fields.
Over the past decade, Malaysia recognised that it needed to introduce new initiatives to rejuvenate its ageing upstream sector. In early 2011, Petronas introduced risk-service contracts (RSCs) to stimulate the development of marginal projects and increase the recovery of hydrocarbon resources. However, the RSCs were not as successful as initially hoped, particularly in the wake of the oil price crash in late 2014.
In 2013, Petronas also created Vestigo Petroleum, as a specialist company to develop small and stranded fields. But the company, 100% owned by the NOC, does not have the financial or technical capabilities to take over the country's aging assets.
Indeed, Petronas posted a loss of 21 billion ringgit ($5.06 billion) for the April-June quarter this year, compared with a profit of 14.7 billion ringgit for the same period last year. It marked the first loss since the fourth quarter of 2015 following a coronavirus-related demand slump and lower oil prices.
Crucially, the NOC has already flagged production cuts and cost savings to mitigate the effects of the pandemic. It now plans to expand its renewable energy portfolio, and reassess its oil and gas positions, CEO Tengku Muhammad Taufik, who took over in July, told reporters in early September. Petronas, the world's fourth largest exporter of liquefied natural gas (LNG) has also formed a team to look into developing a "higher value" portfolio, he said. This means the company is likely to shed some of its smaller and marginal fields.
The new CEO also wants to understand how internal processes allowed a $5 billion loss to occur. As a result, the NOC is seeking external consultants to review its exploration workflow, technical assurance and portfolio management processes, according to industry sources.
The NOC now needs to attract a new breed of operators. This presents opportunities for nimble low-cost companies with strong experience in late-life fields and engineering-focused solutions.
ExxonMobil is trying to divest its offshore assets, which hold an estimated 500 million barrels of oil equivalent resources, valued at between $1.8 billion and $2.2 billion according to consultancy Rystad Energy. There is also speculation that Shell may be seeking to exit Malaysia, industry sources said. Repsol and Petrofac have also put their smaller Malaysian assets on the market.
ExxonMobil's Malay Basin assets, which were developed in the early 1970s, are strategically important to Malaysia as they provide half the gas supply to Peninsular Malaysia. Therefore, not an opportunity for smaller companies.
But there are still plenty of pickings for smaller companies as risk shifts away from exploration to a much more engineering-focused risk – getting more out of the ground from already established hydrocarbon producing areas.
In areas, such as the Malay Basin, there is a 15kms sedimentary section, packed full of hydrocarbons and stacked pay, offering lots of surprises when drilling infill wells and potential upside possibilities for near field exploration, said Chris Howells, an advisor to Malaysia-based energy services company Elsa Energy. "Such opportunities have been the life blood of the North Sea. The recent award of some 113 licence areas in UKCS shows the level of interest remaining in such areas," he added.
Aside from ExxonMobil's Malay Basin assets, the Hess portfolio in the Malay-Thai Joint Development Area (MTJDA) and North Malay Basin look interesting, said Howells.
It seems likely that Petronas Carigali will also adjust their portfolio in light of the recently reported quarterly losses and the arrival of a new CEO. They are effectively the only operator to hold some producing assets 100%.
Ultimately, Malaysia has stability, laws established on the British system and has served the super majors well over a period of decades, said Howells.