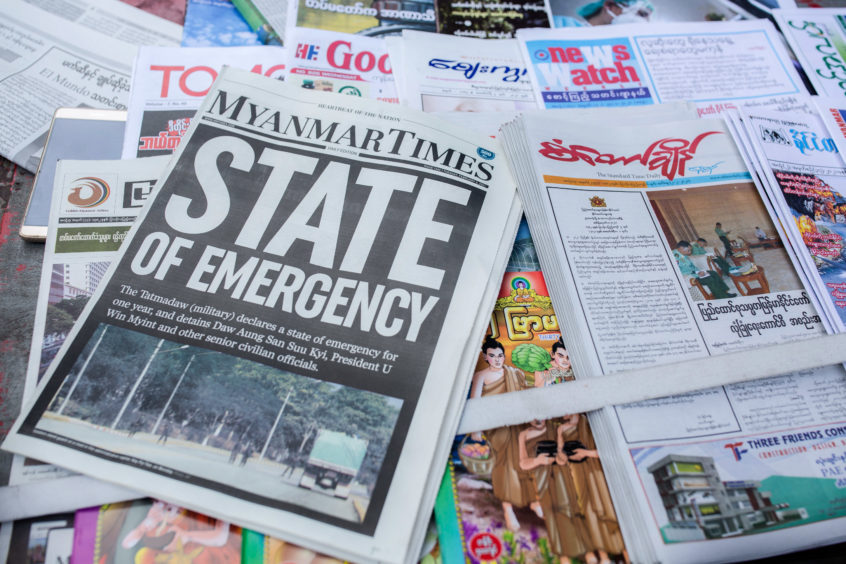 The apparent overthrow of the Aung San Suu Kyi administration by the Myanmar military threatens more than $1 billion of potential upstream investment in the Southeast Asian nation.
Significantly, foreign companies, including Total, Woodside Energy and PTT Exploration & Production (PTTEP), are close to sanctioning projects, which could be derailed by the political uncertainty and heightened reputational risk.
Yesterday's military coup, staged against the democratically elected government of Nobel laureate Aung San Suu Kyi, who was detained with other leaders of her party, and the subsequent one year state of emergency declared by the armed forces, creates a lot of uncertainty for energy investors.
"The situation is fluid at the moment. I would expect whoever ends up with the reins of power will be quick to reassure Myanmar's business community that it will be business as usual. As Myanmar's legacy offshore fields enter their sunset years, this isn't the time to scare away new offshore investment," Readul Islam, an Asia upstream specialist at Rystad Energy, told Energy Voice.
However, the damage may already be done.
"Even if the offshore industry is convinced that power isn't being grabbed at any costs using a scorched earth policy, confidence will be shaken. The main Myanmar upstream projects we had foreseen entering development by 2023 are POSCO's Shwe Phase 3, PTTEP's Aung Sinkha, and Total-Woodside's A-6," said Islam.
Rystad Energy had forecast a potential spend of nearly $1.3 billion on these projects to the end of 2023. Now companies may hesitate to sanction new investment in Myanmar and most of the partners in these key development projects have other options within their portfolios that they could divert cash to if needed.
However, for South Korea's POSCO, Myanmar is the star of its upstream portfolio, added Islam. "POSCO's Shwe Phase 3 development has been progressing and we had expected this compression project to be sanctioned this quarter — the current events in Myanmar could be a gate crasher. Posco had also planned appraisal drilling this year on its Mahar find in the A-3 block — we will be monitoring whether this will be scuppered," said Tipu.
Australia's Woodside Energy, which started a three-well offshore drilling campaign last month, said it is closely monitoring the evolving political situation. The Perth-based company said it has more than 100 direct employees and dependents in Myanmar. But it also has "a number of people" indirectly employed for the current drilling campaign, which is using the Transocean Dhirubhai deep-water KG2 drillship.
Crucially, the political uncertainty could hit Woodside and Total's multibillion-dollar A-6 project, which was targeting the start of front-end engineering and design (FEED) work this year, for what would be Myanmar's first ultradeep-water natural gas field.
After the political instability in Thailand, which is the target market for most of the A-6 gas, coupled with the COVID pandemic and now the political developments in Myanmar, "Woodside's project can't catch a break," Saul Kavonic, an Australian-based energy specialist at Credit Suisse, told Energy Voice.
"The commercial side of progress (at A-6) had already been dragging on as it is. It may be premature to determine impact here, but clearly there is risk of further delay to developments. We don't think the market ascribes material value to Myanmar, so this presents little value risk," said Kavonic.
Nevertheless, "frankly, we think the market may be happy to see Myanmar capex curtailed," he added.
Political uncertainty triggers policy and reputation risks
Myanmar's ruling National League for Democracy (NLD), led by Aung San Suu Kyi, scored a resounding victory in last November's general election, the second since the military began to withdraw from civilian politics in 2011. The expected political continuity meant that upstream development expenditure would likely more than double to over $1 billion by 2023 compared to 2020's spend.
That all changed yesterday when the armed forces said it had carried out the detentions of Suu Kyi and other senior politicians in response to "election fraud", handing power to military chief General Min Aung Hlaing and imposing a state of emergency for one year, according to a statement on a military-owned TV station.
The announcement said the power grab was necessary as the government had not acted on the military's claims of fraud in November's elections and because it allowed polling to go ahead despite the coronavirus pandemic.
Some observers believe the poor showing of the military-backed party in the November vote may have triggered the coup, which is "seen as confirmation that the military holds ultimate power despite the veneer of democracy," reported the Associated Press.
As a result of the takeover, any energy policy making or sectoral reform will now be delayed, Kaho Yu, a senior Asia analyst at geopolitical risk consultancy Verisk Maplecroft, told Energy Voice. This is a big problem, as it will be hard for Myanmar to revise its fiscal terms to attract upstream investment, added Yu.
Moreover, new upstream developments will be crucial for Myanmar as mature legacy offshore fields are reaching the end of their life. Indeed, more incentives are needed to entice investors to tackle costly and high-risk deep-water projects. This seems unlikely just now.
Significantly, Yu expects "the military to undo some of the civilian government's policies that served as a starting point for improving transparency and fairness in Myanmar's business environment, such as carrying out a Swiss Challenge for inwards investment. This will create environmental, social and governance risks for foreign investors."
"We expect to see the military's economic influence only grow from here on out….and its widespread influence across most sectors of the economy will continue to limit the country's governance capacity," added Yu.
"The military's continued influence means foreign business will have no choice but to work with military-affiliated local partners, risking exposure to reputational risks or even sanctions," he warned.