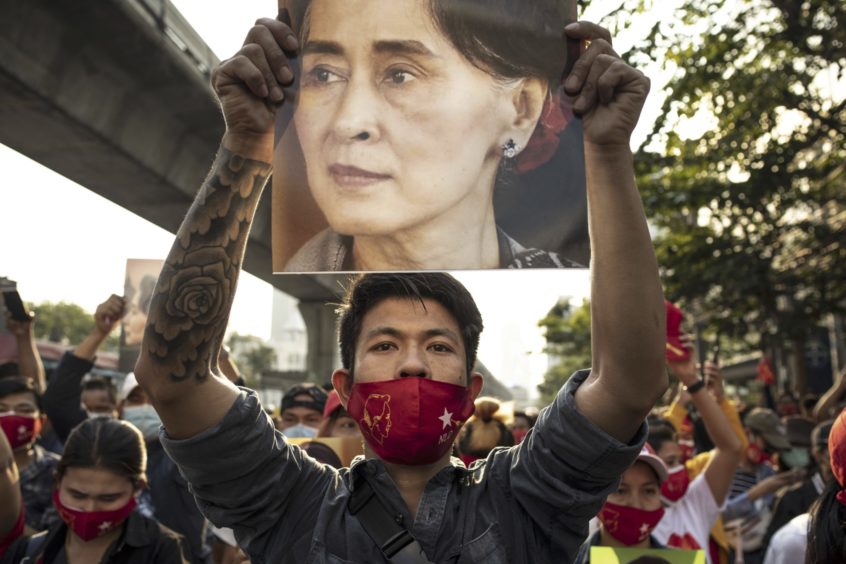 Transparency campaigners in Myanmar have appealed to foreign upstream producers to stop paying revenue to the military-led government which seized power in coup on 1 February.
Protesters yesterday demonstrated outside the offices of France's Total, Thailand's PTT Exploration & Production (PTTEP) and Malaysia's Petronas. They carried banners including "your money is O2 for the military!" and "stop working with Myanmar military!" reported the Associated Press (AP).
In a statement, the Myanmar Alliance for Transparency and Accountability (MATA) said any payments made "would undermine the Myanmar people's efforts to return the country to democracy."
It said they would instead "provide the Myanmar military the necessary resources to continue their violations of human rights in Myanmar."
Yesterday's protest backed up that call. About 200 people gathered near Kanbauk, in Myanmar's south, outside the operations centres of international oil companies that operate major offshore gas fields that generate significant revenues for the government, said the AP.
Extractive industries, such as oil and gas, are a key source of foreign revenue for Myanmar.
MATA said that following the military coup, upstream producers should put revenue payments into protected accounts that would only be released to the democratically elected government.
It also appealed to companies involved in the exploration phase to suspend activities until the military stepped down.
Still, Australia's Woodside Energy, which is halfway through an offshore exploration campaign appeared almost sympathetic to the military takeover.
"It's very early days in the coup, the military has committed to free and fair elections in 12 months," Woodside chief executive Peter Coleman told Australia's Energy News Bulletin yesterday after releasing the company's full-year results.
"It's not up to us to judge the veracity of grievances they have around the previous election process," he said.
"I understand they've put together quite an extensive folder of grievances around the election that they wanted to be heard and they weren't being heard. They were pushed up against a difficult decision point, the day of the coup was the day the new parliament was due to proceed," said Coleman.
Coleman said Woodside planned to finish its exploration campaign.
Meanwhile, the Energy Industry Transparency Initiative (EITI) suspended Myanmar's membership due to the political instability and lack of essential freedoms in the country.
Yesterday, the EITI board acknowledged the seriousness of the situation in Myanmar following the recent coup. It expressed its strong concern about the safety of members of the multi-stakeholder group in the country.
Restoring effective multi-stakeholder oversight of the EITI process and an environment where civil society is able to participate in an open debate on matters relating to extractive sector governance should be a factor in any lifting of the suspension, said the EITI.
EITI is the global standard to promote the open and accountable management of oil, gas and mineral resources.
Recommended for you

Myanmar energy ties are flying under the ESG radar