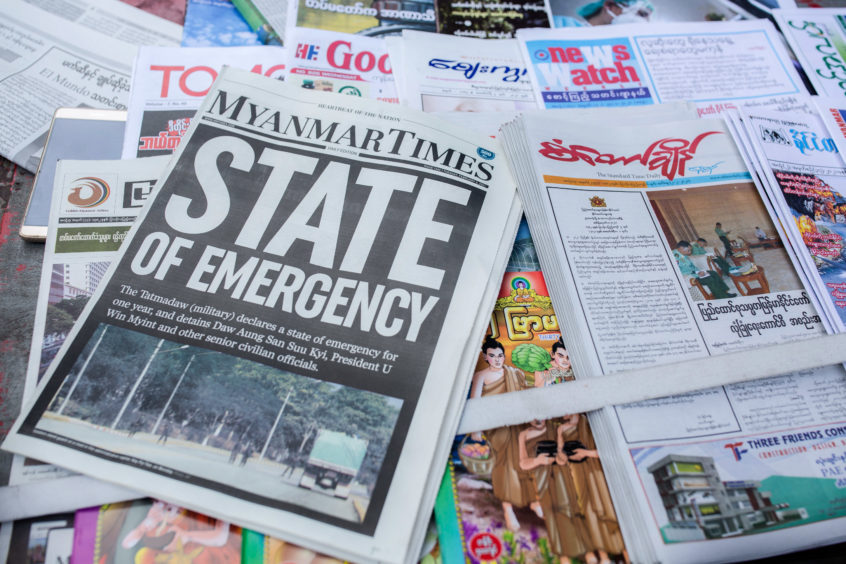 Human rights groups and industry executives have slammed Woodside Energy's rationale to proceed with a major gas development and exploration campaign in Myanmar following a military coup and subsequent bloody protests.
A former Woodside employee today said he was struggling to digest comments made last Thursday by Peter Coleman, the company's chief executive. The former employee questioned the Australian firm's rationale for taking a "sit back and monitor" approach to the military coup, as stated by Coleman, while a humanitarian injustice unfolds in Myanmar.
"At Woodside in 2014 we had the 22 floors of the office redecorated, with large posters of historical prominent leaders with famous quotes on leadership and integrity, i.e Winston Churchill, Martin Luther King etc, to instil integrity based decision making," the former employee said on Linkedin today.
And there was one quote from a prominent leader that struck the former employee: "we do what is right, even when it is not easy," by Peter Coleman.
"The situation and decisions facing any organisation invested in the country of Myanmar are anything but easy at the moment, and I don't envy any of the difficult decisions yet to be made. But to be a values led organisation, you can't just have large glossy posters telling your employees what your values are. You need to live out those values for what is right, even when it is not easy! As this would be such a time for Woodside!," added the former employee.
Other industry executives also told Energy Voice that they expressed concerns about Woodside's Myanmar project.
CONDEMNATIONS AND SHOOTINGS
Dozens of governments have condemned Myanmar's army after it seized power and arrested dozens of elected leaders, including Aung San Suu Kyi, on 1 February. The armed forces said it had carried out the detentions of Suu Kyi and other senior politicians in response to alleged "election fraud", handing power to military chief General Min Aung Hlaing and imposing a state of emergency for one year,
At least three people protesting the coup have been allegedly shot dead by police over the week-end. Fears of more deadly encounters between protesters and security forces hang over Myanmar as large-scale demonstrations against the military's power grab have been called for this week.
Still, Woodside, which is halfway through an offshore exploration campaign appeared almost sympathetic to the military takeover.
"It's very early days in the coup, the military has committed to free and fair elections in 12 months," Woodside chief executive Peter Coleman told Australia's Energy News Bulletin last Thursday after releasing the company's full-year results.
"It's not up to us to judge the veracity of grievances they have around the previous election process," he said.
"I understand they've put together quite an extensive folder of grievances around the election that they wanted to be heard and they weren't being heard. They were pushed up against a difficult decision point, the day of the coup was the day the new parliament was due to proceed," said Coleman.
The comments sparked a furious response from human rights groups in both Australia and Myanmar.
The Australian Broadcasting Corporation (ABC) reported Elaine Pearson from Human Rights Watch describing Coleman's comments as "cynical".
"I think this is really Woodside sitting back and quietly hedging its bets in its own self-interest," she said.
"This is the antithesis of corporate social responsibility. This is a country which just had a coup. This is not the time to wait back and see what will happen," she added.
"They should be picking up the phone and telling Myanmar's army they should release civilian leaders and call for an end to abuses by the military," added Pearson.
Woodside on its website claims its "business conduct is informed by the UN Guiding Principles on Business and Human Rights." This may now be called into question with the the United Nations' Special Rapporteur for Myanmar Tom Andrews last week calling on international businesses investing in Myanmar to take "immediate action" and "implore" the military to "return power to the people of Myanmar".
"Businesses and investors should suspend or terminate activities with the Myanmar junta when the risk of involvement in serious human rights abuses can no longer be reasonably managed," he said.
"I, and many others, would argue we have long passed that threshold."
Nevertheless, Coleman has signalled that Woodside would push ahead with its A–6 offshore gas development project.
BACK PEDDLING
Although in a statement on Friday, Coleman appeared to be back peddling over his inflammatory Myanmar comments.
"I regret that I made some remarks in a media interview that have been interpreted as condoning what has occurred in Myanmar. This is not the case," Coleman said in a statement on Friday.
To clarify, Woodside is closely monitoring developments in Myanmar and the evolving situation, including any guidance from the Australian Government, added the company.
Woodside has one of the largest offshore petroleum acreage holdings in Myanmar. Since 2015, the company has completed three drilling programmes, making gas discoveries in each campaign. In 2018, the Australian-listed company drilled three wells, which included a successful appraisal of the Shwe Yee Htun field in Block A-6 and a gas discovery at Aung Siddhi-1 in Block AD-1.
Following successful completion of the Shwe Yee Htun-2 appraisal well, and agreement with the Myanmar government in late 2019, Woodside and France's Total are progressing development planning for Block A-6.
ACTIVISTS CALL ON OIL COMPANIES TO CHOKE MILITARY GOVERNMENT
Transparency campaigners have called on upstream producers, including Total, Thailand's PTT Exploration & Production and Malaysia's Petronas, to stop paying revenues to the military-led government. They also appealed to companies, such as Woodside, involved in the exploration phase to suspend activities until the military stepped down.
Activists in Myanmar claim the government earns almost $1 billion every year from natural gas. Choking the military-led government's revenue stream could help pressure the generals to reconsider their actions.
Certainly, a company like Woodside, which is preparing significant investments in much-needed future upstream developments, should have some ability to pressure, or at least condemn the military coup and subsequent fatal violence in the country.
Prior to the coup analysts at Rystad Energy had forecast a potential spend of nearly $1.3 billion on upstream projects, including A-6, between 2021 and 2023.