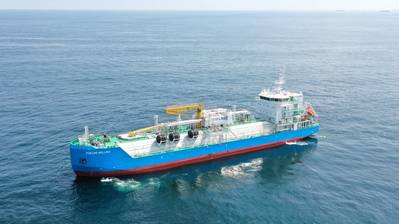 FueLNG, a joint venture between Keppel O&M and Anglo-Dutch major Shell, has started up Singapore's first LNG bunkering ship, the FueLNG Bellina. It marks part of Singapore's efforts to establish itself as a global LNG bunkering hub.
It was delivered earlier this year and will provide LNG bunkering to LNG-powered vessels that call at the Port of Singapore.
"FueLNG Bellina's debut in Singapore is a remarkable milestone for the maritime industry in their efforts to reduce emissions of greenhouse gas (GHG)," Japanese operator NYK Line said yesterday.
Designed by Singapore's Keppel O&M's technology arm, Keppel Marine and Deepwater Technology, the vessel has a barge-like extended flat surface to provide bunkering to a wide range of vessels. It was built Keppel O&M's Nantong shipyard in China.
Keppel, Shell, and FueLNG have also announced plans to further expand the LNG bunkering infrastructure in Singapore with the country's first dedicated LNG bunkering facility. With a capacity of 3,500 cubic metres, the facility will be available for smaller vessels, such as harbor crafts, as well as outfitted to refuel the LNG bunkering ship. The complex is expected to be operational at the end of 2021.