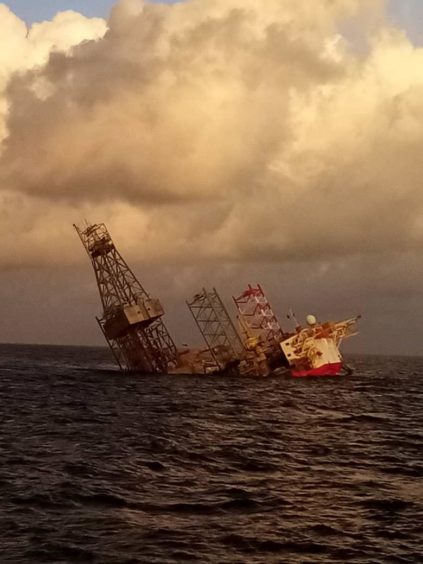 A jack-up drilling rig owned by Malaysia's Velesto Energy, and working for ConocoPhillips, off the Malaysian state of Sarawak, has sunk.
Industry sources told Energy Voice that the jack-up rig Naga (dragon) 7 started to sink after it apparently "punched through" the seabed.
"What I understand by this is that when it started testing the seabed to take the full weight of the rig, it broke through the partially consolidated sea floor and through into unconsolidated mud below, in one corner apparently," said one industry source.
"It seems the whole rig was lost," added the source. Photographs seen by Energy Voice appear to show that the rig has completely sunk.
"This sort of weak sea floor should have been identified during the site survey – a detailed high resolution survey of the sea floor to identify best location for the rig and identify any shallow hazards that may be encountered during early drilling such as pockets of gas, deep canyons formed by strong active currents, slope failure risk etc," said the source.
Jack-up leg punch throughs have been a regular and frequent problem in Southeast Asia.
Malaysia-based sources report that the site survey for the drilling project was carried out by Fugro and the soil boring by Java Offshore. However, this has not been confirmed by the operator.
Velesto rig abandoned and personnel evacuated
Another source at the scene reported that the rig was abandoned and three lifeboats were deployed with all 101 personnel safely evacuated. Velesto Energy told Energy Voice that there were no fatalities.
The Naga 7 rig was at the site of the Salam-3 appraisal well in waters about 90 metres deep when the accident occurred, added the source. The site lies in Block WL4-00, which is operated by Conoco on behalf of partner Petronas Carigali on a 50:50 split.
ConocoPhillips confirmed to Energy Voice that a marine incident happened on 3 May at around 14.45 local time when the jack-up drilling rig Naga 7 was being positioned at Salam-3 located offshore Sarawak.
"At the time of the initial incident, Naga 7 was listing, and an evacuation was ordered," said Conoco.
"Our Emergency Response Team has been mobilised and other relevant authorities have been informed. We confirm that all person-on-board have been evacuated off NAGA 7 with no known injuries.
The majority of the crew have returned to Miri, except those remaining near the location to respond to the incident," said Conoco.
"As of 7.45 this morning, it is confirmed that Naga 7 has become submerged. Our utmost priority remains on the safety of the people and the environment," added the US oil giant.
Velesto Energy shares drop in reaction to the sinking
Velesto Energy, which trades on the Malaysian Stock Exchange, saw its share price drop nearly 15% from MYR 0.170 ($0.41) to 0.145 today before recovering slightly to 0.150 at 13:00 Kuala Lumpur time.
ConocoPhillips was considering drilling up to three wells offshore Sarawak this year – the Salam-3 appraisal and the Gagau-1 wildcat on Block WL4-00, and the Mersing-1 exploration well on Block SK 304 with the Naga 7.
The Naga 7 is a premium independent-leg cantilever jack-up rig that has a drilling depth capability of 30,000 feet and is rated to operate in water depths of up to 375 feet, according to Velesto.
Shell has also recently contracted Velesto Energy for drilling off Malaysia.
This story was updated at 6.06 GMT on 4 May with comment from ConocoPhillips.
The story was updated at 10.46 GMT on 4 May to add further details about the site survey.
Recommended for you

Malaysia doubles exploration success in 2022 with 10 discoveries