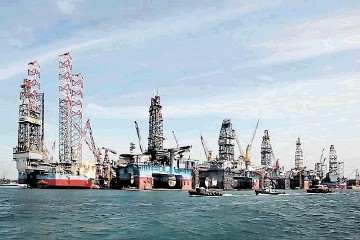 Singaporean rig builders Keppel Corporation and Sembcorp Marine this morning requested a halt in the trading of their shares pending announcements.
Reuters reported the pair are set to start talks to explore combining their ailing offshore and marine (O&M) businesses, according to two sources.
Analysts have said a merger of Keppel and Sembcorp marine's rig businesses is crucial to a consolidation of the struggling O&M sector in Singapore.
Keppel, which is backed by sovereign wealth fund Temasek, announced in January it was exiting the rig business as its O&M unit pivots to clean energy, following a strategic review.
Keppel Offshore & Marine (O&M) would stop building offshore oil drilling platforms, after the oil price crash saw it post record losses of $1.19 billion last year.
Sembcorp Marine, meanwhile, was recently fully demerged from its parent, Sembcorp Industries. Temasek, which is the biggest shareholder in Keppel and Sembcorp Marine, also known as Sembmarine, dropped its plan last year to take a controlling stake in Keppel, following the company's poor financial results, reported the Business Times.
Temasek's role in making a partial offer for Keppel and moving to directly own a stake in Sembmarine had been viewed as a step towards consolidating the offshore marine sector in Singapore.