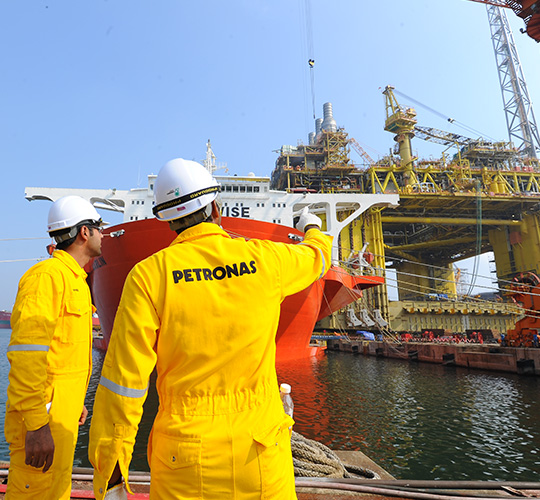 Petronas' giant Kasawari carbon capture and storage (CCS) project, which the company describes as one of the largest in the world, is progressing towards a final investment approval in 2022 after the Malaysian energy company invited bids for front-end engineering and design (FEED) contracts.
Petronas has called for bids from two consortiums – Malaysia Marine & Heavy Engineering (MMHE) with partner Ranhill Worley and South Korea's Hyundai Heavy Industries, which is reportedly teaming up with Aker Solutions, reported Upstream. The winner of the FEED competition is expected to also have its contract rolled over into a full engineering, procurement, construction, installation and commissioning deal, according to the publication, citing contracting sources.
Petronas has unveiled plans for the CCS project, which will be capable of processing around 3.5 million tonnes of carbon dioxide (CO2) annually, to start up in 2025. By comparison, Chevron's giant Gorgon CCS project in Australia has a planned CO2 injection rate of 3.5 million to 4 million tonnes per year.
"Petronas are looking to address the significant CO2 emissions related to the project, showing proactive leadership and developing CCS infrastructure that could have potential to be used by third parties," Robert Chambers, director, upstream asset valuation in the Asia Pacific region at IHS Markit, told Energy Voice.
However, "whilst Kasawari CCS is similar in scale to Chevron's Gorgon project, the emissions intensity of the LNG produced (via the MLNG complex at Bintulu) will still be higher as about 25-30% of the raw CO2 in Kasawari will be removed at MLNG, where there are no plans for CCS," added Chambers.
Under a first phase of development Kasawari is expected to come onstream in 2023. CCS is part of a second phase.
In August, Petronas awarded Xodus a feasibility studies and conceptual engineering design contract for the complete CCS project, which forms phase two of the Kasawari development offshore Malaysia.
There are limited public details about the planned CCS development, but IHS Markit, in a June report, assumed the following additional required facilities:
• A new CO2 sequestration platform would be installed at Kasawari, likely bridge-linked to KS CPP-A. The platform would include facilities to recover hydrocarbons from the permeate stream before the CO2 is compressed/pumped to the desired export pressure.
• A new 135 km carbon steel pipeline would be built to transport the CO2 to the M1 field.
• Three new injection wells would be drilled at the M1 field from the existing M1DR-A platform.
Significantly, if emissions from Malaysia's high CO2 fields are to be managed, then CCS will be a key enabler, according to IHS Markit. But as Energy Voice reported last month, it remains to be seen if the economics stack up and whether Malaysia can remain attractive in the context of a global upstream portfolio.
Recommended for you

BP hands out southern North Sea CCS contract