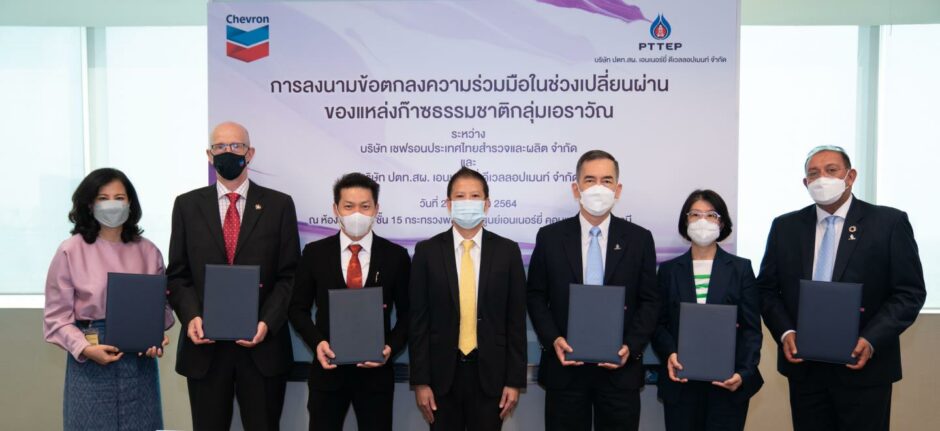 PTT Exploration & Production (PTTEP) (BKK:PTTEP) will be able to access the Chevron-operated Erawan gas field offshore Thailand ahead of a transition in 2022 after the pair signed three agreements designed to smooth the handover process following a bitter dispute.
Still, the transition ahead of the handover in April 2022 has been anything but smooth so far, with production falling significantly at Thailand's largest gas field. Crucially, at the same time market conditions have presented additional downside risks to Thailand's gas supply.
"Ongoing political uncertainty in Myanmar may impact PTTEP's Zawtika project and importing LNG at high prices comes with additional challenges for the country. Future waves of Covid-19 outbreaks could also disrupt crew and rig mobilisation, which in turn slows project progress. This is something we are already witnessing in other parts of Southeast Asia. Therefore, timing is of essence for PTTEP to set up its infrastructure and prepare the Erawan facilities to produce up to 800 million cubic feet per day of gas," Saloni Kapoor, a research analyst at Wood Mackenzie, told Energy Voice.
Production has dropped from an average of 1,050 milion cubic feet per day (cf/d) between 4Q2020 and 1H2021 to just over 700 million cf/d in 2H 2022. Moreover, output from the block will likely fall below 500 million cf/d at the time of the handover, as Chevron (NYSE:CVX) has been reducing investment at the field towards the end of its license expiry, said Kapoor.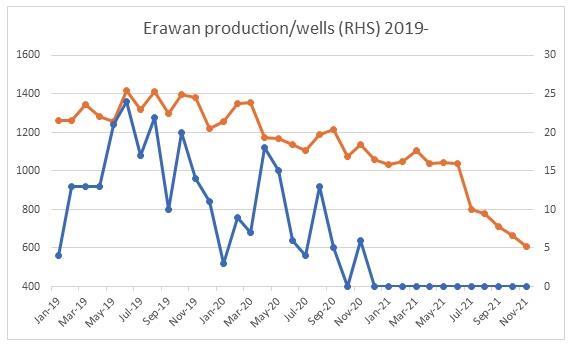 LNG Imports At All Time Highs
In recent months Thailand's LNG imports have hit all-time highs and could remain elevated in the coming months as the country ramps up purchases of expensive spot LNG shipments to help bridge an expanding domestic gas supply shortfall, largely triggered by sharply lower output at Erawan, known as G1/61, in the Gulf of Thailand.
"PTTEP will have to drill quickly and efficiently to maintain production, which we expect will rise to the required 800 million cf/d by 2024," added Kapoor.
"Rather than too little too late, it may be a case of better late than never," Readul Islam, an Asia upstream specialist at Rystad Energy, told Energy Voice, referring the recently signed agreements.
On 21 December, Chevron and Thai national upstream player PTTEP signed three agreements: Site Access Agreement 2, Operations Transfer Agreement and Asset Retirement Access Agreement. Chevron said the "agreements will foster further cooperation between both parties in relation to the transition of Erawan."
"We don't yet have the details of the agreements. However, I suspect some of the components of the Erawan transition plan are running significantly behind the planned schedule," said Islam.
"We assume the Erawan drilling hiatus hasn't had any adverse subsurface effects. However, it will take time for PTTEP to line up the service contracts required to go in and restart infill drilling at Erawan. We may be well into 2023 before PTTEP reaches the contractual minimum production rate of 800 mmcf/d at the Erawan PSC. The shortfall will need to be met by intensive drilling activity at the Bongkot and Arthit concessions," he added.
The signing ceremony for the latest agreements, held at the Department of Mineral Fuels (DMF) in Bangkok, was attended by top executives of each party, including Sarawut Kaewtathip, director general of the DMF, Chatit Huayhongtong, president of Chevron's upstream operations in Thailand, and Montri Rawanchaikul, chief executive of PTTEP Energy Development Company. This marked a positive sign after the parties had been locked in a bitter dispute over decommissioning liabilities at Erawan.
Bitter Dispute
The government of Thailand and Chevron have been involved in a legal dispute, which included international arbitration, over decommissioning responsibilities for Erawan. Industry observers believe this had been a factor in Chevron's reluctance to grant PTTEP early access to maintain development activity and investment at Erawan, which would have helped stem the decline in output.
Transferable assets at Erawan will eventually need to be decommissioned, but there has been a dispute over who – Chevron or Thailand's Department of Mineral Fuels – should be liable for the costs once the field eventually stops producing in the early 2030s. It is not clear if the dispute has now been resolved.
"Chevron's announcement that it has chosen subsea expert InterMoor for some of its decommissioning work is also a positive signal that negotiations over the abandonment liability are progressing. For the transition to proceed safely and without disruptions to supply, collaboration between all stakeholders is essential," said Kapoor.
InterMoor, Acteon's moorings and anchors subsidiary, has been awarded a contract with Chevron in Thailand for the disconnection and removal of Single Point Mooring (SPM) Buoy 1 and 2 in the Gulf of Thailand.
InterMoor said it will provide project management, engineering, procurement, as well as offshore execution for the decommissioning of the floaters.
"The offshore campaign is expected to commence once necessary endorsements are in place," InterMoor said on 20 December.
Contract extensions were officially awarded to PTTEP in early 2019 for the Bongkot and Erawan legacy fields. Mubadala Petroleum will partner PTTEP at Erawan with a 40% share in the new contract.
PTTEP, is already a major shareholder at Bongkot, where it currently partners with TotalEnergies. PTTEP will operate the new contract alone from 2023. However, given the huge investment needed to keep production going at both the ageing fields, the Thai player will welcome strategic investors.
Recommended for you

Thailand needs 'shale' gas moment as energy crisis deepens on PTTEP's watch