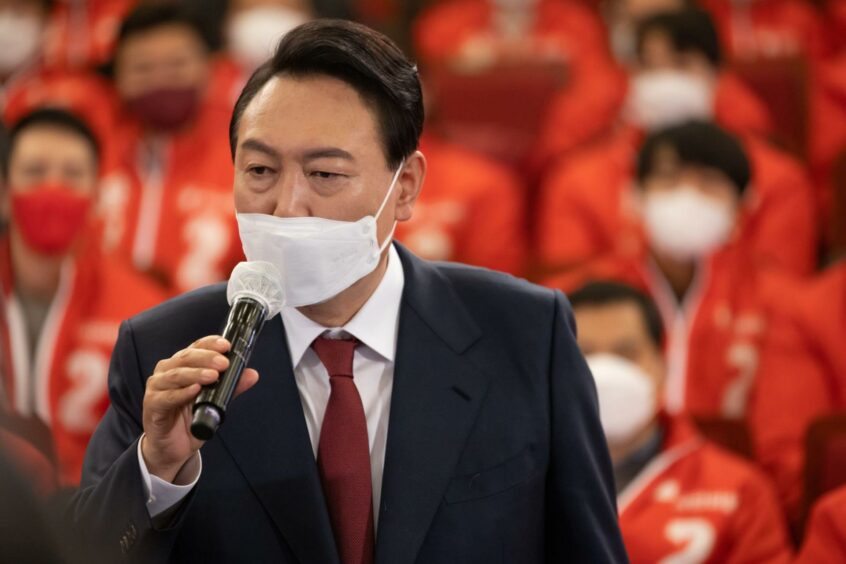 Following presidential elections earlier this month, energy-short South Korea looks set to pivot back towards nuclear power, leaving the outlook for liquefied natural gas (LNG) imports less certain.
Conservative opposition leader Yoon Suk-yeol won the South Korean presidential election on March 9 for the next five-year term.
Significantly, Yoon has made no secret of his desire to undo the previous administration's nuclear phase-out policies. Instead, he has pledged to embrace nuclear power as a more cost-effective energy option for the import dependent nation.
His energy policies will focus on the "concurrent development of nuclear and renewables, the latter focused on solar, as part of broader decarbonisation, and has also vowed to restore South Korea's nuclear capability to among the world's best, namely in tech exports and manufacturing of small modular reactors," Fitch Solutions said in a report.
Soaring global energy prices provide a timely supportive backdrop for Yoon's policies, which on the surface aims to target lower-cost, less-pollutive indigenous energy options. South Korea remains heavily reliant on energy imports due to negligible domestic production.
"For instance, outgoing President Moon Jae-in has attempted to swerve the national power mix towards LNG on cost, safety grounds, but spot prices for the fuel now find themselves up almost sevenfold since the start of his five-year presidential term back in 2017. South Korea's LNG import bill has also expanded significantly during this time, totalling $15.6 billion in Moon's first year in office but rising to average $20.6 billion during the final two years even after factoring in a partial drop-off in demand due to Covid-19-related shutdowns," noted Fitch.
As part of Yoon's first steps to 'normalising' affairs in the nuclear sector, he has already pledged to restart the construction of the Shin Hanul 3 and 4 nuclear plants, which were halted under Moon in 2019 due to safety concerns.
Yoon has also vowed to extend the lives of ageing nuclear plants – which Moon had previously pledged to shut, but how this will be achieved remains to be seen, cautioned Fitch.
Looking at the national energy mix more broadly, Yoon is on record as saying that he wants to decrease the share of fossil fuels in the national energy mix to 40% from about 60% at present during his tenure.
Coal-power generation's share of the energy mix will continue to fall, and future policies are unlikely to favour any significant increases in coal.
"The future of LNG, heavily embraced under Moon, remains less clear cut. Yoon has yet to voice any significant objection to South Korea's recent strategy of substituting coal generation with LNG and to a lesser extent nuclear generation, during peak emission periods, but the strategy has become increasingly less viable due to the sharp rise in global prices," said Fitch.
"The direction of Yoon's preferred energy policies appears clear, as he seeks to reverse the Moon administration's anti-nuclear policies and instead, pursue an energy regime where nuclear serves as the foundation of his decarbonisation plans," added Fitch.
In oil and gas, there certainly appears to be more downside risk to Fitch's forecasts for natural gas consumption and LNG imports than under the previous administration, "especially with the current backdrop of soaring global prices and geopolitical risks making it a highly appealing populist message to call for a future away from LNG."
However, major reductions especially in the short-term, may not be possible, due to concerns about it leading to acute power losses. At the same time, South Korea has ample long-term contracts to run with global suppliers till well beyond the final year of Yoon's presidential term ending 2027, said Fitch.
Recommended for you

Korea takes short-term LNG path while rivals embrace long deals