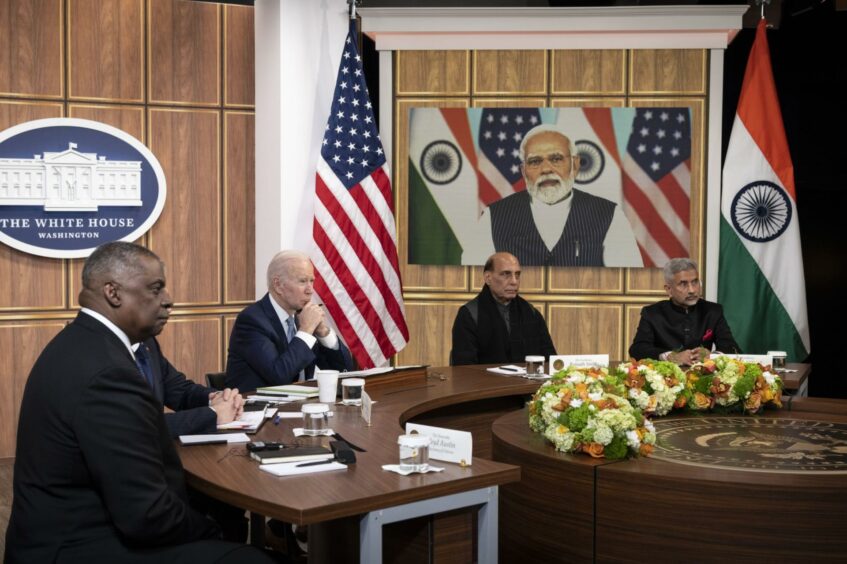 US president Joe Biden has told Indian Prime Minister Narendra Modi that increasing oil imports from Russia is not in India's interest.
During a candid discussion on Monday about how to counter the fallout from Russia's invasion of Ukraine, Biden conveyed that the US stands ready to help India diversify its energy imports, which would make it less reliant on Russia, White House Press Secretary Jen Psaki said.
"The president has made clear that he does not believe it's in India's interest to accelerate or increase imports of Russian energy and other commodities," Psaki told reporters yesterday.
The two leaders held virtual talks as Washington seeks more cooperation from India in applying economic pressure on Russia.
India sources 10% of its crude imports from the US and 1%-2% from Russia, according to Psaki.
The US and Europe have announced plans to cut energy imports from Russia over the invasion of Ukraine. Moscow responded by offering India its crude oil at a cheaper price. India has purchased at least 13 million barrels of Russian crude since the invasion started in late February, Reuters reported.
Modi's reluctance to criticise Russian President Vladimir Putin's aggression in Ukraine has complicated a budding security partnership between the two democracies in countering China's influence.
Despite rising tensions between the two nations officials characterised the meeting as warm and productive.
However, later in the day, top US and Indian diplomats and defence officials met in person in Washington and hinted in a news conference at their differences between pledges of cooperation.
"The United States will continue to increase our support to the government and people of Ukraine and call on other nations to do the same — just as we call on all nations to condemn Moscow's increasingly brutal actions," US Secretary of State Antony Blinken said. He added that the US is urging all nations to refrain from increasing energy and weapons purchases from Russia.
India's Foreign Minister Subrahmanyam Jaishankar repeated his nation's previous calls for dialogue and diplomacy, while minimising the significance of its Russian energy purchases. "Our total purchases for the month might be less than what Europe does in an afternoon," he told a reporter. "So you might want to think about it."
India is the world's largest buyer of Russian weapons, and Modi has resisted entreaties from the US and Australia to scale back the relationship, insisting that his nation needs Russian weapons to counter both Pakistan and China and that alternatives are too expensive, according to people familiar with the matter.
India has historically attempted a neutral stance on tensions between major powers, even as it has joined groups such as the Quad security alliance with Australia, Japan and the US.
Recommended for you

Europe's New Sanctions on Russian Oil Kick In: What Changes?