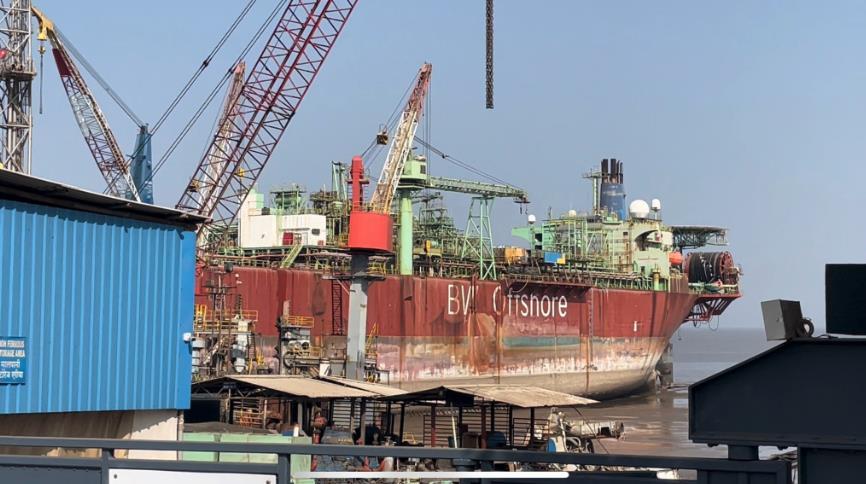 BW Offshore's strategy for recycling its end-of-life floating production storage and offloading (FPSOs) units has been criticised following a fatality at a ship breaking yard in India. BW is one of the largest operators of FPSOs for the oil and gas sector, but its decommissioned units are being dismantled in yards with questionable health, safety, and environmental credentials.
The fatal accident has raised serious doubts about health, safety, and environmental (HSE) procedures, as well as poor supervision, at the beaching yards in India, where vessels, such as BW's FPSOs end their useful life.
Underscoring the concerns, Dutch FPSO operator SBM Offshore (AMS:SBMO) has banned the use of such beaching yards and will only scrap its offshore assets at yards that maintain stringent environmental and safety standards.
As Energy Voice previously reported, a worker lost his life at an Indian beaching yard on 21 April, where an FPSO unit, formerly owned by Oslo-listed BW Offshore (OL:BWO), is being scrapped.
The accident, where two others were also reportedly injured, happened at the Priya Blue plot V1 ship recycling yard in Alang, India. The only ship currently at the yard is the FPSO Cidade de Sao Vicente and the fatal accident was due to an explosion involving the cutting of a nitrogen tank taken from the FPSO, according to Brussels-based NGO Shipbreaking Platform.
Peter Hornung, an India-based correspondent at ARD German Radio, who recently visited Alang and Bhavnagar, where the Indian beaching yards are located, told Energy Voice that the accident happened in the inter-tidal zone of the shipyard while workers were dismantling a part taken from the FPSO, citing local sources, which included a trade union official and shipyard expert.
However, BW Offshore told Energy Voice that the "pressure vessel that caused the accident is unrelated to our former vessel. That being said we want to have an independent incident report and a corrective action plan from this report."
Norwegian company Grieg Green, which specialises in ship recycling, is supervising the dismantling of the FPSO and they are in close contact with the yard about the investigation, added BW.
Still, a source close to the investigation in Alang told Energy Voice that "I don't really understand why BW Offshore is insisting that it was not a part of their ship. The accident happened because the workers acted contrary to the regulations. In my view, this sheds light on the procedures and safety measures of the yard that they have chosen, regardless of the fact whether it was a part of the ship or not."
BW Offshore sold the FPSO to Priya Blue Industries ship breaking yard in Alang, India, in February at a price of $12.8 million cash after a cold-lay-up in Oman and unsuccessful attempts to negotiate a new contract in Brazil, where the unit operated for eleven years under charter for Brazilian giant Petrobras, said NGO Shipbreaking Platform in a statement.
The NGO alleges that BW Offshore took a higher value offer from the Indian yard versus a "more sustainable solution for recycling of the vessel," at a drydock and steel production facility in the Middle East.
An industry source involved in end-of-life FPSO recycling operations told Energy Voice that "of course the fact that the FPSO was beached had little influence on a pressure vessel exploding."
Crucially, however, the source, who has worked in Alang, added that "even with the limited information, one might draw the conclusion, that this kind of accident could have happened in any poorly supervised location."
The ship recycling industry is much riskier compared to working in an oil refinery. "To enter a refinery, one must go through days of rigorous training. This is generally not the case at these beaching yards in India. If a safety awareness regime is not applied, these accidents will keep on happening," said the source.
Even if the beaching yards in India are sticking to rigorous HSE standards it is the infrastructure, such as hospitals, roads, firefighting capacity, around the yards that is inadequate.
"My point it that the infrastructure, or lack of it, around the yards in Alang, prevents a normal emergency response. For example, due to the congested roads it could take hours for an ambulance to reach a hospital. So, it's not only the dodgy way of cutting a ship into pieces and dropping it into the sea with various pollutants. It is also the infrastructure that's the issue," added the source.
Recycling heavily polluted ships on tidal waters is never a good idea, but some of the yards in India are working to improve this by building concrete slabs with drainage systems. Therefore, the beaching issue might be resolved in future, but the bigger problem remains around infrastructure to support health and safety at the yards in the Indian state of Gujarat. "The solution would be to build hospitals within the yards, like the remote oil refineries in Pakistan do. But I cannot see that happening in the short term at Alang," said the source.
As mentioned, Dutch FPSO operator SBM Offshore will not use beaching yards anymore and insists its vessels are sent to yards with a dry-dock or landing system on concrete slopes connected to drainage systems to minimise pollution and accidents.
Ingvild Jenssen, executive director of NGO Shipbreaking Platform said the group was encouraging BW Offshore to ensure that its end-of-life fleet is managed exclusively in facilities that can ensure the highest environmental and social standards. "When safer alternatives to beaching exist, ignoring the social and governance failings in Alang and contributing to the greenwashing of an outmoded and polluting method for the sake of more money is simply not acceptable anymore."
BW Offshore announced in March 2022 that it had sold a second vessel, FPSO Umuroa, also for recycling in India to the Baijnath Melaram yard. As with the FPSO Cidade de Sao Vicente at Priya Blue in Alang, BW again stated that the yard is certified to ISO standards and has been issued with a Statement of Compliance by Class NK. They said they will again have a third-party representative to ensure HSE standards are followed and are offering a safe recycling bonus incentive.
FPSO Umuroa is likely to be mercury polluted.
"When preparing FPSO Umuroa for recycling, all required parts of the Inventory Hazardous Materials (IHM) process was prepared with independent verification carried out by DNV. The IHM is incorporated in the Ship Recycling Plan to ensure all items are identified and handled accordingly by the relevant parties. Upon final IHM survey onboard (by DNV surveyor) and review of the Ship Recycling Plan, an International Ready for Recycling Certificate (IRRC) was awarded for the unit prior to departure to final destination," BW Offshore told Energy Voice.
The sale of Umuroa to the yard at Baijnath Melaram will generate $13.5 million in net liquidity, BW Offshore said in a statement 14 March.
The debate over the use of South Asian yards for the end-of-life vessels continues with NGO Shipbreaking reporting in its yearly report that those yards accounted for three-quarters of all vessels sold to be dismantled in 2021. They said that 583 of the largest tankers, bulkers, floating platforms, cargo- and passenger ships ended up on the beaches of Bangladesh, India, and Pakistan while citing reports of injuries, fatalities, and environmental pollution at the yards.
Italian energy contractor Saipem (SPM.MI) and BW Offshore are among a host of companies that have been shamed for sending their vessels to the "infamous shipbreaking beaches of South Asia" as Energy Voice reported in February.
Numerous workers are killed each year by fires and falling steel plates, while many more are exposed to toxic fumes and other substances found within ships.
Recommended for you

BW Offshore finally closes Abo FPSO sale