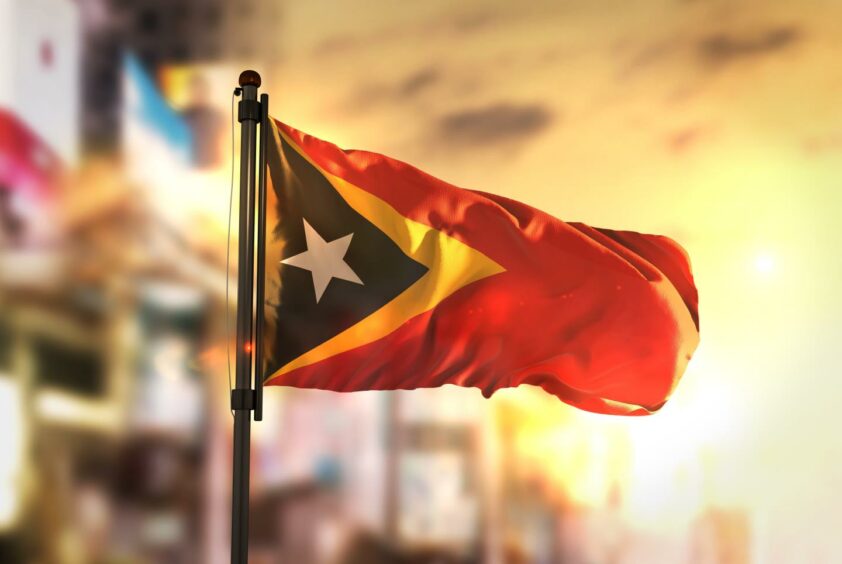 As the world seeks to decarbonise, East Timor hopes that a plan for a giant carbon capture and storage (CCS) hub will help it find financial backing for a proposed liquefied natural gas (LNG) facility that would process gas from the Greater Sunrise fields.
Development of Greater Sunrise, first discovered in 1974, had stalled due to a now-resolved maritime border dispute between East Timor and Australia, and by disagreement with operator Woodside on whether to pipe gas to East Timor, also known as Timor Leste, or Australia, to process LNG for export.
"We want to have Greater Sunrise developed here in Timor Leste," Florentino Soares Ferreira, president of East Timor's National Authority of Petroleum and Minerals (ANPM), told Energy Voice in an interview.
However, Woodside (ASX:WPL) CEO Meg O'Neill recently told Australian media that "the economics of taking (Sunrise) gas to Timor Leste and building new plants just are prohibitive – so that's something that needs to get cracked – but the production-sharing contract (PSC) terms need to get sorted out first."
"The field is closer to existing LNG infrastructure (in Australia), there's potentially some interesting opportunities there to use existing facilities. So just from an economics perspective, taking the gas to Timor-Leste and building a brand-new plant just doesn't make sense."
Nevertheless, commercial and feasibility studies are ongoing, and Ferreira believes "Timor Leste is in a position to offer a much more competitive solution in terms of cost."
Although, he did concede that building an LNG plant in East Timor solely to process gas from Greater Sunrise did not make economic sense. Instead, the ANPM hopes that other potential fields offshore, such as Chuditch and Kelp Deep, can be tied into any development plan.
He added that the Woodside-led Sunrise Joint Venture, which includes Osaka Gas, as well as Timorese national oil company TimorGAP, need to work collaboratively to find the best solution.
But "Woodside needs to be realistic. Woodside is not the major shareholder in this project," said Ferreira.
Indeed, TimorGAP has a 56.56% interest in the fields. Woodside holds a 33.44% interest with Osaka Gas on 10%.
Woodside has indicated that it could first develop Greater Sunrise's large liquids resources, leaving the gas to be produced through a yet-to-be built onshore LNG export facility in East Timor without its financial participation. Alternatively, the gas could be sent to processing plants in northern Australia at a later date.
To fulfil East Timor's dream of processing Sunrise gas on its soil at a greenfield export project would mean stumping up over $10 billion, possibly even as much as $16 billion to $20 billion, for the development.
Still, Ferreira is undeterred, "for a national oil company, such as TimorGAP, there are means to get the project bankable. There are also institutions willing to finance the project as Timor Leste is embracing carbon capture and storage (CCS). That's why a lot of financing agencies are willing to finance Greater Sunrise."
"We have been talking to international financial institutions in Timor Leste and overseas. They see Greater Sunrise is a crucial project for Timor Leste and they are willing to finance the project," added Ferreira.
Despite Ferreira's optimism, challenges remain, as acknowledged by Jose Ramos Horta, who last month won East Timor's presidential elections. Horta recently told local media that "it will be difficult to find investors for Sunrise while parties have different views on the development concept."
Crucially, a new PSC will need to be agreed before any progress on Greater Sunrise can be made.
"We are currently working on putting in place the legal, fiscal, and regulatory frameworks. We have engaged the Sunrise JV on this matter, and we look forward to wrap things up by the end of this year," said Ferreira.
Significantly, Woodside has said it is considering new investment opportunities, including the Browse and Greater Sunrise fields, on expectations that new supply will be needed to alleviate global energy market tightness, raising hopes that a deal can be struck with Dili.
Giant Carbon Capture and Storage (CCS) Plan
Meanwhile, Ferreira is excited about the prospect for the Santos-led CCS project at the Bayu Undan field, which if successful will be one of the world's largest carbon storage facilities.
He said the ANPM is currently discussing the commercial arrangements with Santos for the CCS project, which could hold up to 200 million tonnes of carbon dioxide (CO2).
Ultimately, East Timor hopes to generate a storage fee and acquire carbon credits for the proposed Bayu Undan CCS hub.
East Timor's revenue from Bayu Undan oil and gas was more than $170 million per month during the first quarter of 2022, but those revenues will disappear once Santos shuts down production, which it is aiming to do as fast as possible.
Santos (ASX:STO) is preparing to decommission the floating storage and offloading (FSO) facility, as well as platforms, at Bayu Undan offshore East Timor, as soon as possible, as it accelerates plans for the giant CCS hub at the mature field.
Santos aims to take a final investment decision (FID) by end-2022 on the CCS project, according to Ferreira. In March, Santos announced it had started front-end engineering and design (FEED) work for the proposed CCS project.
Analysts at consultancy Rystad Energy estimate capital expenditure for Bayu Undan CCS at more than $1.7 billion across capture, transport, and storage for the entire cluster project.
Recommended for you

East Timor's NOC calls Woodside 'corporate bully' in latest Sunrise LNG spat